Dissecting the language of Baahubali trolls: 'Hindu film', 'Urduwood', 'Chrislamist critic'
You are not the story, you are the chroniclers of that story. You are not at the centre of the action, you are observers on the sidelines.
I have lost count of the number of times I have repeated these lines to my students in the eight years since I added the job of teacher to my resume. A journalist should naturally be self-effacing, I have told them, we must avoid placing the spotlight on ourselves, the primary requirement of our jobs being to place the spotlight on the lives and work of others while we stay in the background.
This belief is what has caused me to hesitate for almost a week since my editor asked if I wished to write about Baahubali's social media trolls (he very kindly left the decision to me) when the communal bile began flowing my way from the moment my review of S.S. Rajamouli's film was published on Firstpost last Friday.
Here then is an addendum to that journalistic principle: sometimes our personal experiences become the particular from which the universal can be derived. And so, this week I find myself in the unfortunate position of being an example I ought to report.
As film critics we are used to vile abuse from fans whenever we disagree with a choice made by their favourite star. Religion-specific targeting of critics on a large scale is a new phenomenon though. This is why it becomes imperative to discuss the response to my review of Baahubali 2: The Conclusion. Here is a sampler from Twitter:
"Commie Chrislamist goon @annavetticad also giving film reviews. Her hatred of Hinduism is quite appalling."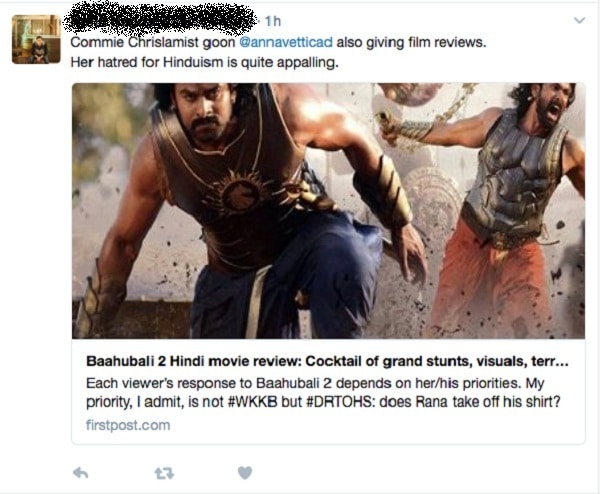 "What a torture it is for @annavetticad to sit through a movie that does not trash Hindu rituals and customs but celebrates them."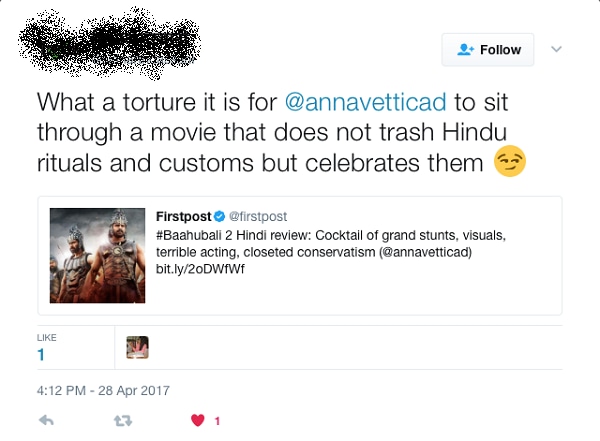 "Your hatred if Baahubali franchise shows here. Everyone knows the reason behind it. Clue- Starts with H ends with Indu" (sic)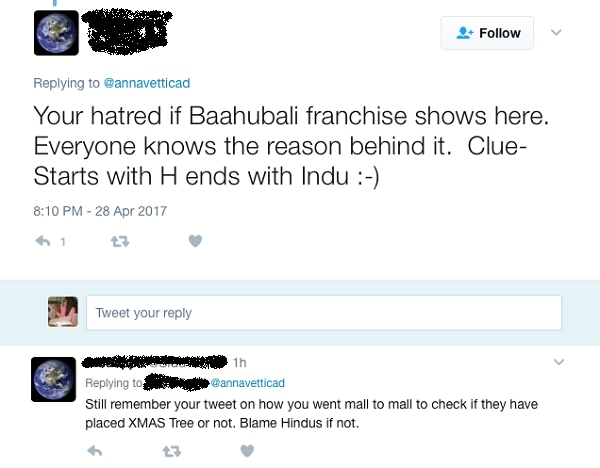 And when I tweeted screen shots of these bigoted responses for everyone to see: "its because bitch all life long you're criticising hindus only without criticising other religions so no one beleives ure BS" (sic)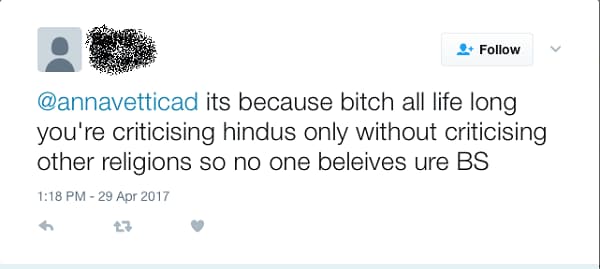 "Pope piss drinker can't handle Hindu images"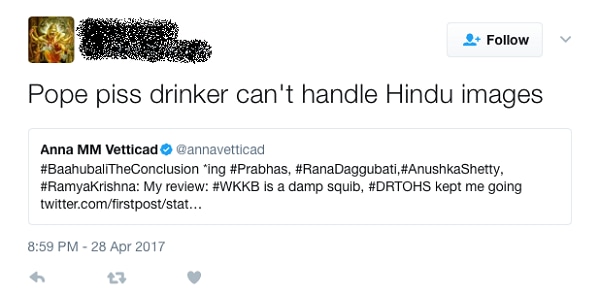 "See name of reviewer. Don't bother to read further. It will contain anti Hindu bigotery." (sic)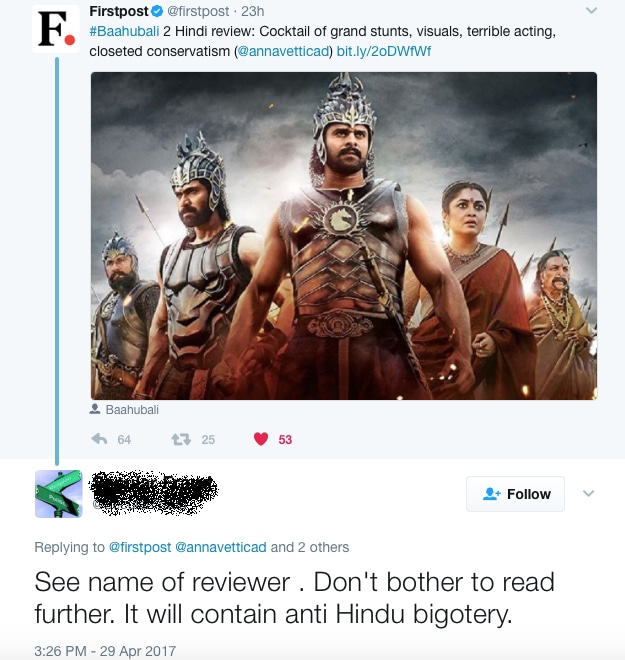 "2.5 fucking serious…oh wait maybe if some khan acted about some thuglak rulers…you myt have given 5 ryt? what a waste #Baahubali2" (sic)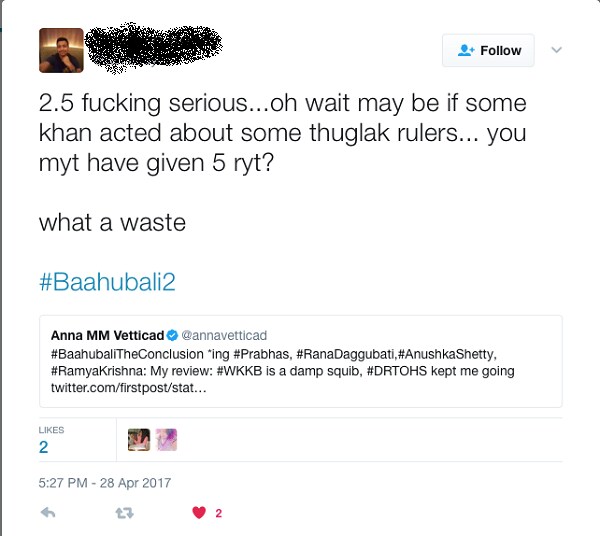 "You are the worst reviewer..we all know you'll give negative review to pro-Hindu movie Baahubali2 ..go and enjoy Urdu wood Bollywood only" (sic)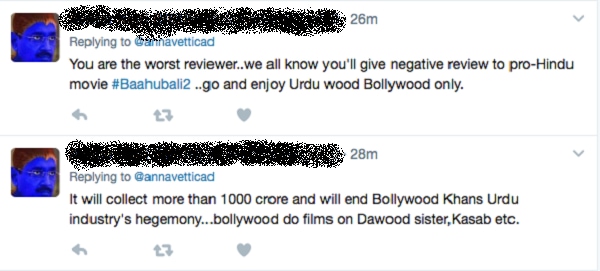 From the same person, "It will collect more than 1000 crore and will end Bollywood Khans Urdu industry's hegemony…Bollywood do films on Dawood sister,Kasab etc." (sic)
Meanwhile, others played on my name, replacing "Vetti" with "patti", which is the Malayalam word for dog, the potential for rhyme having been prioritised over the literal translation of "bitch", I guess.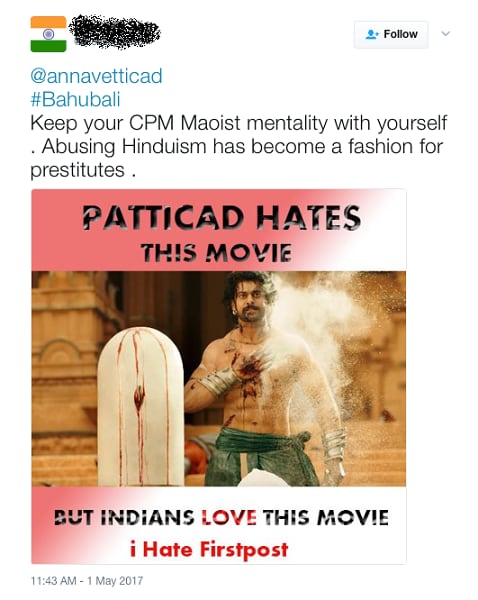 I will obviously not dignify these majoritarian trolls by addressing them. It is necessary though to analyse the specific nature of this assault, since it signals a disturbing trend in online film discussions in India in recent years.
You must have gathered by now that Baahubali 2 has received largely positive reviews.
This is why, of course, fans are enraged at a handful of us for being what they no doubt consider party poopers. Celebrating a diversity of opinions is obviously not in their nature. Shubhra Gupta of The Indian Express, for instance, has been called a "vaginaface" by a furious fan and bombarded with accusations of, among other things, not being Indian. Saibal Chatterjee has faced a barrage of anger on NDTV's comments section, charged with being "jealous" of Telugu cinema and called an "urban Naxal" who is prone to "criticise everything in the world" since it's "in the blood of Bengalis" to do so.
Several points need to be highlighted here.
First, that personal comments are being directed at us is unsurprising – this is standard practice among film fans. Second, what is not standard practice is the manner in which a religion has been assigned to the two-part Baahubali – the general consensus among trolls is that it is a "Hindu film". Third, while I certainly do not agree with those claiming that Baahubali is being rubbished by critics because it is Telugu, I do believe a pro-Hindi bias pervades the north India-based English media at large (not critics), which is evident in the way most such platforms obsessively report on Hindi cinema a.k.a. Bollywood while virtually ignoring all other Indian industries, with the Baahubali set and Rajinikanth's films since Sivaji (2007) being rare exceptions – this is a separate, and crucial, discussion. Four, although Baahubali is not a Bollywood film, Baahubali trolls resent the success of Bollywood's three Khans, because they are non-Hindus – hence the "Urduwood" taunt. And five, the pointedly communal virulence for which I have been singled out this week is part of a concerted effort that has been made in the past three years to de-secularise online discussions on cinema.
That films and film stars arouse passions among audiences is a given. Combine this passion with insecurities about our opinions on the arts, and the result has forever been a tendency to attribute motives to critics whose views do not match our own, to question their intelligence or worse, doubt their integrity.
The defence of Baahubali though goes beyond that. Audience secularism and the dominance of the three Khans in Bollywood since the 1990s has been a cause of considerable heartburn for the Hindu Right. Hindutvavadis were still on the fringes of our society in that decade, and few viewers will recall how some elements in the Sangh Parivar celebrated the advent of a "Hindu superstar" to counter the Khans, when Hrithik Roshan made a spectacular debut with Kaho Naa…Pyaar Hai in 2000.
This was the post-Babri Masjid phase of our history. L.K. Advani's rath, the Mumbai riots and bomb blasts had already ravaged our nation, but audiences and the Mumbai-based Hindi film industry remained more or less undivided. Although the right-wing BJP was in power at the Centre in 2000, it was not the pan-India giant that it is now. Aamir Khan sealed his place in the Sangh's pantheon of declared enemies when in 2006 he took a position on the Narmada Bachao Andolan, a burning issue in BJP-ruled Gujarat. Our present prime minister, Narendra Modi, was the state's chief minister at the time.
Then in 2010, Shah Rukh Khan became that rare Bollywood star to stand up to Shiv Sena's bullying, refusing to give in to their demand that he apologise for his remarks about Pakistani cricketers being excluded from the IPL. Aamir's Fanaa (2006) was barred from Gujarat. Shah Rukh's My Name Is Khan (2010) was released all India as scheduled, not counting a few hitches. Both films ended up being massive hits, causing much bitterness among the Hindu Right in a Congress-ruled India. Despite these stars' clashes with the Sangh though, discussions around Hindi cinema remained largely secular.
The Narendra Modi juggernaut has changed all that. When Modi won the election at the Centre in 2014, religious fundamentalism began seeping into reader responses to film reviews on news websites and social media platforms frequented by critics. The dam burst for BJP trolls though when in late 2015 both Aamir and Shah Rukh spoke up against rising intolerance in the country. Handles familiar on the Internet as vocal supporters of Hindutva politics were among those who began flooding critics and potential audiences with discussions communally profiling stars, films and those very critics.
They have been unrelenting since then. Repugnant labels such as "Hindu actor", "Muslim actor", "Hindu film", "Christian critic" and "Muslim critic" are now the norm.
Early this year I had written about how, when Raees clashed with Kaabil in theatres, the Sangh lobby on the Net were out in full force urging audiences to skip the "Muslim film" Raees starring Shah Rukh and to turn the Hrithik Roshan-starring "Hindu film" Kaabil into a hit.
Those prone to dismiss this analysis as wild allegations based on unfounded assumptions ought simply to track the parallel behaviour patterns and language of these trolls and the party they support. For instance, while trolls were brushing aside Raees and upholding Kaabil, BJP national general secretary Kailash Vijayvargiya made his own oblique promotional pitch on Twitter: "The #Raees who are not for the country are of no use. We should all stand with a #Kaabil (worthy) patriot. It is now the turn of the country's kaabil janta (worthy people). The rights of the kaabil (worthy) should not be snatched away by the dishonest raees." He claimed that he was referring to demonetisation, not films. Yeah sure.
Roshan, Akshay Kumar and Ajay Devgn are the darlings of these trolls. Apart from their religious identity, it is no coincidence that Devgn is a long-time vocal supporter of Modi, and that Kumar has chosen, since 2014, to work in several films pegged on nationalism, a pet theme of the reigning Right. It is only fair to mention here that Roshan has not overtly done anything so far to invite or encourage this communal profiling, beneficial though it is to him too. Bless him!
For more parallels with the ruling party, rewind to 2015 when trolls exhorted the public to boycott the Shah Rukh Khan-starrer Dilwale, spammed the e-commerce website Snapdeal to rid themselves of Aamir as a brand ambassador and called on "nationalists" to boycott Snapdeal. Simultaneously, Aamir's long-time brand ambassadorship of the Tourism Ministry's Incredible India campaign was brought to a close. At a public event a few months later, then Defence Minister Manohar Parrikar pretty much confirmed, without naming names, that the party had had a team working online to badger Snapdeal into submission.
Note too the relative kid-glove treatment reserved for Salman Khan by these forces while they direct burning hatred at Aamir and Shah Rukh. This is not to say that Salman is never reviled for being Muslim – of course he is. But ever since he made a public appearance with Modi at the height of the 2014 general election campaign, he is rarely singled out for his religion by the online army of trolls, and right-wing viciousness comes his way these days usually only when he is clubbed with the others in generalised remarks about "the Khans.
It is convenient too that Salman's father is close to Modi – Salim Khan even inaugurated the Urdu website on Modi in the summer of 2014 – and Salman himself has, for several years now, steered clear of commenting on any issues that might possibly rile the government or BJP.
Interestingly, while all these are developments related to Hindi cinema, the communalisation of online discussions on films has peaked in the past three years with two Telugu, not Hindi, films: Baahubali: The Beginning in 2015 and Baahubali: The Conclusion now. It is as if the online sena has decided that if Kumar, Devgn and Roshan cannot be counted on to dethrone the Khans, then the job must be outsourced to another industry. There is rich irony in this considering that the BJP has long been accused of Hindi-centricity. In fact, it is this Hindi-centricity that has kept the party's trolls largely focused on the Hindi film industry even today.
As it happens, dear readers, I faced similar venom in 2015 for a column headlined "The Rape of Avanthika" in The Hindu Businessline on the sexual subjugation of Avanthika by Shivudu/Shiva in Part 1 of Baahubali. Although I was by then used to being communally trolled for comments specifically about political parties, and had received stray "you Xtian fanatic" jibes for my film writings, this was my first experience of religious profiling on such a scale for a column on a film.
Let me make it clear that as much as I have been trolled persistently for my critiques of both Baahubalis, there has also been a deluge of support from those who are committed to both cinema and debate. The website Daily O even carried an article early on, titled "Film critic Anna Vetticad trolled for her Baahubali 2 review shows ugly face of India's intolerance," even as I delayed writing this piece.
Let me make it clear too that I am not using the word "troll" casually to dismiss all criticism of my work.
Trolls are those who are abusive and/or needlessly aggressive, who threaten and try to intimidate, who make personal attacks, who assess your identity (gender, ethnicity, appearance, religion, sexual orientation, caste) rather than the content of your comments. I have had occasional enriching discussions over the years on the social media with confident, polite people offering sane, logical opposition to my views.
Conversations are obviously not possible, however – or even desirable, some might say – with those whose reaction to a review is to tell the "Chrislamist…bitch" that she has rejected a "Hindu film". Such claptrap is not worth responding to, though it is definitely important to highlight it so that the general public becomes aware of this verbally violent online gang trying hard to browbeat us into adopting their views on cinema, just as they are trying hard to terrorise us offline into eating, dressing, loving, marrying and making all life's decisions by their rules.
Related link:
For Anna M.M. Vetticad's review of Baahubali: The Conclusion, click here.
Updated Date: May 08, 2017 18:50:29 IST