Disney's Jungle Cruise, featuring Dwayne Johnson, Emily Blunt, to now release on 24 July, 2020
Jungle Cruise is reportedly inspired by The African Queen which featured Humphrey Bogart and Katharine Hepburn.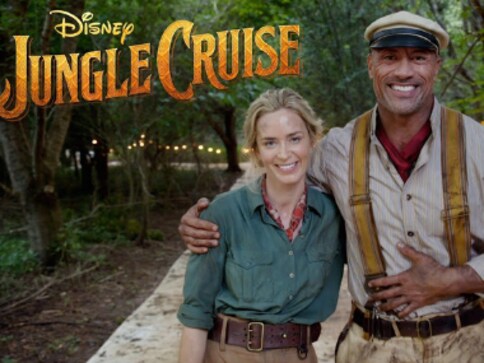 Disney has delayed the release of Dwayne Johnson and Emily Blunt-starrer Jungle Cruise by nine months. The film, being directed by Jaume Collet-Serra, will now hit the theatres on 24 July, 2020 instead of previously announced date of 10 October, 2019, according to The Hollywood Reporter.
IT'S OFFICIAL - JULY 24th, 2020.
Ladies and gentlemen and children of all ages.
My partner in crime, Emily Blunt and I, lovingly invite you to join us for THE ADVENTURE OF A LIFETIME.
All aboard...@DisneyStudios JUNGLE CRUISE
❤️ pic.twitter.com/DNTnqSb3QD

— Dwayne Johnson (@TheRock) October 19, 2018
The film, a feature adaptation of Disney's theme park ride, follows a boat captain who takes a sister and her brother on a mission to find a tree believed to possess healing powers. Wild animals and a competing German expedition figure into the proceedings.
A Variety article says that the film has been described as influenced by The African Queen which featured Humphrey Bogart and Katharine Hepburn.
Disney also announced that it has kept the slot for 31 July, 2020, vacant for an untitled Marvel film.
Johnson, who was most recently seen in Skyscraper, will portray the role of the boat captain, while Blunt and actor Jack Whitehall are playing the sister and the brother.
The film will also feature Edgar Ramirez, as the villain with a conquistador (soldiers and explorers of the Spanish Empire) background, and Paul Giamatti.
Beau Flynn, John Davis and John Fox are producing alongside Johnson and his Seven Bucks Productions partners Dany Garcia and Hiram Garcia. Scott Sheldon will serve as the co-producer.
The film had wrapped shooting in September.
(With inputs from agencies)
Entertainment
Disney has delayed the release of Wakanda Forever, from July 2022 to November 2022
Entertainment
There is much to relish in Only Murders in the Building, in which the three leads are terrific as true-crime-podcast addicts who team up when a murder is committed in their big New York apartment building. But what I enjoyed the most was the generational divide between the two men and the woman.
Entertainment
Being rich, on Succession, does not look fun. If anything, it is aggressively anti-fun, as if fun itself were just a tatty concept for the lumpen masses who crowd the family's amusement parks.