Director's Cut: Ali Abbas Zafar on Salman Khan, Sultan's collections, cliches and sexism
Records are falling like ninepins in the wake of writer-director Ali Abbas Zafar's Sultan starring Salman Khan and Anushka Sharma.
Records are falling like ninepins in the wake of writer-director Ali Abbas Zafar's Sultan starring Salman Khan and Anushka Sharma. Even as another potential blockbuster – the Tamil film Kabali starring Rajinikanth – takes over many screens this week, punters are wondering if Sultan could dethrone PK as Hindi cinema's highest box-office grosser of all time.
Zafar says collections have limited meaning for him though, in this extensive conversation with contributing editor Anna M.M. Vetticad. Excerpts:
Do you see Sultan becoming the highest earning Hindi film of all time? 
The way it's going we don't know where it's going. As a filmmaker, numbers don't matter beyond my responsibility to two people: Aditya Chopra who gave me the budget for the film and a superstar who trusted me though I'm one of the youngest filmmakers he's worked with. That's where the film's success finishes for me. I'm the director, the money was never gonna come to me. (Laughs)
What is the most unexpected response you've received to Sultan?
It's bizarre, most reviews have been very positive. And among the common people the bizarre thing is, while making the film I thought it will be a tearjerker for women, but men are telling me they too cried. That was shocking.
Why is it bizarre that reviews were positive?
(Laughs) When you make a mainstream commercial film you are already dealing with a lot of internal conflict as a filmmaker. You need to hold your voice yet cater to the last man standing at the ticket window, from prime multiplexes to small single screens in villages. You kind of creatively question the intellect of such a wide span of audience. At times you have to use clichés and gimmicks. All universal emotions have been done to death, what new ways can be used to say the same old story? I was happy that while reviewing the film, most critics understood that it's happening in a mainstream commercial film.
Was casting Salman your producer's or your decision?
It was a joint decision. When I took the story to Adi (producer Aditya Chopra), he said, "Yeh toh Salman ke saath hi banaayi ja sakti hai (this can be made only with Salman)." That's what was on my mind too. We narrated Salman a simple 10-page story. We were clear that if he doesn't do this film we're not making it. Only when he liked it, I wrote the script.
Why cast a 50-year-old actor as a character who is 30 and later turns 38/40? Was this choice dictated by box-office compulsions?
It's a mix of many things. First of all when we tell a story we don't keep the personal so-called age in mind, that if he is 40 I can't cast him as a 30-year-old. When he was not even 30, Anupam Kher played a 60-year-old in Saaransh. If that can work then other way can too.
Experience has taught me that the film needs to work as a whole. When a film doesn't work, it's the film which doesn't work, it's not about one character or one scene.
But would age-appropriate casting have harmed Sultan?
No. But when you role model a film on a certain persona, whether it's the star's flamboyance or look... When you see Sultan in a mixed martial arts ring who is haggard, down and out, but at the same time is a star called Salman who's down and out, the impact of that so-called emotion takes a lot of burden out of that character in the film.
Why did you not cast a female star of Salman's age opposite him?
For the longest time I wanted to cast a new girl because the role demanded training in wrestling which I thought a new girl would do. But in the auditions, girls who were physically fit were not good actors, and good actors were not fit. Then it turned to known stars. I picked Anushka because I thought she and Salman will look not perfect together. I wanted an odd pair in terms of their body structure, on-screen and off-screen persona. Casting Anushka had nothing to do with age. It's to do with the choices available to me. I almost shot 20 per cent of my film without the actress because I could not find the right girl.
You don't think Aishwarya, Madhuri, Sridevi could look "not perfect" with Salman? At 42, Aishwarya is much younger than him, but closer in age than Anushka.
At heart Sultan is a love story, and a love story usually works with a fresh pairing. The ladies you mention have already worked with Salman. Also one should always be conscious about the audience you want to connect to. Today I want to connect with people for who Anushka could be a role model after NH10.
Film history is filled with couples repeatedly cast together because the pairing was successful.
Ya, but usually a fresh pair in a love story can make even conventional scenes look that they're done for the first time, because the two actors get some kind of an organic chemistry going. Same actors keeps getting paired, a sameness sets in.
SRK-Kajol, Amitabh-Rekha, Nargis-Raj Kapoor?
These are legendary castings. They are picked when you want the audience to be in love with them even before the film. Sultan was not doing that. Sultan was trying to bring a fresh side to Salman, to pair a new couple together. And the girl has already paired opposite Aamir and Shah Rukh so she has that dignity as a screen age too.
A young Anupam Kher playing an old man in Saaransh is rare. What is common is male stars playing characters much younger than their real age. Your logic behind casting 50-year-old Salman as 30-year-old Sultan isn't applied while casting women. Why not?
I'm with you on that. I don't have a counter to that question.
But when Priyanka (Chopra) came in Gunday, she was in terms of screen age much older than Arjun (Kapoor) and Ranveer (Singh). I took that decision because she's brilliant and I thought she will look beautiful as Nandita.
Are you referring to the character's age in Gunday or to Priyanka's age?
I'm referring to Priyanka's real age and on-screen experience.
But Priyanka is just three years older than Arjun and Ranveer.
It's to do with screen age more than physical age. Arjun and Ranveer got launched many years after Priyanka, so there is a perception. If Anushka had started acting when she was 17-18, people would have given her that so-called age on camera. Everything is in perspective of how long have you seen that person on film.
Anushka is 22 years younger than Salman. I don't get this comparison.
I only mentioned Gunday because it was my film. The point is, a director has to pick the actor who will pull off the character he has written, keeping all other factors in mind.
Okay. Both lead characters in Sultan are Muslim. How come you did not underline their religious identity the way many Hindi films do with minority community members?
In every film you will see some side of that filmmaker as a person, and my understanding of being a Muslim in India is replicated in Sultan. The idea of religion not being an overbearing force in the text came effortlessly because it doesn't matter whether Sultan is Hindu, Muslim, Christian, Sikh – the film is not about that.
Tomorrow if I'm making a film about that issue then definitely that part would be highlighted, but this story was something else. When a person tells you "Ram Ram", you don't say "Salaam alaikum", you say "Ram Ram". So that was a very conscious idea. I've not had Rooh Afza in every Muslim home I've visited. I've not seen every Muslim wearing kaajal. So then why? (Laughs)
Hindi cinema rarely portrays minorities without their religious identity being significant in the plot.
Ya ya, I agree. But with the evolution we're going through as a country, as individuals, as creative people, things will change.
What evolution do you see in the present political atmosphere where religious identity is being emphasised, certain minorities are expected to feel apologetic about being minorities?
I don't feel like that at all. Also, creative people must alienate themselves from these things. There will always be ideology governing the country because that's what or who we vote for, but it's important not to bridge the divisions of being creative people and political-social scenarios.
But you said portrayals of minorities will evolve because India is evolving. We live in a time when a Muslim man got lynched over a rumour that there was beef in his house. How do you expect audiences to evolve differently from society at large?
Emotion rides over any identity. An artist becomes special because he creates something beyond the realm of what society is going through. Great artists are not great or popular because of their religious identity, but because of their talent. Society looks at artists differently.
Yet, SRK and Aamir Khan were recently targeted by communal forces – in Aamir's case, even by the government – for speaking up on intolerance.
The political debate on religious identity guiding how people look at you is a different thing. We were talking about Sultan being a step forward to show an audience that people can be people beyond religion. No one judges a good creative work by the person's religious identity. India has that kind of intellect. If something gets politicised, coloured or instigated, that is different. That has been happening over time, it will happen in future too.
Are you distinguishing between reactions to a star's off-screen statements and his work?
Exactly.
Okay. How come you had a man make an unqualified apology to a woman in Sultan considering that Hindi cinema has so far been mindful of the male-dominated audience's collective ego?
The idea was to break that.
In earlier films Salman has lifted the heroine's skirt, leered, etc. Did you not think such an apology could disturb his audience, which seems conservative about what is macho?
Somewhere it's a filmmaker's belief that gets transferred into an actor, the actor sees it through a character and portrays it. The crux of Sultan is vulnerability, innocence. The same die-hard audience which might like Salman doing other stuff is rooting for this character, because they emotionally connect to his fight. That emotional connect is what India stands for.
So have Salman and most of his previous filmmakers underestimated his audience?
 Definitely. In Bajrangi Bhaijaan too he was not macho, but they started calling him "Bhaijaan" after that. Audience is simple and emotional. Give them the right dose of what you want to say with the star they love, and they go with it.
Do you realise Salman's Haryanvi accent in Sultan is inconsistent?
Definitely. We tried our best, maybe we failed. Also, because of Salman's pan-India audience, I tried to cut the accent a bit for important lines so that they're understood pan India.
But he swallowed several dialogues. That had nothing to do with his accent.
That is how Salman speaks. I cannot make an actor.
Did you correct him?
Lot of times.
How free were you to correct him, direct him?
Very free. Salman is an honest guy. He told me things he would do, things I would push him to do and things he can't do. When you get to know an actor's strengths and weaknesses that way, as a director you must help him. Salman and I spoke about things at length and then moved forward. Like he wanted to do certain things, so I said, "Let me write that from the character's point of view." Some things I felt he should do which will look new on him, he said, "Okay, but let me get it in my way." It's a team game. We're not here to change anyone or create something new. He is Salman Khan, that is why he is in Sultan. And vice versa.
Why did you resort to the decades-old Bollywood template for romances: boy meets girl, boy likes girl, girl does not like boy, boy irritates girl, chases girl, girl falls in love?
Because half the time in real life that happens. Bollywood is not far from real life. I grew up in a small town, spent my prime in Delhi University. That is how all romances start.
Really?
Okay, I'd say 50 per cent time the girl doesn't like the boy. People around me who are married happily today, most of the time after the boy meet girl, for 2-3 years they hated each other, the guy was persistent that "You need to marry me, why are you not dating me?" Finally they're happy. Everything we do stems from reality. Because it's been done so many times it sounds cliched, I'm not shying away from that. I myself say Sultan is a cliched text. Like Titanic is a cliched text. Rose doesn't like Jack at all when they first meet, then suddenly he paints a painting and she says, "Oh you're talented."
Jack does not misbehave with Rose.
(Laughs) Just because it's in English, Anna, you can't say that. He fully misbehaves.
Jack isn't stalkerish with Rose.
There are two ways of stalking. One way is ugly, one way is politically correct. Sultan does not misbehave or send texts. He does not assault. He just follows her. He's not obnoxious or sleazy.
You can't say that is stalking. If I want a job in a company and I go repeatedly for interviews, will you question me? No. The day I prove myself you will give me that job. So the idea was, the day I earn respect you will let me in your heart. That is what Sultan pushes, that nothing comes easy, prove yourself.
I said stalkerish, not stalking. Anyway, let readers decide what they think of your views. (He laughs)
(Spoiler alert) When Aarfa gets pregnant, would it not have been natural for at least someone to suggest an abortion, even if she didn't agree?
Actually, I kind of hinted it through the father, not directly, where he says, "Iske saath kaise ladegi? Thhoda control nahin kar sakti thhi?" (How will you wrestle while pregnant? Couldn't you control yourself?) In their society, that is a strong enough statement from a father to a girl.
Were you hesitant to use the word abortion, keeping conservative viewers in mind?
I was not hesitant at all. The idea of putting that scene there was that these are conversations we have behind closed doors between a father and daughter, so why are we not discussing them openly? Many people loved that scene. The idea is the vulnerability in reality can make the harshest thing simple and understandable.
Are you saying the question of abortion is implied there?
No, it's not implied. In that situation, that is what a regular conversation would be. Now do I want to use a term to make it clearer? Or do I say it where people get the point? A filmmaker needs to cater to all sections of the audience, yet not contain himself.
Are you saying some people will understand that the possibility of an abortion is suggested in that conversation?
It was not specifically about abortion, it was about the feel, and what you intend. A coach who's a father who trained his daughter over time to win that Olympic medal, her dreams, the situation they were in, his fairly justified anger, and in that whole scene the way he aggressively almost says, "Why didn't you control it? How will you play? What's your decision?" If you don't get that subtext, the director has fallen short.
What's your reaction to Salman's remark that he felt "like a raped woman" during the strenuous training for Sultan?  
You know Anna, I'm not going to speak about it because there's already so much spoken. I have a personal rapport with that man. If I've to say anything, I'll discuss it with SK. Sorry about this.
Have you spoken to him about it?
Ya, and I'd like to keep that conversation also to myself. (Laughs)
Would you ever make such a remark yourself?
No, I wouldn't.
Why not?
I'm gonna reserve my comments here, but I would say, opinions of different people are different, you can't say "will you ever make the same remark?" and derive a larger conclusion on that.
Okay, what do you think of Salman as an actor?
He's a very natural, very basic actor.
Basic?
Basic as in, his craft is from his life. He does not prepare for a role. He reads a character and adapts to it there and then. He is instinctive. I adapted to that. Like if I narrated a scene, instinctively he would say, "Yaar I can also do this," then he'd say, "I can also do that," then I'd say, "Let's go with the first one you told me, it's better."
For example when he understands that his baby is no more, I said, "Just stand there for some time, look at that cradle. It's all internal. I want a blank," because the film has emotion but the treatment is never melodramatic. My idea was that if you played any sport, over time you get inert to emotion because part of your life becomes about losing and winning. At times you break down when you lose, at times you get angry or frustrated. When such people face personal turmoil, it will not be melodramatic, it will be internal. You still feel the same pain. That was our approach. In that approach he added his nuances.
But that scene showed Salman's limitations in contrast with Anushka's talent.
That was not intended. The intention was that a man who has just become world champion gets slapped, what will he do? That's one of my favourite scenes in the film. I said, "Sir, just stand like a rock, because a mountain doesn't cry, a mountain crumbles." When you know you've achieved everything, the breakdown won't be emotional, it will be an internal breakdown of your soul.
Many viewers and critics consider him a limited actor.   
If you ask me, Salman is a very underrated actor, an unexplored actor.
You're 34, Sultan is your third film. What does its success mean to you career wise? 
It is more difficult from here because with great power comes great responsibility as they say in Spiderman. I've to be more conscious with the stories I write now. There'll be sub-conscious pressure that I don't become a one-film director. There's been a lot of personal learning from this whole process. I hope I put that to good use.
(For Sultan review, click here)
Entertainment
"One does feel guilty putting out promotional content during a pandemic. But then you realise hundreds of people have worked on the film, you have a responsibility," says Randeep Hooda on Radhe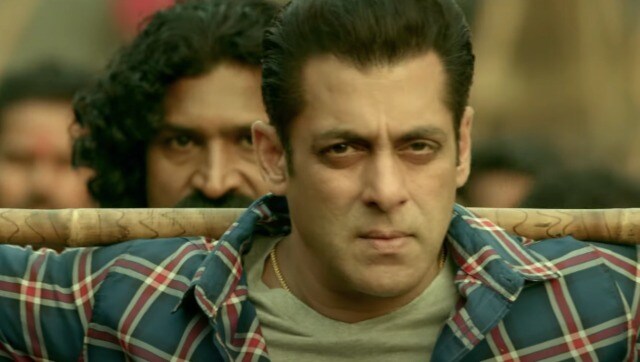 Entertainment
Salman Khan Films and Zee said they will also support families of daily wage workers who work in the entertainment industry.
Entertainment
Salman Khan said his parents, veteran screenwriter Salim Khan and producer Salma Khan, got their second dose on 9 May along with brother-producer Arbaaz Khan.