Director Radha Mohan on 60 Vayadu Maaniram, Kaatrin Mozhi: Back-to-back remakes is a pure coincidence
60 Vayadu Maaniram and Kaatrin Mozhi are remakes of Godhi Banna Sadharana Mykattu and Tumhari Sulu respectively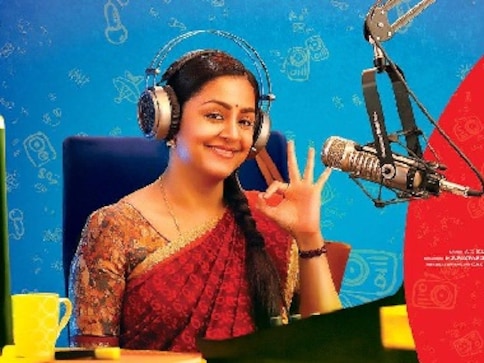 Even before Jyothika's Kaatrin Mozhi, director Radha Mohan completed the shoot of 60 Vayadu Maaniram but he kept the news as a top secret. "Yes, we didn't reveal the news on the commencement and completion of 60 Vayadu Maaniram because my producer wanted to promote the film only towards the release. We shot the film in just 40 days. In fact, only during the shoot of 60 Vayadu Maaniram, Jyothika called and asked me whether I would be interested to remake Tumhari Sulu in Tamil," says Radha Mohan.
Though both 60 Vayadu Maaniram and Kaatrin Mozhi are remakes of Godhi Banna Sadharana Mykattu and Tumhari Sulu respectively, Radha Mohan made necessary changes for the Tamil audiences. "The taste of Hindi and Tamil audiences are completely different. We have introduced new characters in Kaatrin Mozhi which were not present in Tumhari Sulu. Similarly, 60 Vayadu Maaniram also has a few additional elements comparing to the original Kannada version but the two back-to-back remakes is a pure coincidence," says Radha Mohan.
Radha Mohan's close friend Prakash Raj suggested the director to remake Godhi Banna Sadharana Mykattu. "After watching the film, I was deeply moved and decided to remake it in Tamil. Prakash Raj wanted to play the dad role, who has Alzheimer's condition, and there was no second choice. Everyone in my team suggested that Vikram Prabhu would be perfect to play Prakash Raj's son and I was also convinced after meeting him. Audiences can see a new Vikram Prabhu in 60 Vayadu Maaniram," says the director, who is known for making feel-good films like Mozhi and Abhiyum Naanum.
"I enjoy watching all kinds of films but the feel-good genre talking about human values and relationships comes quite naturally to me. If Abhiyum Naanum depicted the novelty in the relationship between a caring dad and his daughter, we have portrayed a father-son relationship angle in 60 Vayadu Maaniram," says Radha Mohan.
Radha Mohan says that with 60 Vayadu Maaniram, his lifetime wish to work with Ilaiyaaraja has been fulfilled. "When I used to work as an assistant director, all my films were composed by Raja sir. But with 60 Vayadu Maaniram, I had the opportunity to interact with Ilaiyaraaja sir, whose knowledge about films and music is matchless. He suggested me to rearrange a few scenes so that he can add a musical connect in the re-recording. Another amazing aspect about Raja sir is that he delivered all the songs in one session and the re-recording was completed in just six days. These days music composers are working in nights but Ilaiyaraaja sir still maintains the same old school discipline, he comes to the recording studio in the morning and tirelessly works throughout the day," says the director with a smile.
For 60 Vayadu Maaniram, Radha Mohan and Prakash Raj visited an Alzheimer's care center in Mangalore and they researched a lot about the disease before the shoot. "60 Vayadu Maaniram is a wholesome family entertainer. Other than Vikram Prabhu and Prakash Raj, Samuthirakani has an important role and Indhuja also plays a pivotal character," he says.
Talking about Kaatrin Mozhi, Radha says that he is surprised to see Jyothika's growth as an actor in the last ten years. The Mozhi director says, "Wherever I go, people kept asking me whether I would join hands with Jyothika after Mozhi but only after ten years, we got the opportunity to reunite. Jyothika still has the same enthusiasm for delivering her scenes with great care. Now she gives me two to three options in her performance, she shows great interest in the filmmaking process which is a gift to any filmmaker."
"For her role in the film, Jyothika underwent training to know how RJs would handle the equipment on FM stations. We also constructed an FM station set for the film," added Radha Mohan.
In Kaatrin Mozhi, STR plays a special cameo and he recently raved about the film after dubbing for his scenes at a popular studio in Chennai. "The situation demanded a young actor so we thought STR would be perfect. When we approached, he readily agreed because STR has huge respect for Jyothika. STR effortlessly performed his scenes that he completed his portion in half a day. Moreover, STR and Lakshmi Manchu, who plays the FM station head in the film, are childhood friends so the whole shooting spot was like a school reunion," laughs the director.