Dior designer Maria Grazia Chiuri channels surrealism in predominantly black-and-white fashion show
Dior designer Maria Grazia Chiuri projected a ludic mood at the Rodin Museum as top actresses weighed in on the Time's Up movement at the start of Paris couture week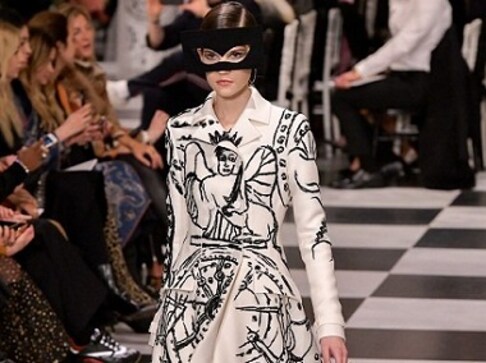 Paris: Dior designer Maria Grazia Chiuri projected a ludic mood at the Rodin Museum as top actresses weighed in on the Time's Up movement against sexual harassment at the start of Paris couture week.
Here are highlights from Monday's spring-summer 2018 collections:
MAGIC AND ILLUSION AT DIOR
Chiuri channeled surrealism for her predominantly black-and-white Dior show that brimmed with optical illusion and surprise. Chess board squares led around a mirrored runway adorned with hanging plaster sculptures: an ear, a torso, a nose, a hand and a cage.
A series of A-line "domino" coats and gloves whimsically attached to an ankle set the tone for playful styles that were inspired by touchstones from the early 20th century artistic movement.
Gowns with visible caging — a surrealist leitmotif — played on transparencies. Eyes — a frequent reference for Salvador Dali — were emphasized by masks and exaggerated makeup. And the movement's frequent depiction of plumes was captured in the most beautiful gown in the collection: a bustier dress made of huge white feathers.
They billowed out dramatically in an hourglass silhouette from a cinched waist fastening.
A "hypnotic" striped bustier dress with a dropped waist called "Vertigo" was handled less subtly.
Alongside several of the gowns in dots and stripes, it suffered due to its black-and-white shapes that gave an unintended harsh edge to the otherwise feminine display.
___
ACTRESSES SPEAK UP ON TIME'S UP, DENEUVE
The guests at Dior included actresses Emily Blunt and Gemma Arterton, who commented on the sex harassment and abuse scandal that has shaken up the entertainment industry.
Clash of the Titans actress Gemma Arterton, who sat front row at Dior, said a "generational thing" may explain why 74-year-old French actress Catherine Deneuve views the Hollywood anti-abuse campaign as having gone too far.
Deneuve set the feminist world ablaze this month by co-signing a letter accusing post-Weinstein groundswell of allegations of being puritanical.
"My general idea is there is in the younger generation in France a strong feminist movement. The older generation is a bit further behind. It's a generational thing," Arterton said.
Arterton said it was an "exciting time" to be in the film industry as real action is taken to provide equality for women — especially in her home country of Britain.
Emily Blunt called it "an extraordinary time" in history that will give women a voice and empower younger actresses.
"It feels now we're all engulfed in flames... and the weight of history is coming behind it," Blunt said.
The actress said she believed the animosity would in the long term "actually neutralize in the most positive way."
___
EMILY BLUNT IS BUSY
Actress Emily Blunt, whose numerous film credits include The Devil Wears Prada, attended the Dior couture show wearing a sophisticated red silk Dior gown with a playing card motif.
Blunt spoke to The Associated Press about her upcoming movies, including Mary Poppins Returns, which picks up with the flying nanny 25 years after where the Julie Andrews original left off and is set during the Great Depression.
"It's more of a darker backdrop, more need for hope coming from the skies," she added.
Blunt said the film will feature all new music and continue the story that won Andrews the 1965 Oscar for best actress.
"No pressure, no pressure at all," she quipped.
Blunt also stars in A Quiet Place, a horror movie about an isolated family co-written and directed by Blunts husband, actor John Krasinski of the American version of The Office fame.
Blunt said it was the first time she'd collaborated professionally with Krasinski and was pleased to discover it strengthened their relationship.
"I was thrilled to find out that we work well together and didn't kill each other. It was a very new experience for both of us, and I think we realized how much we value each other creatively," she said.
___
SCHIAPARELLI CHANNELS 1930′S
Singers Kylie Minogue and Pixie Lott and actress Melissa George lined up at Schiaparelli's morning show, which aptly kicked off couture week offering a view across the majestic Place Vendome.
The age-old maison evoked the romantic nostalgia of the late Elsa Schiaparelli's 1930s heyday, while cinched waists and ribboned espadrilles added touches of the 1950s style.
Designer Bertrand Guyon was mainly on form this season — using rolling, layered pleats to evoke the 30s in a rose gold hand-painted silk chiffon gown. Its shoulders were lobbed off in a stylish contemporary touch.
A midnight blue dress evoked a slinky quality, produced by the weight of embroidered crystals on soft chiffon fabric.
Elsewhere, fun post-war details were referenced as coarse raffia fringing jazzing up a multicolored banana tree fiber gown, and the house's signature surrealist insect motifs infested a 1950s white faux-leather jacket. Sometimes, designs were a tad heavy-handed.
But the piece de resistance, a black gown with a dramatic full skirt, fluttered by literally and figuratively with all-encompassing silver gilt butterflies.
___
VAN HERPEN'S ABSTRACTIONS
Iris Van Herpen deftly captured the beauty and fragility of nature in a sublime couture display.
The decor of baroque-like swirls of fabric led the eye to the collection of 21 vibrant gowns that riffed on the organic.
While she abandoned none of the abstract musing that has won her critical acclaim, the Dutch conceptual designer evolved this season's styles in a more wearable direction.
Abstract foliage in aqua green, held together from a nude bodice, looked remarkably like it had grown from, or was fused with, the model's body.
A cascading silver gown that played on watery transparencies resembled a jelly fish with its myriad stripes and dots.
The silhouette sometimes borrowed from the long sleeves or caped silhouette of the Middle Ages in a collection that stood out in the crowded couture calendar.
___
PROENZA SCHOULER CHANNELS 70S VIBE
The New York-based ready-to-wear label Proenza Schouler delivered its sophomore display for Paris Couture Week and it was all about 1970s American craft.
Center-partings, velvet, flared sleeves, tassels, turtlenecks, fringing and patchwork styles merged together — and always with subtlety — as they appeared to a funky, retro-sounding soundtrack.
The ethnic styles preferred by hippies of the era were referenced in giant statement necklaces, huge earrings and the clasps and beading on the flame red, black and brown looks.
Indeed, it was fastidious detailing — what the house called "a sense of handcraft" — that defined the spirit of the perfectly executed designs.
It was an accomplished, architectural collection for designers Jack McCollough and Lazaro Hernandez.
also read
Football
Lionel Messi had joined PSG in 2021 from Barcelona. The Argentina had signed a two-year contract upon the move.
Explainers
The French government plans to move homeless people out of Paris ahead of the 2024 Olympic Games in the capital, sparking criticism from some mayors of regional towns and villages which are expected to house them
Sports
During a visit to Paris on Monday, International Olympic Committee (IOC) official Pierre-Olivier Beckers, who is responsible for monitoring the Paris Games, voiced concern about the work needed to balance the budget