Dhruv Vikram on Varma director Bala: He is giving me a new lease of life, just like he did with my dad in Sethu
"Dhruv was skeptical about how people would receive his performance in Varma because it is the remake of Arjun Reddy.' - Vikram on his son's debut film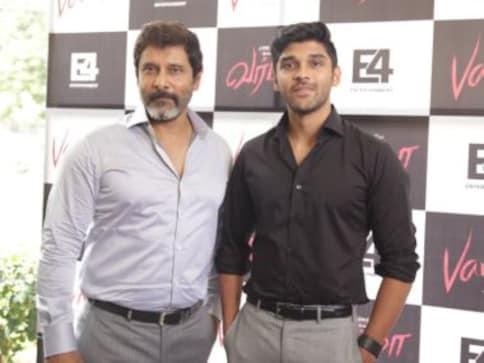 Nineteen-year-old Dhruv Vikram celebrated his birthday on Sunday in style as the teaser of his debut Tamil film Varma was launched at a popular star hotel here in Chennai. "I don't know what my producer Mukesh saw in the fun Dubsmash videos which I posted long back; he was impressed and approached my dad whether I would be interested to play the lead in the Tamil remake of Arjun Reddy," said Dhruv at the teaser launch.
"I know Bala uncle from my childhood days but still, I don't know how he would behave on the sets. The first few days were actually difficult for me but later on, things were quite easy because both Bala uncle and I were in sync, thanks to our off-screen rapport," explained the young actor.
"I was actually in the US when the offer of Varma came to me. If not for Bala uncle, I wouldn't have done this film," said Dhruv who went to the US for a professional filmmaking course. "Finally, I should also thank all the fans of my dad who have posted birthday wishes posters in the city. Bala uncle gave life to my dad in Sethu and now, he is giving me a new lease of life with Varma ," added the actor who was constantly instructed by his dad Vikram on stage.
"Dhruv was skeptical about how people would receive his performance in Varma because it is the remake of Arjun Reddy. He was actually little nervous and told me how he should have done a particular scene. After three days, Bala called and told me that Dhruv earned his form back," said Vikram.
"I suggested Bala to direct Varma for two reasons — long back, we discussed that Dhruv should be launched only in his film and secondly, Arjun Reddy clicked mainly because of the performance of its lead actors. I know Bala is capable of extracting performance even from a stone so why not Dhruv?," added the Saamy Square actor who also jovially pointed out that he will try his best to compete with Dhruv in Tamil cinema.
Vikram also said that many leading heroes wanted to remake Arjun Reddy in Tamil. "I personally know that a lot of young heroes wanted to remake Arjun Reddy in Tamil so I should thank producer Mukesh for offering a perfect launch for Dhruv with Varma," he said.
Mukesh Ratilal Mehta, who is producing Varma through his production house E4 Entertainment, said "Though many actors wanted to act in the Arjun Reddy remake, I chose Dhruv because the film demanded a talented newcomer. When I called Vikram to get his consent to launch Dhruv, he was out of the country and later, we screened the film to him. Vikram also wanted Bala to watch Arjun Reddy to ask whether the film would be a perfect launch for Varma but to our surprise, he also agreed to direct the remake." Varma is the first remake in Bala's career and for the first time, he is also launching a debutant hero.
"There is no doubt that Bala is one of the finest directors in India but the kind of films he had done so far are completely in contrast with Arjun Reddy, which is a coming-of-age film catered to young generation audiences. But later, I was convinced because the script is already there and all Bala should do is to extract the required performance; he is best at it", added Mukesh.
Radhan, who composed music for the original Telugu version, is also taking care of the songs and background score of Varma. "It was an exhilarating experience to work with a director like Bala who respects his composer and technicians. I can assure everyone that Varma will be a good film and as a team, we have delivered our best. Even for the teaser, we wanted to compose a unique score and Bala sir immediately gave his nod," said Radhan.
Speaking at the event, director Bala said, "I first met Dhruv when he was a six-month baby. Even as a kid, Dhruv was very sharp that he would smartly identify the difference between the lion and lioness toys present in his home." On a lighter note, the maverick filmmaker added: "All I can say about Dhruv is that working with him wasn't tedious and unlike his dad, everything was quite easy on the sets."
The release date of Varma will be officially announced by producer Mukesh in October.
Entertainment
Moreover, the film has been registering constant growth from its first day all across the nation, which was just exponential on the second day with approx. 200% growth in multiple cities.
Entertainment
Grooving to the Garba beats, Falguni can be seen teaching Hrithik some of the steps of Gujarat's traditional folk dance.
Entertainment
While reviewing Saif's upcoming movie, Kareena shared a fierce poster, featuring both the lead stars of Vikram Vedha in action.