Dhinchak Pooja on being part of Bigg Boss 11: 'I took time to adjust and often got negative vibes'
Dhincak Pooja has plans to release three more songs that she conceptualised while in the Bigg Boss 11 house.
Dhinchak Pooja came into the Bigg Boss house with a lot of promise, much fanfare and sensationalism, leading to an insecure feeling among some of the contestants. But her time in the Bigg Boss house was limited – just about two weeks — which isn't very surprising.  Her lack of visibility, initiation, detached attitude and not being involved in tasks could have led to her ouster from the show.
While Pooja did entertain us with her songs, she hardly ever interacted with the other housemates, or got involved in any of the discussions. Hence, her eviction wasn't a sob fest like others simply because she wasn't really close friends with anyone except Arshi Khan and Akash Dadlani. In her short stay, Pooja did not ruffle any feathers and was in everyone's good books.
In fact, Pooja had voluntarily nominated herself to save Arshi thinking that her numerous fans will save her but this didn't happen. So does she regret her decision of nominating herself? "I don't regret having done anything. I don't think about the past. It's okay that I have got evicted. I did it for a friend. Arshi is inside, she will play her game. What I did was the right thing to do then," said the cringe-pop sensation.
She now plans to release three more songs that she conceptualised while in the Bigg Boss House.
She furthered, "I feel bad that I couldn't stay inside for a longer time. People kept me in for as long as they wanted to. But I have been part of situations I would not normally come across and hence, have learnt a lot. It was a memorable experience for me," adding, "Actually I took time to adjust. I was often getting negative vibes and I didn't like it. There were 15 housemates and all were playing their games, whereas I had gone to have fun. In the initial days, they were targeting me, bad mouthing me because I was new and wasn't giving them back. I had heard about the kind of people who enter the show. I'm basically a strong person but I wanted to see for how long I can survive and spend time with such people."
Talking about strong contenders who could probably win the show, Pooja named Hiten Tejwani, Hina Khan, Shilpa Shinde and Arshi Khan.
"Hina tries to get involved in others' matter so that she can be seen. Hiten also gets involved, he talks to everybody but at times he maintains a distance. Arshi is an entertainer but she's fake. She is always in a character, for instance, she calls herself a naagin. She teases people and then says sorry. But she is fun and good at heart," said Pooja.
But Pooja is confused as far as Vikas Gupta and Shilpa Shinde are concerned. Vikas and Shilpa, who have had conflict in their professional space outside the house few months back, have been making news for last few days with their bickering and fights, something that has sidelined the rest of the contestants.
"It's likely that both entered the show with an agenda. But I can't understand because at times they are fine with each other and then they start fighting. Is it for content, or do they mean it? But, yes, it's inhuman on Shilpa's part to harass Vikas while he is eating or sleeping. But no doubt, Shilpa is an entertainer; she is very smart, whereas Vikas gets too emotional and then tries to play these mind games," added Pooja.
She may not have gotten the opportunity to get close to any contestant in just 15 days but she claims she will miss A-Cash aka Akash, who is also a rapper. "I spoke to him more than I did with others. We would create songs together. He is quite funny and I will miss his goofy antics," said Pooja, adding, "Hina and I were not on great terms right from the beginning. She tries to dominate everyone in every task and I think that's what irritates people."
Entertainment
Priyank Sharma, who was ousted from Bigg Boss 11 in the first week, is coming back on the show along with wild card entry Dhinchak Pooja.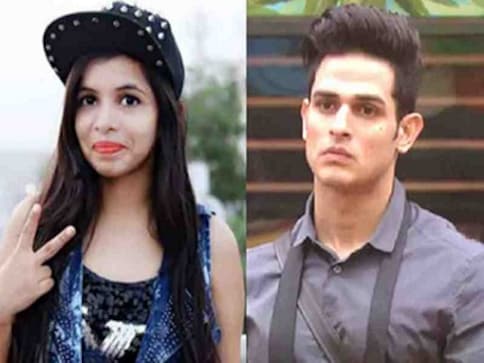 Entertainment
The entry of wild cards in Bigg Boss 11 – Priyank Sharma and Dhinchak Pooja – will be real treat for the avid viewers of the controversial reality show.