Dhanush's Hollywood debut The Extraordinary Journey of the Fakir to release this summer
Dhanush's The Extraordinary Journey of the Fakir will be released in Hindi, English, and Tamil in India.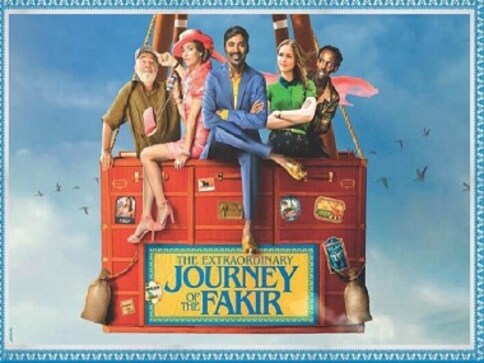 The makers of Dhanush's Hollywood debut The Extraordinary Journey of the Fakir have confirmed that the movie will hit screens this summer. The French teaser of the film was released yesterday by Sony Pictures, who acquired the distribution rights for France and the UK last year. The movie is slated to release in France and Belgium on 30 May, and Germany on 6 August. Little Red Car Films is expected to announce the film's India release date once the business agreements are completed. In India, the film will be released in Hindi, English, and Tamil.
Several foreign distributors lapped up the film's international rights for various territories at the 38th edition of the American Film Market in November 2017. The rights to Japan, Brunei, Belgium, Germany, UK, Italy, Malaysia, Singapore, Russia, Israel, Ukraine, Poland, Czech Republic, Slovakia and Spain were sold to various distributors at AFM.
Directed by Canadian filmmaker Ken Scott, the movie is based on French author Romain Puértolas' best-selling 2014 French novel, The Extraordinary Journey of the Fakir Who Got Trapped in an Ikea Wardrobe, which has been translated into 35 languages and sold in 36 nations with nearly 1 lakh copies in France alone.
Dhanush will be seen essaying the role of a street-smart magician, Ajatashatru, who embarks on an adventurous journey in Europe.
The synopsis of the film, as listed by co-producer Little Red Car Films, is as follows:
"After his mother's death, a young fakir from the streets of Mumbai, AJATASHATRU, leaves India for France to track down the father he never knew. From the moment he arrives in Paris, nothing goes as planned. Aja falls in love with a young American woman having an existential crisis, wakes up in a truck full of Somalian refugees headed for England, is held hostage in a bureaucratic war, sorts out the love life of a Hollywood star, gets shot at by a hitman in a Roman palace, travels by private jet, merchant ship and hot-air balloon, and becomes a rich man for the span of a few hours. As Aja finds himself helplessly shipped from Folkestone to Barcelona, and from Rome to Tripoli, what was initially supposed to be a simple visit to Paris to discover his father's identity turns into a veritable odyssey."
The Extraordinary Journey of the Fakir is jointly produced by Little Red Car Films, Brio Films, Vamonos Films, M! Capital Ventures, Impact Films, Aurora Global Media Capital, Scope Pictures, TF1 Studio and Aleph Motion Pictures.
Billed as an adventurous comedy-drama, the movie will see Dhanush share the screen space with Oscar-nominated actors Bérénice Bejo (The Artist) and Barkhad Abdi (Captain Phillips). Also starring Erin Moriarty (of Netflix's Jessica Jones fame) and Abel Jafri (best known for his work in the Academy Award-nominated 2014 film Timbuktu), The Extraordinary Journey of the Fakir has cinematography by Vincent Mathias. National award-winning actress Seema Biswas (Bandit Queen) is also playing an important role in the film, which has been shot in Mumbai, Rome, Paris, and Belgium.
Dhanush is currently busy with a flurry of Tamil films including Balaji Mohan's gangster drama Maari 2, Gautham Menon's romantic thriller Enai Nokki Paayum Thota and Vetrimaaran's action drama Vada Chennai. He has also begun the casting process for his untitled sophomore directorial, which will be bankrolled by Mersal producer Thenandal Studios. On the production front, Dhanush's next release would be Superstar Rajinikanth's Kaala, directed by Kabali filmmaker Pa. Ranjith.
Watch the teaser below:

Entertainment
Where do I begin to praise Thiruchitrambalam? Its casting, which is so so so apt, it makes you wonder why more films in India don't think of unorthodox casting. Veteran filmmaker Bharati Raja as Dhanush's grandfather is a masterstroke.
Entertainment
As a young filmmaker, Vidhu Vinod Chopra was nominated for Academy Awards, way back in 1979. But at this point he was struggling to get his films made, and didn't even have the money to attend the Oscar ceremony.
Entertainment
Pop star Britney Spears has said she might not perform in the near future as she feels "traumatised" by the 13-year conservatorship.