Despite COVID-19, how major international film festivals delivered robust versions of themselves
A touch of foresight — as well as passion, planning and a willingness to scrap just about everything — is what prevented some of the major international film festivals to become casualties of the unpredictable pandemic.
It was January 2020, several weeks before everything jerked to a halt. Film fans were wondering if Bong Joon Ho's Parasite could go the distance at the upcoming Oscars. In Lincoln Center's quiet Furman Gallery, across the lobby from the Walter Reade Theater, Eugene Hernandez assembled the staff of the New York Film Festival, the annual fall showcase to which he'd just been appointed director. Whiteboards went up on the wall. Notepads and laptops came out.
"I wanted the New York Film Festival to be New York's film festival," Hernandez recalled, stressing a widening perspective beyond the Upper West Side. "I kept repeating that to anyone who would ask."
Already he had a vision of exporting the festival to other boroughs via outdoor screenings that would be masterminded by Hernandez's longtime friend Dan Nuxoll, the president of the organisation Rooftop Films.
Little did they know how important that decision would be when the pandemic knocked indoor screenings out of the equation. "One of the first calls I made after we decided to go forward," Hernandez said, "was to say to Dan, 'OK, remember that meeting we had, when we wanted Rooftop to add some ancillary events? Now Rooftop is the festival.'"
A touch of foresight — as well as passion, planning and a willingness to scrap just about everything — is what allowed some of the major international film festivals like New York, Sundance, Berlin, Toronto and, most recently, South by Southwest in Austin, Texas, to deliver robust versions of themselves despite COVID-19
. Movies were delivered on private streaming platforms or, per Hernandez's brainstorm, exhibited at drive-ins, or both.
And according to the festivals' official tallies, audiences grew larger in size and diversity.
"The only thing that couldn't change was the mission and why we do it," said Tabitha Jackson, Sundance's new director named in 2020, who, like Hernandez, survived a frightening first year with enviable poise. "It's about celebrating and amplifying the art of independent artists and the community around them. But the decision that we had to go on, that was made pretty quickly. And that was when the massive gulp took place."
A gulp and a plunge: Months of internal calculations resulted in Sundance's buzzy first virtual edition in January, which included the world premiere of Judas and the Black Messiah. There would be no travel to Park City, Utah, a blow to both the local economy and to festival goers who enjoy lining up at midnight to coronate a new breakthrough horror film like Hereditary.
"Everybody knows we're in the long game with Park City and that this was the right thing for the right year," said Keri Putnam, the outgoing Sundance Institute chief executive, emphasising that safety was the priority. Fewer films competed for eyeballs — 73 features, down from a typical 120 or so — but a sales record was set: $25 million for Apple's acquisition of the crowd-pleaser CODA.
The competition took notice, including South by Southwest, which was the first big North American event forced to cancel in March 2020, and was planning how it would move forward in 2021.
"I have the highest respect for Sundance," said Janet Pierson, the longtime director of film for SXSW. "And I was daunted because I thought, 'Oh, no, the bar is too high.'"
Last year, after getting shut down only a week before her opening night, Pierson pivoted: Short films went online, as did a curated collection of features in a partnership with Amazon. Almost immediately, Pierson started researching every angle for 2021. She spoke with the toughness of a boxer bent on a rematch. "We couldn't announce something that we weren't going to fulfil."
In advance of SXSW Film's virtual rebound last month, which opened with Demi Lovato: Dancing With the Devil, some shrewd cuts were made. A nine-day affair was reduced to five. The number of invited films was roughly halved. And most provocatively, live post-screening Q and As with the directors needed to be dropped.
"We knew we couldn't do those," Pierson said, mentioning her organisation's deep layoffs. (All festival representatives contacted for this piece touched on downsizing as a major factor.) "Our staff was down to five. We ended up encouraging filmmakers to be really creative about reaching audiences in different ways. Our team is shockingly small compared to the size of the event we put on."
Regardless, Pierson and her team leapt into action. She recalled the good will she heard from attendees and the film community at large, including her fellow executives and programmers — a small, devoted band of high-level planners who had been comparing best practices all year over texts and anxious, late-night phone calls.
The Berlinale, celebrating its 71st edition, opted for a two-part structure, sharing its virtual screenings with the press and distributors in February, but saving potential in-person audience screenings for June. Carlo Chatrian, Berlin's artistic director, is still waiting to understand how his program will play with a crowd. "On Twitter, the comments are always overwhelmingly positive, which is good," he jokes. "But at the same time, you ask, 'What is the truth?'"
A Sundance series of Los Angeles-based drive-in screenings had to be abandoned at the last minute (along with untold hours of spent labor), a casualty of the unpredictable coronavirus
in transit. "That was a time when I could almost shake my fist at the gods," Jackson said, fuming. And even when the drive-ins did happen, like New York's sublime Queens evening with Wong Kar-wai's In the Mood for Love, flat parking lots were unconducive to reading subtitles.
"It was a beautiful experience," Hernandez confirmed. "That said, I had to move my car twice to reposition. There was a little slope, a hill, at the back. We started calling it the balcony. If you were parked up on that hill, you'd get an even better vantage point."
Still, having survived their annus horribilis, the film festivals appear transformed for good.
"Being in the Bronx and Queens and Brooklyn last year was the beginning of something, not an interim solution," Hernandez said. "If the biggest outcome of 2020 was that, in 2021, we went back to the way things were, that would feel like a failure to me. Now we have a little more confidence because we've done it once. We have the battle scars, too."
Pierson said: "Things evolve. Things don't go back. Every year, we approach our work with, 'What makes sense now?' What I personally liked best was that we were able to deliver on the South-by-Southwest-ness of it all. Somehow, we were able to deliver that on one screen, through one portal."
Chatrian, a veteran critic, misses the mingling with audiences and hearing the buzz in lobbies, but he's pragmatic about the changes afoot. "Even online parties — something that, in the beginning, I was totally against — by the end, I said, 'Well, it's better than nothing.'"
Joshua Rothkopf c.2021 The New York Times Company
Entertainment
"You're there with five other people, honoured for the work that you've done. What's better than that?," says Glenn Close, who's earned eight Oscar nods in her career.
Entertainment
Ravi Dubey urged all those who came in contact with him to closely monitor their symptoms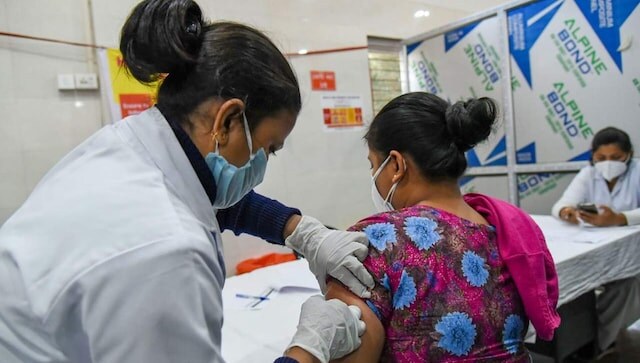 Entertainment
IMPPA also wrote to the BMC chief, requesting them to organise a vaccination drive for its members