Despicable Me 3 trailer: Watch out for Batlhazar Bratt, the gum-chewing despicable villain
Despicable Me 3 will introduce a new villain in Balthazar Bratt whose voice has been lent by the Grammy Award-winning co-founder of South Park, Trey Parker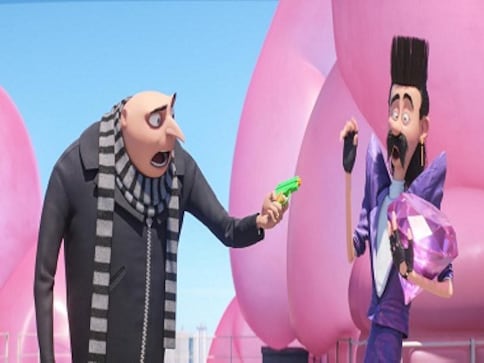 The Despicable Me 3 trailer is not despicable at all.
In fact, it is filled with  moments and adorable characters from start till the end. Right in the first few seconds of the trailer, a minion is seen shouting out 'illumination' (referring to the production banner Illumination Entertainment). One cannot help but yearn for some more Minion moments on the screen but they appear only in the end, singing 'happy birthday to you' in a hysterical sequence.
However, the two minutes between the two appearances are dominated by a new character Balthazar Bratt who plays the antagonist in this animated sequel. To refer to Bratt as eccentric would be an understatement as he is seen moonwalking on sea water, dishing out Rubik's cubes that turn into rainbow bombs and most noticeably, using bubble gum to outlast his enemies.
The co-founder of the adult animated television series South Park, the Grammy Award-winning voice artiste Trey Parker has been roped in to lend his voice to the character of Bratt and going by the trailer, he seems to have done a commendable job given his experience behind the dubbing mic. Steve Carell and Kristen Wiig reprise their roles of Gru and Lucy Wilde from the prequels.
Another highlight of the trailer is the music. Even the fight sequence between Gru and Bratt is on the beats of the background track. Watch out for the part when Bratt misses a beat allowing Gru to level him with a punch that was pretty much random.
While the trailer leaves us in splits, we hope we see more of the adorable Minions in the next glimpse of this entertainer. Despicable Me 3 is the third installment of the immensely popular Despicable Me franchise. It is directed by Pierre Coffin and Kyle Balda and is slated to release on 30 June 2017.

Entertainment
The small goggle-wearing Minions, Gru's band of devoted little workers, get more screen time for their song-and-dance numbers and slapstick antics in the sequel.
Entertainment
In their search for the most despicable master, the trailer documents how the minions ran through a range of masters from the Tyrannosaurus Rex to Dracula thanks to some minor errors.