Derry Girls review: Netflix's madcap, irreverent comedy about five Irish teens is the show you need to stream right now
In the very first episode of Derry Girls, we see the five teenagers who are its protagonists — Erin, Orla, Clare, Michelle, and James — seated in the headmistress' office at school. One by one, their parents rush in, to be informed that their wards were found in very odd circumstances involving a dead nun and detention.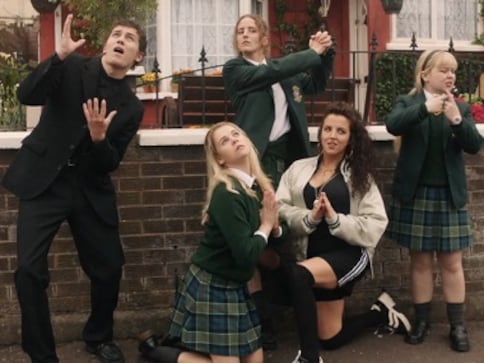 In the very first episode of Derry Girls, we see the five teenagers who are its protagonists — Erin, Orla, Clare, Michelle, and James — seated in the headmistress' office at school. One by one, their parents rush in, to be informed that their wards were found in very odd circumstances involving a dead nun and detention.
The nun — almost 98 — had a heart attack, but the headmistress, Sister Michael, can't help but wonder if the students helped it along in some way. After all, when Sister Michael opened the detention room door, she did find James peeing into a wastebasket, Erin attempting to flee from a window, Michelle rifling through the dead nun's purse, Clare eating the nun's sandwich, and Orla holding up the nun's head.
As for why the girls (and James) were in detention to begin with, it is because they attempted to bully a first-year student on the school bus earlier that morning. ("Attempted to bully" because the younger girl bullies them back instead.)
In another episode, the teens witness a "miracle" — first Clare, then Michelle and Orla claim they've seen a statue of the Virgin Mary "smirk" at them. The Holy Smirk is followed by the three girls and James seeing the statue "weep". Erin later explains that the statue's tears were actually dog pee dripping down from an alcove above, but the gang persists in their story because the priest deputed to investigate the miracle is an absolute hottie. And also because said investigation lets them off the hook from appearing for a History exam.
In yet another incident, the teens end up nearly burning down the bedroom of the woman who runs the popular local fish-and-chips shop. (They're in her apartment in the first place to make amends for stealing her noticeboard.)
Misadventures like these make up the six episodes of Derry Girls' first season, which has just been released on Netflix. It's an utterly madcap comedy, with some of the sharpest writing (by showrunner Lisa McGee) for the genre in recent times. Derry Girls is set in Northern Ireland of the '90s, when "The Troubles" (a civil war between Irish Protestants who were UK-loyalists and Catholics who wanted the region to be part of a unified Ireland, that lasted the better part of three decades, claimed 3000+ lives, and injured several thousand others) were still ongoing. The town where the girls live, is — as Erin's words inform us — known either as Londonderry or simply Derry, depending on your persuasion.
The morning on which we're introduced to Erin's family — Grandpa Joe, dad Gerry, mom Mary, aunt Sarah, cousin Orla, and a baby sibling — a bomb scare on the bridge out of Derry means everyone has to take a longer route to get anywhere. (Mary prays this won't mean that Erin and Orla will have to stay home from school; she's had quite enough of the girls over their summer holidays.) Soldiers halt and check Erin's school bus while it's on its way. Indeed, Army checkpoints are a part of the landscape in which Erin and her friends have grown up, but they manage to have a grand time nonetheless. Derry Girls mines its setting and all its quirks to produce a veritable treasure trove of irreverent comedy.
For instance, when Erin, Orla and Clare meet up with Michelle at the bus stop, they notice a boy with her — Michelle explains it's her cousin James. "You remember my Aunt … who went to England to get an abortion? Turns out she didn't get the abortion," Michelle quips, as an aghast James stammers out "I... didn't know that". James, back with his mom in Ireland now, has been enrolled in the all-girls school that Erin and the others attend because Michelle's family (rightly) feared the "wee English fella" would be under threat of physical harm in the boys' school. "Why is he making those funny sounds?" Orla asks Erin, when James begins to speak — referring to his clipped British accent, so different from their thick Irish brogues.
Despite his Englishness, James becomes a steady member of the gang — the girls' favourite punching bag and punchline, but one they'll watch out for when push comes to shove (such as when a visiting Ukranian student wants to "take James' virginity").
It's an attitude Derry Girls has towards all its characters: their eccentricities (of which there are many) are all fodder for humour, but the writing is fiercely protective too of these characters, and genuinely fond of them. Just as you'll be by the time you get to the end of season 1.
You'll laugh along at the antics of Erin, the melodramatic leader of the pack; at Clare — panicky do-gooder; spaced-out Orla; brash Michelle; and the wee English fella. You'll laugh at the dynamics between hapless Gerry and his domineering father-in-law Joe ("Why don't you just leave my daughter alone?" Joe thunders early on at Gerry, who replies — befuddled — "Because we've been married for 17 years, and have two children, and love one another?"). You'll laugh when Sarah and Mary glare disapprovingly at the "shamelessness" of their father Joe's new date, a 60-something lady, who drops by the house to — pray. You'll laugh at the deadpan wit of headmistress Sister Michael. You'll marvel at the pitch-perfect performances of the cast — young and old. And you will love them all, prodigiously.
For all the laughs it offers, Derry Girls has a surprisingly resonant emotional core too. The strength of the family ties, the closeness of the teenagers, the attitude of "we take care of our own", the affection these characters have for each other — even if it is often overshadowed by exasperation — is absolutely heartwarming. And while it is made light of for the most part, there is indeed a potential for disruptive violence that looms over all these characters' lives.
With a short run-time of 25 minutes per filled-to-the-brim-with-gags episode, Derry Girls keeps it crisp, and the only complaint you'll have by the end of it, is that the caper is over far too soon. Nevermind, for the show improves even more on a re-watch. For one, the accents need a little getting used to, so you may miss a few nuances the first time round; for another, there are just so many brilliant jokes scattered throughout every episode that it takes time to appreciate them all. (Such as the one where Erin threatens to "divorce her parents, like Macaulay Culkin" and Mary wonders if this Macaulay is someone Erin met at the Friends Across Barricades camp Gerry insisted on sending her to. Or the time when Erin's family ponders over whether or not "lesbians really exist", and if so, "what do they eat". Ahem.) There's also the (to borrow a phrase from Derry Girls) "cracker" of a soundtrack, replete with early '90s hits like 'Informer' and 'Saturday Night'.
The best is saved for last, and 2018 — a year that saw some sparkling television — sees a perfect, rare gem in Derry Girls. Watch. It. Now.
Rating: ★★★★★
Cast: Saoirse-Monica Jackson, Nicola Coughlan, Louisa Harland, Jamie-Lee O'Donnell, Dylan Llewellyn, Tara Lynne O'Neill, Kathy Kiera Clarke, Tommy Tiernan, Ian McElhinney, Siobhan McSweeney
Derry Girls season 1 is now streaming on Netflix. Watch the trailer here:
also read
First Cricket News
Victory meant England had now won 11 of their 13 Tests under captain Ben Stokes — who didn't bat or bowl in this match — and coach Brendon McCullum.
First Cricket News
England vs Ireland 1st Test Highlights: England take on Ireland in a one-off Test at Lord's before shifting focus to the Ashes.
First Cricket News
Pope's 205, the fastest double hundred in a Test in England, and Duckett's 182, the quickest 150 in a Test at Lord's, were the cornerstones of a huge first innings total of 524-4 declared