Death of cultural bonhomie: Is condemning Pakistani artistes an apt response to terrorism?
Lata Mangeshkar or Ghulam Ali, Shah Rukh or Fawad Khan — they are the bridge that draws India and Pakistan close, even as the conflict over terrorism and Kashmir tears us apart. But we may be far from it right now.
The cultural connect between India and Pakistan, two nations born of the same land, is too organic to be destroyed by the tribalist outcry of war mongering hyper-nationalists.
But it is easy to disrupt and fulminate against when terrorists come over from across the border and kill our people. A military response, surgical or otherwise, is fraught with unknowables. A strike at the warp and weft of Indo-Pak cultural ties is not just bloodless — it is also strident and showy.
After the Uri terror attack on September 18, that reflexive reaction to Pak-sponsored terror has been on glorious display.
On Friday the Cinema Owners and Exhibitors Association of India (COEAI) declared that no films with Pakistani actors would be released. The ban is already in force in single screen theatres in Maharashtra, parts of Gujarat, Goa and Karnataka and is likely to be extended to other states. Its immediate fallout is that it is going to affect the business of Karan Johar's film Ae Dil Hai Mushkil, which features Pakistani actor Fawad Khan and is set for a Diwali release.
The COEAI move is the latest in the rising crescendo of hate against Pakistani artistes working in Bollywood. Soon after the Uri attack, Maharashtra Navnirman Sena (MNS) chief Raj Thackeray railed lustily and ordered them to leave the country within 48 hours. Then, Zee Entertainment dropped Pakistani shows from its Zindagi channel, ostensibly because none of the Pakistani artistes working here had condemned the Uri attack.
Once the government announced the army's surgical strike across the Line of Control (LoC), the Indian Motion Pictures Producers Association bugled its own piece of "patriotic" action on the ground — it banned Pakistani actors, singers and technicians.
And Bollywood A-listers like Ajay Devgn, Akshay Kumar and others joined the nationalist chorus to block them. Some, like Salman Khan and film maker Mahesh Bhatt, have questioned the wisdom of such a move, but these voices are few and far between.
Predictably, Pakistan has retaliated by pulling Indian movies from its theatres and asking its cable operators not to show Indian serials. In short, when it comes to Indo-Pak engagement, Bollywood and the entertainment industry — the much loved connect between the two countries — are pretty much off the table right now.
Apologists for the ban on Pakistani artistes say that at a time of heightened hostilities between the two countries, when Indian soldiers are dying on the border, this is the least we can do to show solidarity with our jawans. Of course, the subtext of this is far more bald and visceral. Basically, it boils down to this: we shan't let Pakistanis profit from our country while their terrorists come and kill us.
In truth, to a soldier exchanging gunfire with Pakistanis at the LoC, the idea of Indians engaging in cultural bonhomie with Pakistan and raising a glass to a Fawad Khan or a Mahira Khan or a singing sensation like Rahat Fateh Ali Khan might seem surreal and patently unpatriotic.
Besides, the Pakistani artistes' initial reluctance to condemn the Uri terror attack likely infuriated a lot of people. By last week most of them had condemned the attack, but it felt like a tepid afterthought. In any case, by then events had overtaken their belated response.
Nations at war do vent their animus on each other's people. For instance, in the US and the UK anti-German sentiment ran high during both the World Wars. In 1980, the US boycotted the Moscow Olympics after its Cold War antagonist USSR invaded Afghanistan.
The wars between India and Pakistan too have disrupted our sporting and cultural ties many times. We did not play cricket with each other between 1962 and 1977. The Kargil war in 1999 and the Mumbai terror attack in 2008 too soured relations and led to a suspension of cricketing ties.
But here's the thing.
An Indo-Pak cricket or hockey match is usually a tense, ersatz battle that dredges up the two nations' bitter sibling rivalry. Not so the cultural bond between India and Pakistan. Our love for each others' movie stars, singers, television serials and so on, is spontaneous and un-stinted.
Lata Mangeshkar or Ghulam Ali, Shah Rukh or Fawad — they are the bridge that draws us close even as the conflict over terrorism and Kashmir tears us apart.
In the cultural sphere at least, the desire for proximity and oneness is undeniable. It is no coincidence that so many Indian films — Bajrangi Bhaijaan, Gadar Ek Prem Katha, Veer-Zara and Henna, to name just a few — narrate stories of love that transcends the welt of our man-made border.
Yet the so-called patriots, stoked by politicians, have repeatedly tried to slam that cultural window shut. Last year the Shiv Sena spiked a Ghulam Ali concert in Mumbai. In March this year an Indo-Pak World Cup T-20 cricket match in Dharamsala was cancelled because it was taking place soon after the Pathankot terror attack in which soldiers belonging to Himachal Pradesh had died. Recently, southern actress Ramya was branded "anti-national" when she said that contrary to defence minister Manohar Parrikar's claim, Pakistan was certainly no "hell".
The point is that demonising all thing Pakistani does little beyond feeding the frenzied mobs baying for some sort of vengeance to chew on. It yields nothing in terms of a calibrated response to terrorism. On the contrary, it stymies the one effective channel of communication between our two nations — our cultural give and take.
It is unfortunate that in the red-eyed haze of hyper-nationalism, a sideshow of our reaction to Pak-sponsored terror has been to slash at the ties that bind us, the ties that could one day set us up for a lasting peace.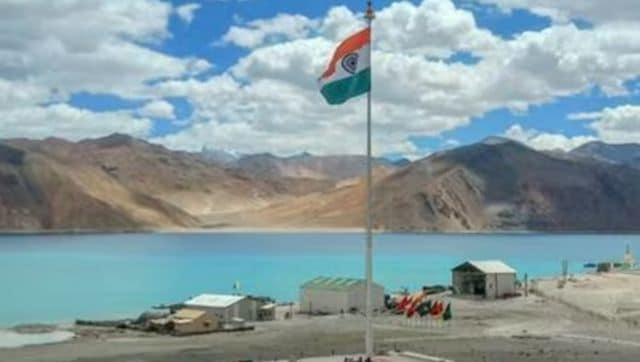 World
The Border Roads Organisation (BRO) on 23 January invited bids for constructing the Chushul-Dungti-Fukche-Demchok highway, also known as the CDFD road
First Cricket News
Matt Renshaw was a member of the Australian side that toured India in 2017 and opened the innings in all but one innings of the four Tests.
World
The move came days after the Pakistan Telecom Authority degraded Wikipedia services for 48 hours, threatening to block it if the content deemed 'blasphemous' was not deleted.