Deadwood first look: Ian McShane, Timothy Olyphant return as Al Swearengen, Seth Bullock for HBO movie
The Deadwood movie will reportedly air on HBO at some point in Spring 2019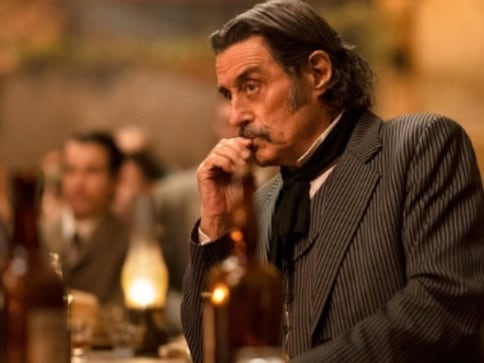 The first look of Al Swearengen (Ian McShane) and Seth Bullock (Timothy Olyphant) in the Deadwood movie were recently revealed to the Entertainment Weekly. The film has been set around 10 years after the original series ended. The film will see the reprisal of many original cast members such as Molly Parker (Alma Ellsworth), Paula Malcomson (Trixie), John Hawkes (Sol Star), Anna Gunn (Martha Bullock), Dayton Callie (Charlie Utter), Brad Dourif (Doc Cochran), Robin Weigert (Calamity Jane Canary), William Sanderson (E.B. Farnum), and Kim Dickens (Joanie Stubbs).
Gerald McRaney will be featuring as George Hearst in Deadwood. New members include Jade Pettyjohn as a character named Caroline. The screenplay for Deadwood has been written by David Milch and the feature will be helmed by Daniel Minahan (Game of Thrones).
By the looks of it, it seems Swearengen is concocting a master plan yet again while Bullock seems like he has a plan up his sleeve and is ready to draw the gun at any time.
The series ended with George Hearst in complete control of Deadwood while both Swearengen and Bullock have been left to fend for themselves.
The Deadwood movie will reportedly air on HBO at some point in Spring 2019.
Find latest and upcoming tech gadgets online on Tech2 Gadgets. Get technology news, gadgets reviews & ratings. Popular gadgets including laptop, tablet and mobile specifications, features, prices, comparison.
Entertainment
Hubie Halloween is exactly what you'd expect it to be — an extended gag reel that seems to have been taken out of an unaired episode of America's Funniest Home Videos.
Entertainment
Aftab Shivadasani joins a long list of Bollywood actors to shift to the streaming space, with his debut series Poison 2, on Zee5.
Entertainment
Ava DuVernay's Caste will examine "how our lives today are defined by a hierarchy of human divisions dating back generations."