Deadwood first look: Ian McShane, Timothy Olyphant return as Al Swearengen, Seth Bullock for HBO movie
The Deadwood movie will reportedly air on HBO at some point in Spring 2019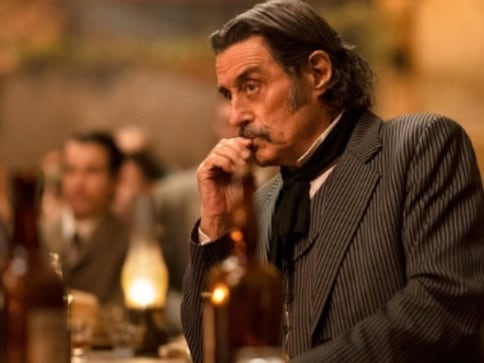 The first look of Al Swearengen (Ian McShane) and Seth Bullock (Timothy Olyphant) in the Deadwood movie were recently revealed to the Entertainment Weekly. The film has been set around 10 years after the original series ended. The film will see the reprisal of many original cast members such as Molly Parker (Alma Ellsworth), Paula Malcomson (Trixie), John Hawkes (Sol Star), Anna Gunn (Martha Bullock), Dayton Callie (Charlie Utter), Brad Dourif (Doc Cochran), Robin Weigert (Calamity Jane Canary), William Sanderson (E.B. Farnum), and Kim Dickens (Joanie Stubbs).
Gerald McRaney will be featuring as George Hearst in Deadwood. New members include Jade Pettyjohn as a character named Caroline. The screenplay for Deadwood has been written by David Milch and the feature will be helmed by Daniel Minahan (Game of Thrones).
By the looks of it, it seems Swearengen is concocting a master plan yet again while Bullock seems like he has a plan up his sleeve and is ready to draw the gun at any time.
The series ended with George Hearst in complete control of Deadwood while both Swearengen and Bullock have been left to fend for themselves.
The Deadwood movie will reportedly air on HBO at some point in Spring 2019.
India
Government office employees were asked to operate from home (WFH) at 100 percent capacity for a week, while private offices were issued an advisory to go for WFH (work from home) option as much as possible
India
According to the concerned authorities, the air quality is likely to improve "significantly" from Sunday owing to relatively strong winds and reach "poor category"
India
On Wednesday, for the first time in the last 10 days, the air quality in the city has shown significant improvement from the "very poor" to the "poor" category, according to SAFAR