David Lean, Terrence Malick, Ildikó Enyedi and the long gaps between their films
Looking at the gaps, one might just think all that time went into forthcoming films, but that's not always the case.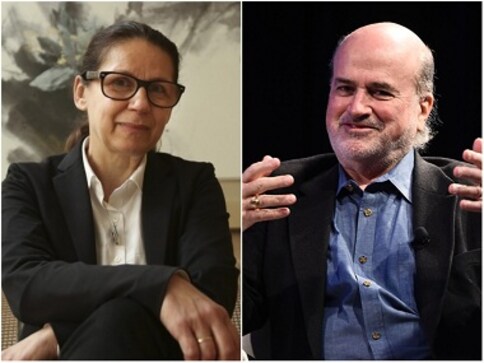 The Hungarian director Ildikó Enyedi is part of a unique trivia list of filmmakers: the release dates of at least two of their films were separated by more than a decade. Stanley Kubrick belongs in this list, with a 12-year gap between Full Metal Jacket (1987) and Eyes Wide Shut (1999).
In David Lean's case, 14 years elapsed between Ryan's Daughter (1970) and A Passage to India (1984). Terrence Malick's The Thin Red Line (1998) came 20 years after Days of Heaven (1978). The Swedish filmmaker Roy Andersson is something of a legend in this category, having made only six films in six decades. Songs from the Second Floor (2000) came a whopping 25 years after Giliap (1975). Ildikó Enyedi falls somewhere in between. On Body and Soul (2017) came 18 years after Simon, the Magician (1999). It won the Golden Bear at the Berlin Film Festival last year, and is currently streaming on Netflix.
These numbers are not much more than trivia, of course.
Looking at the gap, one might just think all that time went into the forthcoming film, but that's not always the case. Take David Lean for example. Cinema legend has it that the reason for his self-imposed exile was the stinging criticism in Pauline Kael's review of Ryan's Daughter. ("Humorlessly meticulous... no driving emotional energy...", and these are the less scathing bits.) Lean admitted that he was broken by the reviews. "I got terribly discouraged and I sort of gave it up for something like 14 years. I suppose round about Lawrence of Arabia I got quite good notices. Then, as I went on, Doctor Zhivago got the worst notices you could ever see. Ryan's Daughter was absolutely torn to shreds by the critics and I thought: What the hell am I doing?"
"When you're a movie director, the only people that you really believe are the critics. You mistrust your friends because you think they're being nice, but there in black and white with the power of the printed word it says you stink and you have no idea of what you're doing. I just thought I'd lost the drift somehow or other." Still, after Ryan's Daughter, Lean set out to make a movie about the mutiny on the Bounty, which was earlier filmed with Trevor Howard and Marlon Brando (Mutiny on the Bounty, 1962) and later with Anthony Hopkins and Mel Gibson (The Bounty, 1984). When that project fell through, Lean reportedly toyed with an adaptation of Isak Dinesen's Out of Africa, which finally ended up a 1985 Robert Redford-Meryl Streep vehicle, directed by Sydney Pollack. There's also the famous unfinished work, based on Joseph Conrad's Nostromo: A Tale of the Seaboard.
And what about the legendarily reclusive Terrence Malick? After Days of Heaven, he spent years considering other projects, including a stage production of Kenji Mizoguchi's Sansho the Bailiff and a tale of 19th-century psychoanalysis called The English-Speaker. Then, there was Q, which sounds like an early draft of The Tree of Life. (It had a prologue that dramatised the origins of life.) Malick spent time writing a biopic on Che Guevara, an assignment that came to him when Benicio Del Toro (who went on to play Che, but under Steven Soderbergh's direction) discovered he had been a journalist in Bolivia in 1966. And there were two adaptations: The Moviegoer, based on Walker Percy's classic novel about a young stockbroker in post-war New Orleans, and The Desert Rose, Larry McMurtry's story of a Las Vegas showgirl. Finally, in 1990, Malick met with James Jones's widow about adapting The Thin Red Line, and the big comeback happened.
Ildikó Enyedi's case is a bit different. She is a leading Hungarian screenwriter and director, and she made seven features between 1987 and 1999, including My Twentieth Century (which won the Camera d'Or at the 1989 Cannes Film Festival) and Simon the Magician. In the 18-year dry spell that followed, Enyedi wasn't exactly jobless. She was hired by HBO to direct the Hungarian version of the series In Treatment, and she taught at the University of Theatre and Film Arts in Budapest. "Although I became quickly surprisingly passionate about teaching," Enyedi said, "I felt during all these devastatingly long years like an unemployed steel worker. More and more clueless, lost, out of touch with my own reality... Every day of my life, including the weekends during those 17 years, I was working on a film project, and then finally we started to work on [On Body and Soul]... I don't know why [this] was financed and the other five projects not."
Are these stories of perseverance? Is there a common rah-rah thread about how to conquer odds (and critics)? Would A Passage to India or On Body and Soul have been the same movies had they come by with less of a gap? The artistic process is filled with more questions than answers. On Body and Soul is a transfixing love story that keeps cutting between two slaughterhouse workers and two deer in a forest. The latter, we discover, is a dream. The grammar of typical narrative cinema (Hollywood, Indian cinema) would necessitate a "wake-up" shot, or at least a shot where we cut back to a character whose eyes flicker open, thus telling us (a) it was a dream, and (b) it was this person's dream. But Enyedi works differently. Her rhythms are her own, and the narrative is itself a kind of dream.
More than any other film I've seen of late, On Body and Soul is suggestive of what Andrei Tarkovsky called "sculpting in time." If you're a Romantic, you might say the film's sense of timelessness is a reflection of the long, long years that preceded it.
Baradwaj Rangan is Editor, Film Companion (South).
Entertainment
Deniz Gamze Ergüven's Mustang (Turkish, 2015) is a typical "women's film" with tropes that include empowering women, and helping them break free of oppresive structures. But what about the not-so-obvious "women's film" like Agnès Varda's Le Bonheur (French, 1965)?
Entertainment
What's fascinating, today, is that Kurosawa matches the melodrama in the story with visual melodrama.
Entertainment
The release of Pa Ranjith's Kaala, starring Rajinikanth, has brought politics back into filmmaking.