David Guetta's Bengaluru concert cancelled; authorities cite safety concerns
Dance music powerhouse David Guetta's highly anticipated concert in Bengaluru has been cancelled citing safety concerns.
The concert was to be held on Thursday, 12 January 2017.
The cancellation is being seen as the fallout of the Bengaluru mass molestation incident that occurred on New Year's Eve, with the authorities stating that they cannot guarantee the safety of such a large number of attendees.
However, ANI later quoted the SP for Bengaluru Rural stating that they only wanted the organisers to come up with a different date and there was no law and order issue.
Firstpost had reported on 5 January 2017 that Guetta — who first performed in India in 2012 — was scheduled to headline a special gig called #Guetta4Good in Bengaluru.
#Guetta4Good had been organised for a charitable cause, in association with Sunburn. All the funds raised from the performance (via the sale of donor passes) were to be donated to the NGO Magic Bus which works for underprivileged children.
"India is a magical place. The energy that I get from the country and fans inspires me. Music can change lives," Guetta had said, at the time of announcing his special gig.
Sunburn CEO Karan Singh had said, "We are extremely excited to have David Guetta perform in India for this noble cause. The idea of using music as a medium to raise funds to support our children is one that has connected with the youth of India and am sure we will see an overwhelming response for David's performance. We have always believed that music transcends all boundaries and this is a unique way of integrating dance music with the concept of supporting a charity."
Apart from the Bengaluru show, Sunburn Arena will host Guetta in Mumbai on the 13 January, Hyderabad on the 14th and New Delhi on the 15th as a standalone 2017 Tour. At the time of publishing this report, those shows were expected to proceed as planned.
Here's a statement released by Sunburn on Twitter, regarding the Bengaluru cancellation: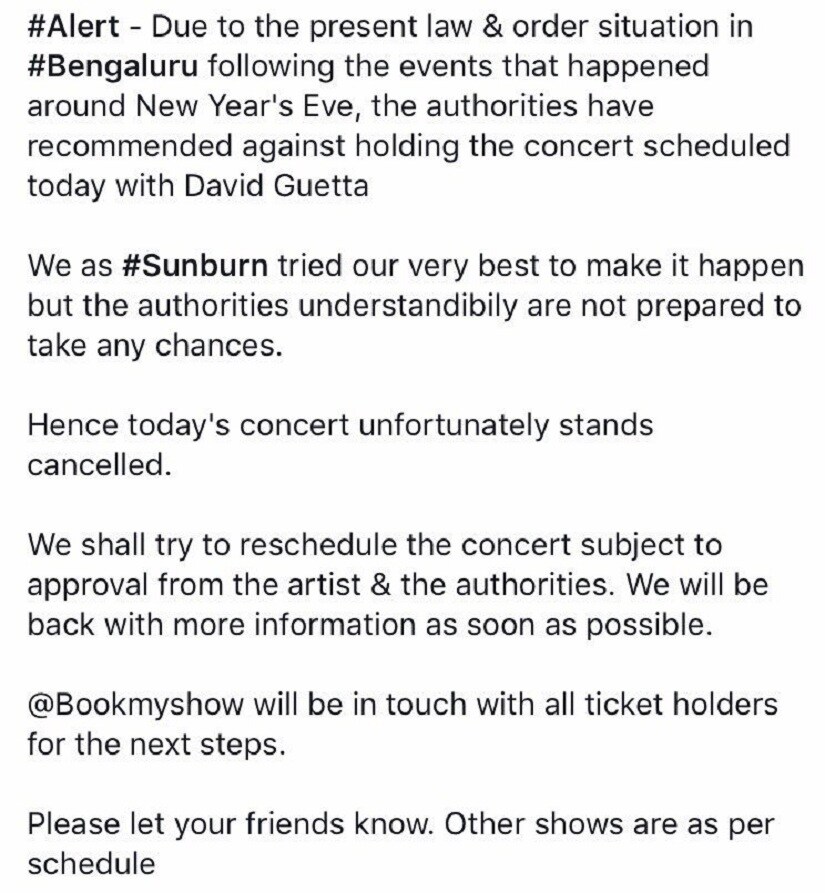 Updated Date: Jan 12, 2017 14:12:18 IST