Darkest Hour and Padmaavat row: The Gary Oldman-starrer has a hidden lesson for Karni Sena
Do artists have the creative freedom to distort history to a certain extent? Darkest Hour may have an answer for fringe groups like Karni Sena.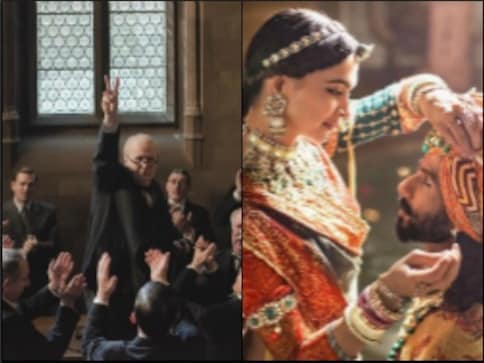 To say that there is widespread outrage in many parts of India right now over cinematic depiction of history would be a massive understatement.
Sanjay Leela Bhansali's Padmaavat has infuriated fringe groups to such an extent that they have indulged in violence and threatened more such protests even after the Supreme Court quashed a ban imposed by four states on the release of the film.
Karni Sena, a Rajput caste group, has alleged that the film distorts history. There have been rumours of a romantic connection between the characters of Rani Padmavati and Alauddin Khilji in the film, even though Bhansali has denied this. There are objections with the song 'Ghoomar' because "history has witnessed that none of the Rajput maharanis has ever danced in front of anyone," according to Heena Singh Judeo, a member of Chhattisgarh's erstwhile royal family. "They cannot play with history," she had further said.
But can they play with history?
Do filmmakers and artists have the creative liberty to dramatise and even twist history to a certain extent?
To answer this question, let's turn our attention to Joe Wright's Darkest Hour, starring Gary Oldman. The film depicts a crucial month in the life of the legendary Sir Winston Churchill, the prime minister of the United Kingdom from 1940 to 1945 and again from 1951 to 1955.
The events in the film take place over May 1940, when Churchill had just taken over as prime minister and was faced with the herculean task of leading a country which (at that time) was facing defeat in World War II. Oldman has carried the film on his shoulders, disappearing under the skin of his character and delivering a performance truly worthy of winning the Golden Globe Award for Best Actor in a Drama Motion Picture and being a strong contender for the Oscars 2018.
Having said that, the historical accuracy of Darkest Hour is questionable, especially when it comes to one of the most crucial scenes in the movie.
In the film, after King George VI advises Churchill to seek the advice of the people on whether Britain should continue with the war or negotiate with Germany for peace, the prime minister suddenly decides to take a ride on a London Underground train and directly ask the people for their opinion on the matter.
The people, in an overtly enthusiastic manner which would make hardline nationalists in India proud, shout their support for Churchill and snarl about how they will always fight and never give up.
Churchill, seeing that even a little girl is shouting about fighting the Germans, goes to her and starts reciting lines by Macaulay, which are completed by a black citizen.
It is an emotionally charged and rather melodramatic scene, which is pivotal to the plot because this is what makes Churchill decide in the film that Britain must continue fighting.
Except in real life, all this drama never took place.
That's right. One of the most important scenes in a movie which claims to portray historical events in the life of one of the most significant historical figures the world has ever seen is completely fictional.
Moreover, the bromance between Churchill and the black citizen in that scene is an obvious attempt to cover up the racist side of Churchill, who had once said: "I hate Indians…They are a beastly people with a beastly religion." He had also used the words "half-naked" and "seditious fakir" to describe none other than Mahatma Gandhi. Of course, such racism was rampant in Britain of those times.
And as Slate points out, there were other historical inaccuracies in Darkest Hour.
Director Joe Wright tries to justify the historical inaccuracy of the train scene by telling CinemaBlend: "Churchill was known to go AWOL at times, no one could find him. They didn't know where he went. And he was also known to go and visit the people of London and seek their counsel, and have a little cry with them sometimes. So you have to be very careful with all that stuff."
On the other hand, an article in National Review — which severely criticises Darkest Hour and says it "butchers history" — says that the only time Churchill ever took a ride on the Underground was during a strike in 1926.
So, where does this leave us? Does this issue reduce the greatness of Darkest Hour?
There are different perspectives on this question. While National Review and Vox think it does, Variety praises the train scene: "It's a scene that's — transparently — too good to be true. Yet it plays as Oldman's Oscar-clinching moment: the clip that was made to be shown, in triumph, on the telecast."
Most importantly, irrespective of where one stands on this issue, no one is calling for a ban on Darkest Hour. No one is threatening to chop off Gary Oldman's nose.
Debate and discussion is a crucial aspect of art. Artists do have the creative liberty to distort history because that distortion is then analysed and critiqued.
This is why the job of a film critic is so important.
Rather than responding with violence and calling for a blanket ban on Padmaavat, the likes of Karni Sena should respect Bhansali's creative freedom and respond with their own creative freedom by discussing/criticising the film, writing about it, or even making their own film as a counter to Padmaavat.
Of course, it would be extremely naïve to expect the goons of a fringe group to understand this point. But these fringe groups were only encouraged by the fact that the BJP governments of Rajasthan, Haryana, Gujarat and Madhya Pradesh initially decided to take action against art instead of people hell-bent on destroying art.
If we cannot expect elected chief ministers like Vasundhara Raje, Manohar Lal Khattar, Vijay Rupani and Shivraj Singh Chouhan to respect artists and their freedom, we are truly living in intolerant times.
Photos
Speaking about his experience of being in London, Bhansali said: "Speaking to audiences at the various events in London has been a wonderful experience for me. The BAFTA Masterclass took me back to my early days as a filmmaker."
Entertainment
Directed by Rohit Shetty, Cirkus is an action comedy film based on William Shakespeare's The Comedy of Errors.
Entertainment
In an interaction with Firstpost, filmmaker Sanjay Leela Bhansali spoke about the response of the audience in London to his film Gangubai Kathiawadi, his method as a filmmaker, and why he calls this his most personal film.