Dark, Narcos, Trapped: These TV shows are proof Netflix is acing foreign language programming
Dark, Suburra, Las Chicas del Cable, Narcos, Trapped and Midnight Diner: Tokyo Stories were just some of the standout series in Netflix's foreign language TV offerings for the year | #YearInReview | #FirstCulture
This article is part of our 2017: A Year In Review series; and the second of three stories that examine the Netflix phenomenon.
Es beginnt mit Deutschland 83.
(It started with Deutschland 83.)
A divided Germany in 1983, on the brink of an atomic war. The Berlin Wall still stands, the Cold War is at its peak. An East German spy is sent across the wall to extract secrets by infiltrating the West German intelligence agency — this is the premise of Deutschland 83. The eight-episode series wonderfully re-created that era, had the costumes and decor down pat, with brilliant performances by the majority of the cast. Its soundtrack was also sprinkled with popular international hits from the era: from Nena's '99 Luftballons' to Eurythmics' 'Sweet Dreams Are Made Of These' and Aha's 'Take On Me'.
For me, an additional bonus was improving my German language comprehension. (I was — and still am — learning German.)
Having binge-watched mostly American and British TV dramas, doing the same with a German TV show was as refreshing as biting into a warm croissant on a cold, rainy Berlin morning. This was one show that really set the ball rolling as far as exploring non-English language shows goes. And Netflix seems to have taken seriously the potential that foreign TV shows can have in a multilingual country such as ours.
The finest example of that — Narcos.
When you see life-size billboard posters of a Spanish language drama showing up at Bandra and Andheri, you know this show has really arrived in India. Narcos is easily the greatest endorsement a foreign language show could have got. Agreed, it is an American production, but the language used is predominantly Spanish. (And I'm sure a lot of Indians are now familiar with a certain four-letter Spanish word beginning with 'P'. I'll stop there.) Narcos was even parodied by a lot of Indian comedians. For all practical purposes, it has achieved the kind of cultural currency that only English-language shows such as Game of Thrones or Sherlock or Stranger Things have.
I have always been keen on world cinema, but this year I decided to give world TV shows a fair chance. If there is one trend I have seen in my TV viewing patterns this year, it is this: Language is the least of my concerns. And there is a goldmine of good TV content outside your traditional American and British fare. Thank you, Netflix.
The shows I loved watching this year were Midnight Diner: Tokyo Stories, Samurai Gourmet (Japanese); Let's Eat (Korean); Suburra (Italian); Narcos, El Chapo, Las Chicas des Cables (Spanish); Trapped (Icelandic); Same Sky (German) and I have just finished binge-watching Dark (German) as I am writing this piece. As much as I love Stranger Things, I'll go out on a limb and say that Dark runs circles around it. It is easily the best mystery thriller of 2017. Just wait for the TV awards next year.
Dark review: This German mystery thriller is the best Netflix original series of the year
Thanks to this habit of watching foreign language TV, Netflix's recommendation engine keeps rewarding me with shows, and movies, which are quite different from what some of my friends, still stuck to US and UK TV shows, get on their list. As compared to Prime Video and Hotstar, the foreign language catalogue of Netflix is just getting better every day. (Of course, when it comes to Indian regional content, Netflix has nothing on Prime Video — which also launched with close to eight Indian web series announcements — as well as Hotstar.)
Netflix does give you the option to watch most of the foreign-language shows in English, but I just switch to the native language. The only foreign language I can understand and speak to an extent is German. While my aim is to become a polyglot someday, so far the only categorisation I can fit into is a glossophile. I love hearing different languages and listening to the sounds, their intonations and pronunciations. Trying to figure out things from expressions and gestures and getting at least the context right is a game I try and play as much as possible. At times, that's as close as I can get to that same state of mind as a child who is still trying to comprehend language.
A lot of the shows mentioned above have been shot outdoors (well, Midnight Diner not so much), and it is rejuvenating to not see the same old American or British skylines. With some of the shows, the place is also character. Suburra, for instance, would just not work anywhere outside Rome. It's engrossing to see gang politics play out amidst church politics in the ancient and modern city of Rome. Same Sky, although it tries to recreate pre-1990s Germany, was actually shot in parts of the Czech Republic which still resemble East Germany. Samurai Gourmet takes us through the non-glitzy streets of Tokyo and some small no-name seaside towns in Japan. Las Chicas del Cables explores 1920s-era Madrid. Trapped is set on an Icelandic island, enough said!
Midnight Diner: Tokyo Stories on Netflix serves up tales as delightful as Japanese cuisine
Watching a foreign language show is like taking a virtual tour through that city or country. I love travelling, so this aspect of watching non-English TV shows resonates with me. I do believe getting to know a place that's the setting for a story eases the familiarisation process in the real world as well. Doesn't New York seem familiar, thanks to the gazillion shows taking place in that city? Wouldn't Breaking Bad/Better Call Saul fans feel like visiting New Mexico in the US? Would fans of Sherlock feel absolutely lost in London?
Why limit yourself to just the US and UK?
You also pick up on cultural nuances which would otherwise take ages, in some cases. Or a lot of reading. (Or a lot of foreign trips). Suburra, for instance, tries to show the discrimination faced by the Sinti Roma communities and how that plays into the hierarchicy in gangland. Both Midnight Diner and Samurai Gourmet show the reverence the Japanese have for food and their eye for aesthetics when it comes to serving it. The dramatically different youth culture which was separated by a Wall between East and West Germany and the German obsession for documentation is wonderfully depicted in both Deutschland 83 and Same Sky. The feeling of being trapped due to the vagaries of nature, something people living in Arctic villages must be experiencing in winters, is portrayed wonderfully in Trapped. I could go on.
An argument I have oft heard against any foreign language movies or TV shows, is that no one wants to bother reading the subtitles. Well, I have no counter-argument for that. At most, you can switch the audio to English. But I avoid it, as with English shows, I do end up multitasking a lot with the phone. With foreign languages, I have to read the subtitles if I want to follow the show. Other distractions have to take a break.
It's not just about the visuals and the glossophilia. It would be foolish to watch rubbish online when there is so much good content. The audience (approval) rating for Deutschland 83 is 92 percent, Suburra's is 91 percent, Las Chicas del Cables is at 93 percent, Samurai Gourmet stands at 97 percent. See the trend?
I am not saying there is a paucity of good English language content online. Far from it. TV's streaming revolution has certainly brought us some excellent shows — we really are living in a golden age of TV. But this same revolution has also exposed us to some great TV content from other parts of the world. And that should definitely be given a shot too. Think of it as going to a multi-cuisine buffet: you don't just want to limit yourself to the familiar dishes.
David Schwimmer's 'Feed The Beast' proves what we've known: 'Nordic noir' is in
If 2017 is any indication, foreign language dramas can hold their own in front of American and British series. Dark is the most recent example and hopefully it will open the floodgates for other good German TV dramas. Deutschland 86, the sequel to Deutschland 83 will be out in 2018.
My wishlist for 2018: A boat-load of Scandinavian noir TV shows please! Look up Forbrydelsen (Danish) and Broen (Danish/Swedish) and you'll know what I mean.
Do let me know which foreign language shows you've been hooked on to — wir können mit einander reden!
Also read:
Part I — 2017: Netflix's year of triumphs
Entertainment
Diana, which chronicles the life and death of the Princess of Wales, who was the first wife of Prince Charles, is among the first shows to put tickets on sale and to choose a specific date for a target opening.
Entertainment
Over the course of four hour-long episodes, the docuseries delves into the trafficking and psychological and physical abuse of women that occurred at NXIVM, not just at the hands of its founder Keith Raniere, but also his most devoted acolytes, like Smallville actress Allison Mack.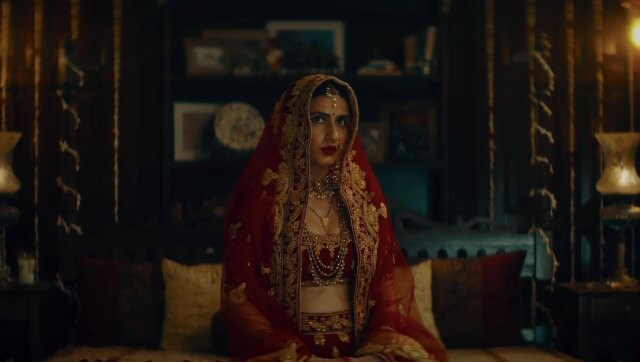 Entertainment
The April streaming calendar includes Fahadh Faasil's Irul, Karan Johar's anthology Ajeeb Daastaans on Netflix, Abhishek Bachchan's The Big Bull on Disney+Hotstar and Michael B Jordan-starrer Without Remorse on Amazon Prime Video among others.