Danny Boyle is the perfect choice to direct the next Bond film — a genre-bending director with unmatched eccentricity
Danny Boyle might not be a true-blue action director, but rather than this being a drawback, the abject lack of specialisation is what makes him ideal to helm Bond.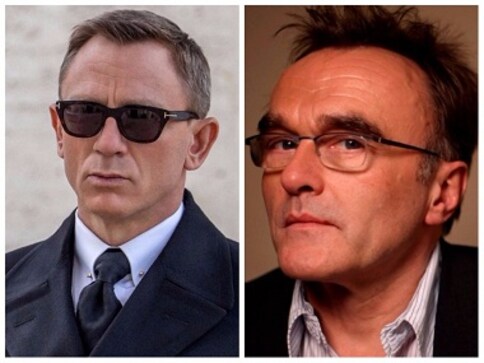 Sometimes a filmmaker is known for a particular genre, like Sanjay Leela Bhansali and his larger-than-life dramas, and then there are times when a genre comes to define the best aspects of a filmmaker, such as thriller and Alfred Hitchcock. Nestled in between is someone like Danny Boyle, who isn't tied to any specific genre; he not only possess every necessary qualification to direct a film with just about any theme but also hits a home run nearly every time he makes a film.
Unlike some filmmakers who are unfairly judged the moment they try to shift gears, Boyle's genre-jumping skills and his penchant for picking up subjects as varied as chalk and cheese is seen as his calling card. With Boyle now becoming the hot favourite to direct the next James Bond film, there couldn't be a better person to guide the legendary British spy out of the mess that his previous outing Spectre left him in.
Although a majority of the Indian audiences became familiar with Boyle only after his Oscar-winning Slumdog Millionaire, the chances that they might have experienced the Boyle effect without knowing are high.
Boyle made a mark with his debut Shallow Grave (1994), which was also the most successful British film of the year but it was Trainspotting (1996) that made him a global name. The film was pitched as a British Pulp Fiction and became a much sought after product following critical acclaim at the Cannes Film Festival. Despite the worldwide success of Trainspotting, Boyle chose to follow it up with a smallish love story called A Life Less Ordinary that featured Ewan McGregor and Cameron Diaz.
Going from great praise for his first two films to downright rejection of A Life Less Ordinary, which the late Roger Ebert described as "a movie that never convinces us that it needed to be made", Boyle showed no signs of slowing down. This is what came to define him as a filmmaker – he could shift modes without much trouble. The failure of the film didn't prove to be a hindrance for Boyle and he attracted the attention of the then biggest star in the universe – Leonardo DiCaprio. Fresh from the success of Titanic (1997), DiCaprio was seeking an edgy character that would prove that the lover-boy image of Titanic was not going to stop him from experimenting. The backlash that DiCaprio faced when it was announced that he would play the lead in American Psycho (1997) saw him wring in Boyle and pitch for a part in The Beach (2000), which was as crazy but still not 'American-Psycho' over of the top.
The film was to feature McGregor as the lead but rumour has it that Boyle was offered a deal of a lifetime if he swapped his friend for the bigger star. The Beach was a success but was panned by the critics and it also cost Boyle his friendship with McGregor, who had almost become his embodiment after Shallow Grave and Trainspotting.
There has been a marked change in Boyle's filmmaking style post The Beach. He seemed to be more in control of things both behind and in front of the camera, and the narrative rarely succumbed to the pressure of taking a star or compromising his vision. The next few films he made — beginning with the zombie horror 28 Days Later (2002) following it with Millions (2004), a comedy with children as the main leads and Sunshine (2007), a science fiction film — all show his control as a director, and enjoyed great critical acclaim. In fact, Millions was called "one of the most stylish and eccentric films about childhood dreams and heartbreaks" and 28 Days Later revived the zombie genre.
Post-Slumdog Millionaire Boyle again jumped genres with 127 Hours (2010) a survival film based on the real-life story of Aron Ralston, who was trapped by a boulder in Utah, Trance (2013), a psychological thriller set in the high stakes art world and then Steve Jobs (2015), a biographical drama based on the Co-founder of Apple Inc. In the middle, he even directed the Opening Ceremony of the 2012 London Olympics, a handful of TV films, and later this month his series, Trust that centers on the abduction J. Paul Getty's grandson, will debut with Donald Sutherland as the oil baron.
The manner in which the Oscar-winning director Sam Mendes infused new blood into Bond with Skyfall (2012), Boyle, too, could usher in a new phase with 'Bond 25.' This could also be the last time Daniel Craig plays the spy and according to reports, the actor is keen to have Boyle on-board and is even willing to wait until Boyle finishes his pending assignments.
Boyle might not be a true-blue action director, one who'd be an automatic choice for a Bond film, but rather than being a drawback, this abject lack of specialisation is what makes him ideal to helm Bond. Boyle's dexterity when it comes to handling multiple-genres — he is presently in talks to direct a period musical — and his knack for creating a complex story and character arc is what makes him just the person to help Bond out of the abysmal state following Spectre.
Entertainment
Gibby and Goldstein have previously appeared as expert witnesses for Sanderson, who has said he broke ribs and sustained brain damage from the crash.
Entertainment
Lance Reddick, 60, died Friday in Los Angeles of natural causes, his publicist Mia Hansen said. No further details were provided.
Entertainment
Bang Si-hyuk, chairman of HYBE and the mastermind behind BTS, said figures including global ratings and album sales now showed declining demand for K-pop.