Dangal: Do you win the fight because you listen to dad or because you're strong wrestlers?
Beyond being a testament to Mahavir Singh's superior wrestling knowledge, is Dangal about winning only if you listen to your devoted father or about two female wrestlers who made it despite the odds?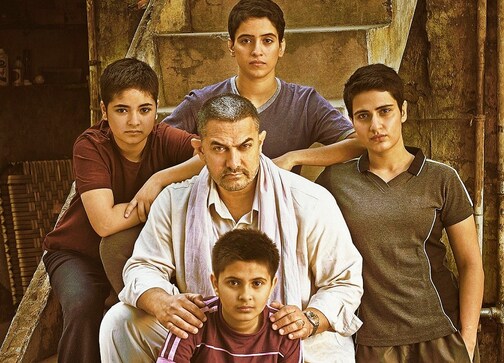 By Theertha Raj
When I first saw the trailer for Dangal, I wrote it off as just another movie pretending to be about someone else but ultimately all about Aamir Khan. Despite recognising Taare Zameen Par as the only film that's made my father cry, I was mistrustful. It didn't help to read the spawn of 'stories' about Khan's Drastic Weight Changes, Khan's Drastic Diets, and The Dangal Transformation That Will Shock You. What about the nine-month long, Olympic-level training that the actresses and child actors went through for the role and the multiple injuries they had to shoot with? The tabloids instead found the superstar's newly developed paunch far more fascinating.
The real Phogat sisters had their share of wrestling fame at the Commonwealth games, or as much that a female sportsperson can claim in India. But the movie trailer seemed to attribute all their success and hard work to their coach and father. A friend hopefully said that it might be like Pink, for which the posters and trailer all celebrated male-hero-women-saviour Amitabh Bachchan in the forefront, but the film ultimately ended up being about the three women leads. Mostly.
A week before the movie's release, Mahavir Singh Phogat's authorised biography called Akhada hit the stands. Akhada is a compelling read tracing Mahavir's life from childhood to training his daughters. You will like him for his spirit, and his simply-put but game-changing thoughts on how girls can do anything boys can. Post-reading, I was doubtful about my earlier indignation for the film's focus on the father. Ultimately, the context here is of the village Balali in Haryana, a state known for its low literacy rates and female foeticide. The girls would have never dreamt of a future in sports themselves if it hadn't been forced upon them by their father. Although his motivation was his own overpowering ambition, there was a wilful breaking of gender roles in the face of sustained social stigma. Mahavir was responsible for his girls' success, but I wondered if there wasn't a narrative about the girls themselves that the book and film had missed.
Dangal is a wonderfully made film, and I sobbed into my overpriced-cappuccino at many points and wondered how I'd never found wrestling matches so thrilling before. I want everyone I know to watch the scene where Mahavir sees, with dawning awe, his daughters demonstrate how they beat up the neighbourhood boys. That is what it looks like when the scales of sexism fall from your eyes and you realise that girls can be good at anything that boys can. From then on, he faces the villagers' ire as he tries to break the gender boundaries for his wrestler daughters with a fervent obstinacy, to the point of being inconsiderate to the girls themselves.
Bollywood had to throw in a vindictive scheming villain and the usual trope of smug and evil-looking firang competitors, but the drama is worth it. Towards the end, Mahavir sticks to the theme and tells his daughter that her win would mean a win for girls all over India, it would be a win against everyone who thought that a girl wasn't as good as a boy. If there was a Haryanvi word for the defeat of the patriarchy, I'm sure he would have just used it instead.
Much of the self-aware humour plays on the misogyny in Balali: elaborate superstitious 'tips' on how to conceive a boy and the organisers' barbs when they're told to enroll a girl for the 'dangal'. They gape at the girls' shorn heads and leg-baring shorts and everyone worries about the girls losing their femininity, even the girls themselves (everyone except their father). Leering men watching a match hope that the girls' clothes will tear. The audience laughed and smiled benevolently at all the jokes and leers, because who hasn't heard them before in our cat-calling, chauvinistic society? It would've been unreal if those leers had not been included in those scenes.
Aamir's character of Mahavir Singh thankfully isn't the flawless guiding light that Chak De! India's Shah Rukh Khan was. In his dual role as almost-despotic coach and affectionate father, Mahavir has human flaws, revealed especially when his daughter Geeta leaves home to train under an official coach at the National Sports Academy. She's conflicted as she experiences life in a new city free of restrictions and boundaries. She decides that her father had been wrong all along and grows out her hair, watches movies and paints her nails, ignoring the quiet admonitions of her younger sister Babita. Mahavir turns sullen and angry when a belligerent Geeta returns with a newfound disregard of her father's teaching. As he curtly challenges her to a match to prove his superior technique, the indignant daughter is equally willing to defeat him to show that he'd been wrong all those years.
Of course, a Bollywood script won't let the rebel girl win. After losing a series of international matches, a sobbing Geeta relents and apologises to her father. He secretly resumes training her – all the way to the Commonwealth Games where he shouts instructions from the audience. (An undue cinematic glorification unsupported by the facts in his biography.) Although there is blame to go around on the new negligent coach and the corrupt system, there is also the humbled daughter who starts winning because she listened to her daddy again. And then the last match turned the tables again, when Geeta wins on her own, with cousin Omkar and sister Babita cheering her on. The two sisters have a satisfying, Bechdel-approved bond throughout the movie.
Despite this surprise and the film's equal focus on the girls and the father, I was confused. Beyond being a testament to Mahavir Singh's superior wrestling knowledge, is Dangal about winning only if you listen to your devoted father or about two female wrestlers who made it despite the odds? If it's the first, I think of all the arguments with my parents and frown about how they'd endorse the film. The other option seems ridiculous, but isn't the whole movie advocating that very point? Then why can't I sum it up in those words?
As I left the hall, I noticed the Dangal poster on the wall. Aamir Khan with his huge biceps and giant frame in the front, and the three girls with their mother somewhere far behind in the sandy background. Oh well.
The Ladies Finger (TLF) is a leading online women's magazine.
Entertainment
"The Little Mermaid," helmed by visionary filmmaker Rob Marshall, opens exclusively in theaters nationwide May 26, 2023.
Entertainment
RRR's Naatu Naatu, which became a global sensation soon after its release, won the Oscar for Best Original Song on 12 March.
Entertainment
Also starring Chitrangda Singh, the film is all set to premiere on Disney Hotstar on March 31. It's a thriller about a girl who's searching for her father who has gone missing under mysterious circumstances.