Crazy Rich Asians movie review: This smooth entertaining fare with a beating heart goes beyond escapist cliches
A bit more incisive commentary and less simplistic sentimentality would have made the film even better but it is packed with pleasantly stress free material.
Diversity and representation is important in cinema but it is equally imperative to back up bold casting with strong writing and direction – Crazy Rich Asians fortunately ticks all the boxes, turning into smoothly entertaining fare, packed with pleasantly stress free material. This is the ultimate escapist movie of the year. If you are into Hindi cinema, you will find yourselves in a familiar and comfy zone.
This is of course an adaptation of Kevin Kwan's bestselling novel of the same name under the assured direction of Jon M Chu, who brings us a vibrant and attractive world with just enough drama to have a mainstream appeal yet being different enough what from you generally see in American rom-coms. Rachel (Constance Wu) plays a professor in a relationship with the extremely nice Nick (Henry Golding), who decides to introduce her to his family during a wedding. Little does Rachel know that Henry's family is loaded, so she consults her friend Lin (Awkwafina) on tips to deal with high society and not having a big brand as a surname.
First things first – it really is very nice change to see a mainstream film set in Singapore and its culture as opposed to the genre staple you have seen so many times from Hollywood. So even when the film is gliding into clichés, it still feels fun because every moment is executed in ways that you are not used to, laced with a beating heart compounded with sprightly funny situations to keep things bouncy. It is very much a movie that desi audiences will find a lot to like in, considering how similar the class conflicts shown in the film are to our own society. There is a fun subplot of Nick's mother Eleanor (Michelle Yeoh) being typically unwelcoming to Rachel, to the point of being suspicious. Writers Peter Chiarelli and Adele Lim find a fairly balanced way to turn what is a hackneyed plot point into crackling energy and charm.
This is also an extremely good looking film so if you are not enthralled by the story, you will be swept away by DOP Vanja Cernjul's mouth-watering lighting, making you look at the trendy high society costumes and the dream-like classily lavish set design that Nick's uber rich family inhabits. Director Chu, who has earlier made a few Step Up films, knows how to bathe a scene with overpowering ad film-like finesse and transition from one moment to the next with sheer pockets of energy. It does make for very palpable entertainment particularly as we go through Nick's Hum Aapke Hai Kaun-style party hopping sequences. Like that Sooraj Barjatya film, there is an undercurrent of soap opera storytelling to anchor the second half. Somehow it all works, mainly thanks to Wu's solid performance and its army of recognisable faces that are finally given a big platform.
The point here to make is the film should feel like a film, and not an 'Asian film'. All the creative heads associated with Crazy Rich Asians deserve credit for being able to pull that off. A bit more incisive commentary and less simplistic sentimentality would have made the film even better, but it is an easygoing movie that, in a small way, hits close to real life. It is a good start.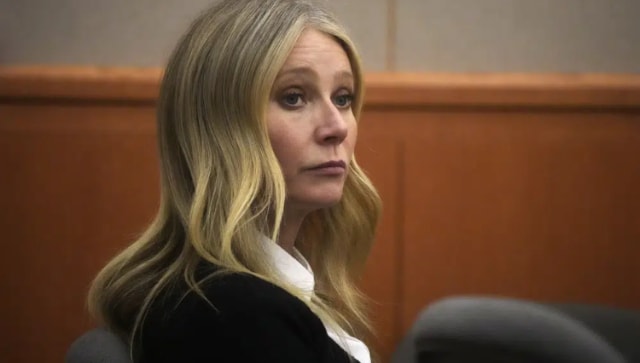 Entertainment
On the stand Friday, Paltrow said Sanderson knocked into her gently from behind but that the collision escalated as the two skidded down the beginner slope.
Entertainment
Netflix's Chor Nikal Ke Bhaga is a heist film and a hijack film put together. We have seen both heist films and hijack films in the past too. But too many stories in one film made Chor Nikal Ke Bhaga somehow lose focus. Chor Nikal Ke Bhaga had too many flaws too.
Entertainment
Rajkummar Rao's Bheed is more than just a film portraying the chaos of the COVID 19 lockdown.