Comic Con Mumbai 2017: Fans celebrate pop culture on action-packed Day 1
Comic Con has grown from a niche geek refuge into a more inclusive celebration of favourite movies, TV shows, books, anime and video games.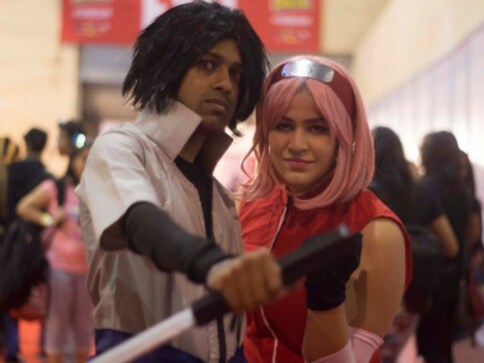 Where else would you find Spider-Man, Monkey D Luffy and Bojack Horseman waiting in line at the ATM than at a Comic Con?
There was a lot of excitement — and spandex — as hundreds and thousands of pop culture fans descended on Day 1 of Mumbai Comic Con 2017. The annual convention has grown from a niche geek refuge into a more inclusive celebration of favourite movies, TV shows, books, anime and video games.
A multitude of volunteers, exhibitors, cosplayers and revellers ensured the first day was a massive success. Fans enjoyed unprecedented access to artists like Nick Seluk (creator of Awkward Yeti), David Lloyd (illustrator of V for Vendetta and founder of Aces Weekly) and Yishan Li (comic book artist for DC and Dark Horse Comics) patiently lining up for autographed artwork.
Comic book artist and Transformers illustrator, Andrew Griffith, who is making his first trip to India, was surprised by the huge turnout. "Comic Con gives me opportunities to go see new countries and it's nice to see so many fans," he said. "It's exciting."
For fans of the home-grown comics, Sailesh Gopalan, creator of Brown Paperbag, sketched caricatures of eager visitors to his stall. Vivek Goel, founder of Holy Cow Entertainment, was proud to launch the 19th issue of Aghori with a snappy trailer. Launched at the first ever Bengaluru Comic Con in 2012, Aghori was the publisher's first flagship character and has since received a lot of positive reception among fans of Indian comic books. Having explored Hindu mythology in various series, Goel announced the launch of Holy Cow's latest venture, Caster, which he proclaims has India's first Catholic superhero.
Retailers sold a variety of merchandise from comic books and posters to T-shirts and mugs. Crowds thronged to stalls selling any form of wearable pop culture hoping to take home a piece of their Comic Con experience.
The elaborate cosplay was perhaps one of the biggest highlights of the day. Streams of fans sporting vinyl, capes, zippers, wigs, masks, leather, clasps and body paint recreated their favorite characters with great attention to detail. Scouting the floor, it was no surprise to see multiple Batman, Spider-Man, Thor and Wonder Woman cosplayers. The super-villains made their presence felt too. Batman sure had a busy day with several Harley Quinns, Jokers, Deadshots and two sinister-looking Penguins around. However, Marvel clearly won the battle in terms of sheer numbers, which included two adorable kids who came dressed as Baby Groot and Rocket Raccoon from Guardians of the Galaxy. Even the non-cosplayers wore drawn-on bushy mutton chop sideburns to resemble Wolverine or walked around with Mjolnir replicas to get themselves in the mood of the pop culture festival.
If you peered more closely, you found some subtle influences of animated comedies with Rick, Noon-Noob and Bojack Horseman. On the gaming side, Undyne from Undertale and DOTA's Krobelus the Death Prophet and Boush, the Tinker, made an impressive appearance.
But there was a clear Japanese anime and manga explosion at Mumbai Comic Con 2017. Roronoa Zoro and Monkey D Luffy from One Piece, Naruto Uzumaki, Kakashi Hatake, Jiraiya, Orochimaru, Sasuke Uchiha and Zabuza Momochi from Naruto, Seto Kaiba from Yu-Gi-Oh and Tokiko Tsumura from Buso Renkin were all in the house. And they all remained in character throughout the day. "Cosplaying is not just about wearing the skin of a fictional character, it is about taking on the personality and quirks to complete the character," said Ananya, cosplaying as Mikasa Ackerman from Attack on Titan. Anime's heavy influence was also visibly evident at the retail stalls selling their merchandise, which perhaps saw the most business.
On the live stage, trailers for the new Tomb Raider, starring Alicia Vikander as Lara Croft, were unveiled along with video game trailers for the new Assassin's Creed Origins and Middle Earth: Shadow of War. AIB's Mallika Dua and YouTube sensation Prajakta Koli put on a comedy sketch, which drew in crowds in large numbers. The evening ended with the first round of the Comic Con cosplay contest. Decked-out enthusiasts flaunted their splendid costumes hoping to show off their cosplay skills and win cash prizes.
Despite aching legs and tired throat, the crowds grew more and more vocal in their support as the day went by. Vignesh, an avid Marvel comics reader and a self-confessed nerd, claims he attends Comic Con at least once every year ever since its inception in New Delhi in 2011. He says, "It's validating to be surrounded by so many people who get why you like the things you do. And it's nice to see the crowds grow each year as we unite and celebrate our interests together."
So, if you missed Day 1 of Mumbai Comic Con, bust out the capes and costumes and get to Goregaon's Bombay Convention Centre for Day 2 of "the best weekend of the year."
Bollywood
Deepika Padukone heads to Cannes Film Festival to represent India as a jury member. Have a look.
Entertainment
Kapil Dev, the founder and chairperson of KHUSHII welcomes celebrated television actress Shivangi Joshi as the youth ambassador.
First Cricket News
Already out of contention, MI played party-poopers as they first restricted DC to 159 for 7 with Jasprit Bumrah snapping three wickets and then returned to overhaul the target in 19.1 overs to knock the 2020 finalists out of the tournament.