Comic Con Delhi 2018: Conversations about superhero universes, artistic communities unite cosplayers and fans
Artists who have written and drawn for comics like Batman and Deadpool discussed the process of creating popular comic book worlds and characters
Comic Con Delhi 2018 was as vast as it was versatile, spread across the sprawling exhibition grounds of Okhla NSIC for the weekend of 7 December. Cosplayers roamed around, dressed as popular characters such as Deadpool, as well as the more niche costumes of The Nun and Bojack Horseman. Keeping the #MeToo movement in mind, organisers posted sign boards around the cosplayer area, explicitly stating that cosplay is not consent. Even the food was on trend, with three different stalls selling waffles and charcoal ice cream.
For event founder Jatin Varma, Comic Con India was meant to provide comic book and fantasy fans the opportunity to meet up and celebrate the worlds they loved. However, since geek culture has shifted from the margins to the center of pop culture in India, Comic Con has grown into something greater than just a meet up for fandoms. This year's headliner, for example, was the Night King from Game of Thrones, Vladmir Furdik. Stand-up comics Sahil Shah and Varun Thakur performed on the main stage during the weekend. Thakur, who has been to Comic Con before, was was excited for the crowd and the Night King. "I'm going to go meet the Ice King, man. I'll probably kill him so I can help Daenerys and Jon Snow," he joked. Shah will also be present at Comic Con Mumbai, set to take place on 22-23 December.
The growth of this convention means that crowds fill every inch of the grounds, to participate in contests and pose with cosplayers. It also means seeing longer lines of people wanting to meet celebrities than the comic book artists themselves. A conversation with composer, actor, and director Luke Kenny about exploring the horror genre in India and the growth of commercial-adjacent media, was momentarily being taken over by Pewdiepie fans trying to recruit people into their 'bro army' in the fight against T-Series. Such is the meme-able nature of pop culture and passionate fans today.
Irrespective of where the biggest crowds were, artists were generally pleased to be able to meet fans. For example Peter Nguyen, artist for comics like X-Men and Superman, was grateful for how earnest and responsive people were at the Delhi Comic Con. Although he describes his nature as 'anti-drawing', more open to outdoor activities, Nguyen loves contributing to universes that he loved while growing up. There is no particular vision when it comes to his work, except to keep growing. "I strive to make sure that my peers see that I'm improving, and also myself, of course," he says. At some point, he would love to work on stories from Oahu, the island he is from, and a travel sketch book of all the places he's visited, but we will probably have to wait ten years for him to get around to doing that.
Nguyen was one of the three international comic book creators invited to Comic Con Delhi. John Layman, whose projects include writing for Chew and Batman, and Declan Shalvey, who has drawn for Deadpool, were part of a session to discuss the process of creating popular comic book worlds and characters. Indian comic artist Rahil Mohsin spoke about his comic anthology, Blame it on Rahil. Rahil has been associated with Comic Con India since its inception, and the space given to him to showcase his new, self-published work shows how invested Comic Con is in nurturing and maintaining relationships with Indian comic book creators.
Mohsin himself is now focusing on nurturing other artists. He is currently mentoring five artists, helping them publish books and tie up with comic book festivals, and also interviews comic book artists in a new initiative called Comics Over Coffee. It helps that Mohsin is open to experimenting, and has experience in a variety of artistic styles. "Even if it is out of my genre and out of my comfort zone, I take it up because I want to publish as many books as possible, and work with as many creators as possible," he says.
The idea of building artistic communities also attracted first-time booth holders Rohit Soni from the Doodle Kit Project and Avinash Sathianathan from Cunning Bones Studio. Soni's company is based in Delhi and Hyderabad, and built on the idea that doodling is for everyone. He hosts workshops for corporations, helping them think creatively and visually, as well as encourage mindfulness with adult colouring books and a mindfulness doodling kit. Soni's kits are portable and contain doodle pads with exercises to get you started, pens, pencils and glitter. Soni hopes his kits will help people start doodling communities, for those who want to express themselves. "You can have a doodle kit meet up, so it's like making doodle culture a part of your everyday life. You don't need to be an artist to be creative," he says, adding that the company is planning to open creative spaces in Delhi and Hyderabad for people to doodle and attend workshops.
Sathianathan's Cunning Bones Studio is only six months old. The online comic book label had always been a dream for Sathianathan, whose brand of dark humour and style make for comics that are a blend of the Dungeons and Dragons aesthetic and the most wonderfully ridiculous parts of Asterix and Obelix. He currently has two comics — the absurdist Chronicles of the Village Idiot, and the darker Inferior Grit — that he updates somewhat regularly. He also has a 'lighter' comic strip for readers to dip into sporadically. On his experience at Comic Con, Satyanathan jokes, "It is really good for your self esteem when people say, 'This is really great.' Generally, independent workers deal with a lot of self-doubt, so this was a great boost to my morale."
Perhaps the most surprising booth to encounter was With Love Gifts, headed by Kanika Aggarwal, which marries social work with crafts. The organisation is five years old and aims to empower women in Jamia Nagar by providing them the tools to create crafts. Her stall featured dolls, notebooks and bags, all individually designed by the artisans she employs. "It's not a factory system, where they have to be there from 9 to 5, it is only after completing their household chores and responsibilities that they make these at home," she explains, showing off a Game of Thrones-themed ludo set. Kanika's presence at Comic Con speaks volumes about how smaller artists and initiatives can carve out a niche for themselves at big, corporate events. Kanika admits it herself, explaining that she has added more diaries with specific FRIENDS references, as last year, the dolls didn't sell as much as she had anticipated.
As the festival drew to a close, an enthusiastic crowd gathered, with the cosplayers unanimously shouting 'We love Comic Con' into the sky. Perhaps they loved seeing their favourite characters come to life, or they enjoyed seeing stand up comics and the Night King. Maybe, like me, in the maze of stalls selling t-shirts and advertising for Doritos, they were excited to meet creators and organisers who were interested in building and nurturing artistic relationships. These seemingly smaller creators are what keep this rapidly growing convention grounded, staying, at its heart, about building a community around creative endeavours.
Entertainment
The San Diego Comic-Con International will see Game of Thrones John Bradley, Jacob Anderson, Liam Cunningham, Nathalie Emmanuel and Conleth Hill in attendance.
Entertainment
Game of Thrones star Nikolaj Coster-Waldau said every season of the show has been divisive in its own way, from Ned Stark's fate to the Red Wedding.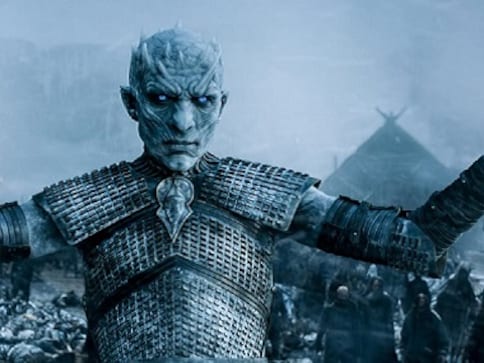 Entertainment
Vladimir Furdik worked on stunts in Game of Thrones before taking on the Night King's mantle in the show's sixth season. The actor is now in India for the Delhi Comic Con 2018.