Coldplay's India concert: How to 'earn' tickets, explained by Global Citizen charity
The international social action platform Global Citizen has been in the news a lot recently, one of the reasons being Chris Martin, the brand ambassador of the charity, had sparked rumors that his band Coldplay would perform in India.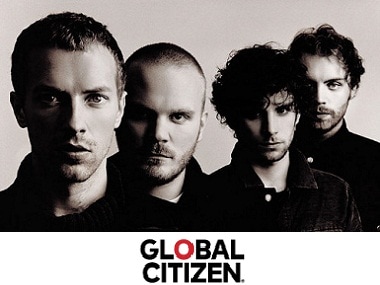 Global Citizen confirmed the rumour on 10 September 2016 that Coldplay will surely be headlining a charity on concert in India, with Aamir Khan, AR Rahman, Farhan Akhtar in attendance — and that Jay-Z might make an appearance.
The tickets, initially thought to be priced at Rs 25,000 to 1 lakh can be earned for free according to the Global Citizen website and Vijay Nair, who heads the event company Only Much Louder (OML).
Nair explained in detail how the system would work via a series of tweets:
Tickets for GC are 'earned' through actions. So majority will have to earn your tickets and not pay for it. That is the real story here.

— Vijay Nair (@vijay_nair) September 10, 2016
So how do you earn your Coldplay concert ticket?
Global Citizen's New York line-up, which includes a segment hosted by our very own Priyanka Chopra, and artists like Rihanna, Metallica and Usher, is all set to take place on 24 September 2016. The general admissions for these tickets too, were 'earned' through actions.
First, you need to sign up on the website and download the Global Citizen application. Once, you sign up, you have to earn 'rewards' with various actions.
For the New York festival on 24 September, news website Fox 5 had Madge Thomas from Global Citizens explain the procedure.  You need 26 "actions" to get in."It's through doing something that you can capture and share on social media. For example, one of the actions this year is: take a photo of a book that has changed your life and tell world leaders why kids everywhere should read it," said Thomas. That action will get you five points. These actions directed towards people in power do have powerful effects. According to the same news report, these tweets made the Prime Minister of Norway come to the 2015 festival.
Then according to the FAQ section of the website, here's how people in New York went about earning their tickets:
How do users win tickets through their participation?
Users win tickets to the festival through taking action to end extreme poverty. You can choose from a range of actions that earn you points. Once you earn 25 points from festival actions, you can enter the draw for festival tickets. Every two weeks we will announce ticket winners and launch a new campaign with a different challenge for global citizens to solve.
Do I have to register on global citizen in order to start earning points?
Yes, you have to register on globalcitizen.org in order to start earning points?
How does a user enter the lottery and when will they find out if they've won?
To enter the lottery for Festival tickets, users must take enough actions to earn 28 points, and then redeem them on the festival page for an entry into the draw. Winners will be informed via email when the draw is made.
Can I use my existing points to enter into the festival draw?
No. Only points earned through festival actions will be eligible for tickets. If you use existing points earned from previous action taking your entry will not be eligible. Make sure you complete festival actions and earn the necessary festival points to enter the draw.
What if I do not have a Twitter account? How do I take the tweet actions?
You will have to set up a twitter account in order to take the tweet actions.
How do I take the call action?
You will have to take the call action from your cell phone. To do this, you'll need to login to globalcitizen.org on your phone and take the action from there.
What if the voice mailbox is full? Do I have to take the action again?
Yes! You will not get points for the action until it is complete.
How do you track the actions people take, especially actions such as calling a representative? How do you know someone has actually placed a call?
The actions are tracked through the Global Citizen online platform and mobile app. Once a participant takes an action, for example signing a petition, the points are registered to their Global Citizen profile. Through the mobile app, we are able to track, with the same technology, when a participant makes a call to their representative's office.
Updated Date: Sep 12, 2016 13:47 PM