Chris Hemsworth wraps filming of Men in Black spin-off, shares behind-the-scenes photos with co-star Tessa Thompson
Apart from Chris Hemsworth and Tessa Thompson, the Men in Black reboot stars Emma Thompson and Liam Neeson among others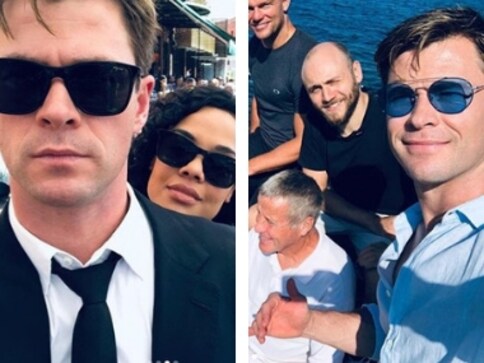 Chris Hemsworth has wrapped up the shooting of the latest Men in Black spinoff, the actor announced the news on Instagram.
Hemsworth shared few behind-the-scenes images along with his Thor: Ragnarok co-star Tessa Thompson and director F. Gary Gray, thanking the team for "fun times, big laughs and solid memories". Thompson and Hemsworth will be portraying MIB agents in the franchise reboot, made famous by Will Smith and Tommy Lee Jones. The original movie followed Smith and Jones, who played agents of a secret organisation, known as the Men in Black, who protected Earth from intergalactic antagonists.
Other cast members include Liam Neeson, Rafe Spall, Kumail Nanjiani and street-dancing duo Les Twins aka Laurent Nicolas Bourgeois and Larry Nicolas Bourgeois.
The Men in Black spinoff is being financed by Walter F. Parkes and Laurie MacDonald with legendary director Steven Spielberg executive producing.
Find latest and upcoming tech gadgets online on Tech2 Gadgets. Get technology news, gadgets reviews & ratings. Popular gadgets including laptop, tablet and mobile specifications, features, prices, comparison.
Entertainment
Ryan Reynolds and Gal Gadot shared photos of them undergoing a coronavirus nose swab test as they resumed filming for Red Notice
Entertainment
Universal and MGM have decided to set a new release date for Candyman, a remake of 1992 horror classic, amid uncertainty over reopening of cinema houses in the US.
Entertainment
John Boyega was replaced by actor Liu Haoran after the commercial was recast and reshot for the Chinese market despite having directed and conceived the original video by Boyega for the perfume brand