Chetan Bhagat's One Indian Girl: Court has ordered temporary injunction due to plagiarism claims
Chetan Bhagat's One Indian Girl may have been lifted from writer Anvita Bajpai's book.
Chetan Bhagat is the news again: the dance show judge, motivational speaker and author has been accused of plagiarising content for his latest book One Indian Girl, reports Scroll.

Bengaluru based author Anvita Bajpai has stated that a judge has granted a temporary injunction restraining Chetan Bhagat from selling the book One Indian Girl after she filed a suit claiming it to be an intelligent copy of her story Drawing Parallels from the book Life, Odds & Ends.
One Indian Girl, released in October 2016, was Bhagat's sixth fictional book. The book chronicled the failed romantic liaisons of his first ever female protagonist, Radhika Mehta.
Radhika Mehta is a smart, successful professional who works in Goldman Sachs — she is young and has everything going for her, except for the fact that she cannot control her love life. Apart from the fact that it sounds like a plot of a 90s Katherine Heigl rom-com (a woman who has everything under control but doesn't know how to fall in love: The Ugly Truth, 27 Dresses), Anvita Bajpai also claims that the story is broadly copied from her short Drawing Parallels.
Bajpai told Scroll.in that Bhagat's book 'has an emotional flow' very similar to her short story Drawing Parallels. Her Facebook post states that she had approached Bhagat with her book in 2014.  Bajpai's story too centers around  'a woman, feminist, non-conventional, adventurously deviant especially in matters of relationships with the opposite sex; and she settles down in her third relationship by finding a balance for her family and other aspirations.'
Here is the Facebook post:
Bajpai, who is an IIT-IIM alumnus herself, also states she has asked Bhagat to withdraw copies of One Indian Girl and pay a sum of Rs 5 lakhs towards damages.
Chetan Bhagat, who is busy promoting his upcoming film adaptation of Half Girlfriend,  has responded to Bajpai's post with his own Facebook post by saying that, '[This] could be a misunderstanding and am sure will be clarified as what is being suggested is baseless. My publisher's legal team will be taking appropriate steps.'
Meanwhile, the Bollywood rumour mill has already cast Kangana Ranaut in the still to be made film adaptation of the book. What will happen to the film now?
(Also Read: Kangana Ranaut wants to star in the film adaptation of Chetan Bhagat's One Indian Girl)
News & Analysis
Amazfit GTS 2e is a well-rounded fitness watch that may face the stiffest competition from its own siblings.
Politics
Kalyan Singh, 89, who is also a former governor of Rajasthan, was admitted to the ICU of the hospital on the evening of 4 July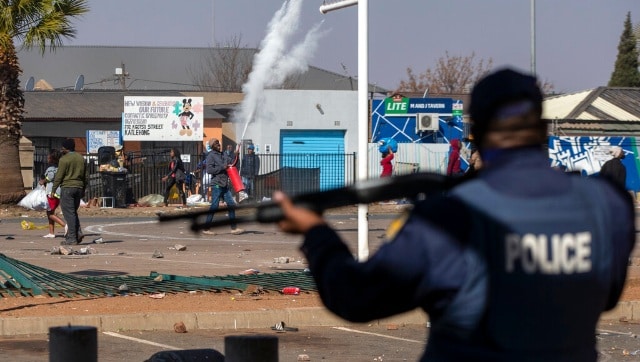 World
The tensions have been particularly high in the sprawling Indian township of Phoenix, north of Durban, and residents of three surrounding Black areas following the deaths of 22 people in Phoenix during the riots and looting last week by vigilante groups