Celebrating Bhumi Pednekar: Hoopla around Dum Laga Ke Haisha reveals our ingrained fat-phobia
However, this tale of requited love is more fairytale-ish than average Bollywood potboilers.
Has Dum Laga Ke Haisha redefined 'aww' in your life? Did you single people just uninstall Tinder from your phone and start hoping love will arrive at your doorstep like the morning paper or your pepperoni pizza?
The mostly unpretentious Dum Laga Ke Haisha, most deservedly, is your new bible of love.
However, this tale of requited love is more fairytale-ish than average Bollywood potboilers. Boy and girl fall in love and live happily after? Aww. Fat girl and thin boy fall in love and live happily after? Triple aww.
Let's be honest: one part of our infatuation with Dum Laga Ke Haisha comes from our secret belief that a fat girl can't find love.  The fat girl, in our collective subconscious, is the ultimate underdog and when she does things we associate not-fat girls with doing -- like finding a boy who loves her -- she is applauded for achieving a great victory. It's almost as we treat overweight people as disabled -- or to be politically correct, differently abled -- for whom experiencing something normal is a huge deal.
It will be slightly unrealistic to claim that weight, especially in the case of women, isn't the subject of grossly unfair  scrutiny. But we do women no justice , when we resort to highlighting a not-thin woman's every other virtue almost as a compensation for her "unattractiveness." It amounts to saying, 'Oh she is fat and that's not great, but look: she is smart and witty and ambitious." It's a thin line between celebration and condescension.
Dum Laga Ke Haisha almost crosses that line. The mainstream media narrative around the film's leading lady Bhumi Pednekar walks right over it.
In Sharat Katariya's film, Sandhya, played by Bhumi Pednekar, is an overweight young girl. She is married off to Prem, played by Ayushmann Khurana, who is reasonably goodlooking. She falls in love, he doesn't... until he does and they live happily ever after. Simple, right? Wrong.
Here's another way to tell that same story.
Sandhya is a graduate with a B.Ed degree. Even though she comes from a lower middle class family in Haridwar, she speaks good English. She aspires to be a schoolteacher and even lands a job in a school. Prem, her husband and whose love she pines from, has flunked his tenth standard examination. He doesn't have a job and works in his father's cassette recording shop. He is a bit of a wimp, roughed up by the father now and then. He is also a bit of self pitying jerk - he gets drunk and calls his wife names in front of his friends.  And then he wakes up to his great and astonishing good luck to have landed someone like her.
See how different the story reads if we don't talk about kilos or BMP?
But one can't help feeling that Sandhya's many virtues exist as compensation for her weight -- as though the filmmaker is 'making up' for the fact of her love handles, and to even the romantic playing ground. For an overweight woman to land a thin man, she has to be sweet, intelligent and spunky while he has to be uncouth, unsuccessful and outright obnoxious. A few drinks down, he tells his friends about his wife, "Imagine sleeping in the same bed with a bull...." Obviously, his only talent is that he is not fat.
While the movie flirts with subtextual prejudice, the media coverage of Pednekar wallows in it.
The popular narrative around Bhumi Pednekar seeks to celebrate her essentially as the 'fat girl who made it'. Not just the 'girl who made it'. More ironically, even before the film could complete a week at the theatres, social media was raising a toast to the other 'commendable feat' achieved by Pednekar: losing weight.
This is commendable @psbhumi then and NOW pic.twitter.com/n3xXeKifUV

— nikhil thampi (@nikhil_thampi) February 27, 2015
An article on Miss Malini says, "Interestingly, even though the movie is garnering praise from everywhere, it wasn't really promoted. That's why, we didn't ever really see Bhumi off screen. And now that we have, we can't get over it."
They are referring to the fact that Pednekar, in real life, is much slighter than Sandhya in the film. In fact, she put on more than 12 kilos to play the role.
Nandini Ramnath rightly points out the source of our curiosity about Pednekar in an article on Scroll, "Much of the admiration being showered on Sandhya, and the actor who brought her to life, has been both in spite of and because of her unusual appearance... In real life, she is many kilos lighter and considerably more glamourous than Sandhya. Pednekar gained close to 12 kilos for the role, but has since shed the extra weight. She was close to 87 kilos during the shoot, and is now 64 kilos, she told Scroll.in."
Pednekar herself said in an interview, "Looking at the other girls, my contemporaries, who are also not size zero and yet doing well, motivates people like me. It is just nice to see the way films are changing. The way perception about actresses is changing."
She added, "I have been an over-weight girl all my life and I have been very comfortable with it. I wore what I wanted, did what I wanted."
In the film and outside it, Sandhya and Pednekar don't seem to consider themselves unattractive. But articles and general social media conversation makes it clear that her weight puts her firmly outside any  traditional category of beautiful.
Case in point this NDTV article: "How Bhumi Pednekar is different from these 13 Yash Raj heroines". The article, juxtaposes Pednekar's pictures from Dum Laga Ke Haisha and with other Yash Raj heroines and says how she is not remotely as gorgeous or elegant as the rest are and hence is special.  To underscore why Pednekar is special, the article almost dismisses the other actresses and seems to suggest that their being pretty amounts to being vacuous. And that's a whole different kind of bias.
Referring to Priyanka Chopra and Katrina Kaif, the article says, "These former models, impossibly telegenic and glamorous, came late to the Yash Raj party, starring inBachna Ae Haseeno and Gunday much after they had already made high-profile movies with other producers. How Bhumi is not like them at all: She doesn't look like a model and she doesn't have the advantages of a former model's front of camera experience. All Bhumi has to recommend her to critics and fans is that often forgotten and all too rare commodity, talent."
Is it necessary to put down one woman to glorify another? Not really. The flawed idea of perfection stems from this very spirit of pitting one against another, labelling one better than the other. And Pednekar and Dum Laga Ke Haisha denounces this very idea. The film, despite faltering occasionally, shows a woman happy with what and who she is. She thinks she is perfectly desirable and sticks to her guns throughout.
Pednekar and Sandhya don't need to be defined by their bodies in order for us to celebrate them. Dum Laga Ke Haisha ends with Sandhya, like all traditional Bollywood leading ladies, dressed up, dancing to a love song. She is not nudging out the women who have been there before her. She is just seeking her place among them.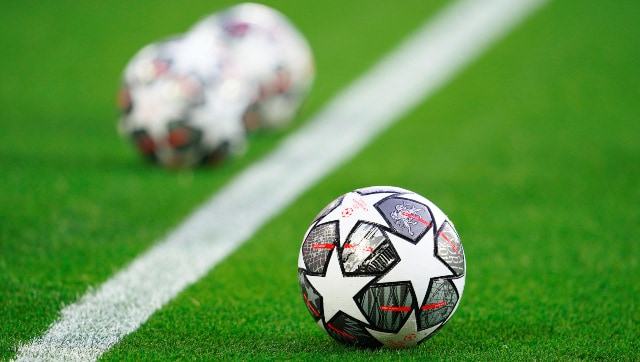 Sports
The Indian Women's League champions will represent the country in the eight-team pilot tournament of the Asian Football Confederation, to be played between 30 October and 14 November this year.
Sports
The 38-year-old former England international guided the team to the Championship title following their launch as a professional outfit in 2018.
Sports
While Grace admitted that Indian Women's League matches are becoming more competitive, the footballer from Manipur added that she hopes to see more women taking up football in India with the introduction of the AFC Women's Club Championship.