Celeb chef: Joy Bhattacharya shares Aamir Khan's favourite fluffy omelette recipe
He has cooked for Bill Clinton, Prime Minister Manmohan Singh, Michael Jackson and is hoping to someday cook for the one who got away — President Barack Obama. Here he tells you how to make Aamir Khan's favourite omelette.
He whipped up the crisp Masala Dosa the late King of Pop Michael Jackson ordered with a judicious sprinkling of "masala" and used his best discretion to advise superstar Amitabh Bachchan, a vegetarian, at a banquet event.
Meet Joy Bhattacharya, executive chef of the Trident Hotel, Mumbai. Born in the industrial town of Jamshedpur, he felt a confined office space was not for him and unleashed his creative side amid pots and pans, and what have you. Over the years, Chef Joy has innovated with flavours in keeping with the changing Indian palate. He leads his army of chefs with precision in the chaos that dominates the kitchens, having hosted over 25 presidential delegations at the hotel. Just like his name, his team considers him a joy to work with.
The Trident hotel plays host to many a celebrity in its banquet halls and restaurants – Frangipani, India Jones and Verandah being clear favourites over the years. Chef Joy's personal interactions with many dignitaries and celebrities and the high tea regulars, from Vladimir Putin to Aamir Khan, could make for a fabulous coffee table book. Till that happens, Chef Joy shares some of his most memorable food encounters and shares his special Souffle Egg-white Masala Omelette recipe, favoured by none other than the discerning Aamir Khan himself:
Bill Clinton: During his stay at the hotel with his Presidential delegation, Clinton's breakfast comprised waffles and crisp bacon every day and he seemed to love the Lamb and Chicken Kebab platter.
Michael Jackson: For a decided flavour of the country he was visiting, Jackson had ordered a crisp Masala Dosa for in-room dining and enjoyed it down to the last bite. I was very pleased, naturally.
Prime Minister Manmohan Singh: He may be leading India at the highest position of honour and power, but his dietary needs are spartan. On two occasions at the hotel, he only had fresh fruits and yogurt as an entire meal.
Amitabh Bachchan: Again, a very sparing eater, he likes simple, vegetarian food – dal, chawal, sabzi and chappati. I have met him on numerous occasions and on one such event, I was asked by the host of the party to look after Mr Bachchan. I used my best discretion to advise him on the Indian and Asian fare available and he settled for a basic Indian meal. At the end of the meal, he just asked for plain yogurt as dessert.
President Barack Obama: Unfortunately, he did not eat when he was here at the hotel for a conference. Obama is the one that got away and I hope someday when he is back in India, I will give him a taste of India through my preparations.
Nita and Mukesh Ambani: They are regulars here and it is a pleasure every time.
Aamir Khan: He is very fond of the Souffle Egg-white Masala Omelette and orders it every time he is at Frangipani. I could easily say it is his favourite here at the hotel. He likes to eat at India Jones too.
Recipe on next page

Recipe for Souffle Egg White Masala Omelette:
Makes one serving
Ingredients:
• White of egg 3 nos
• Olive oil 8 ml
• Chopped onion 3 tablespoon
• Chopped tomato 2 tablespoon
• Green chilli, chopped 1 teaspoon
• Coriander, chopped 1 level tablespoon
• Salt to taste
• Pepper to taste
Method:
• Take a deep bowl and whisk the egg whites until light and fluffy. Add salt. This process involves incorporation of air into the egg whites.
•  Heat a teflon coated pan, pour the oil and add the onions. Saute for a minute till the onions soften.
•  Add the chopped tomato and the green chillies, saute for a while and then add the coriander.
•  Adjust seasoning and then pour in the whipped egg whites.
•  Use the cut and fold method, on medium heat, until the egg cooks partially.
•  Fold the omelette at this stage, reduce heat to low and cook on both sides, until on test, a sharp knife comes out clean through the center.
•  Serve hot along with a grilled tomato and hash brown potatoes.
Find latest and upcoming tech gadgets online on Tech2 Gadgets. Get technology news, gadgets reviews & ratings. Popular gadgets including laptop, tablet and mobile specifications, features, prices, comparison.
Entertainment
Fatima Sana Shaikh shares that following Thugs of Hindostan critical and commercial failure, she was dropped from several projects.
Entertainment
Suraj Pe Mangal Bhari is one of the first major Bollywood films to have a theatrical release since the reopening of cinemas.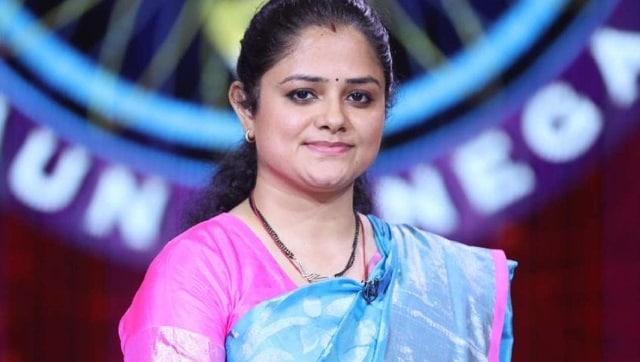 Entertainment
Mohita Sharma, the second crorepati of the season after Delhi's Nazia Nasim, is posted in the Jammu Kashmir Cadre as an Assistant Superintendent of Police.