Casey Affleck's directorial Light of My Life to have world premiere at Berlin Film Festival 2019
Casey Affleck's Light of My Life centres around a father and his young daughter who are trapped in the woods.
Oscar winner Casey Affleck's latest directorial Light Of My Life is set to have its world premiere at the Berlin Film Festival 2019.
The dystopian drama has been listed in the Panorama section of the festival. A total of 45 films from 38 countries will be screened in the section, the festival organisers said in a statement.
Casey is also starring in the dystopia drama, which centres around a father and his young daughter who are trapped in the woods. The film is set around a "society without women" where "gender roles have to be renegotiated".
The film also features Elisabeth Moss and newcomer Anna Pniowsky.
Jenna Bass' Flatland, a story about a bride and her pregnant friend making a liberating getaway across South Africa, will serve as the opening film of the Panorama section. Other films to be screened include Aldemar Matias's La Arrancada, Uli M Schueppel's Der Atem (The Breath), Santiago Loza's Breve historia del planeta verde (Brief Story from the Green Planet), Divino Amor (Divine Love) by Gabriel Mascaro, Flesh out by Michela Occhipinti, among others, reports Deadline.
The 67th edition of Berlin International Film Festival will run from 7 to 17 February .
(With inputs from Press Trust of India)
Entertainment
In Honk For Jesus…the way the couple Lee-Curtis and Trinitie bond is excruciatingly funny. You can see they are acting, even when alone. Writer-director Adamma Ebo is unsparing in her indictment of organized religion.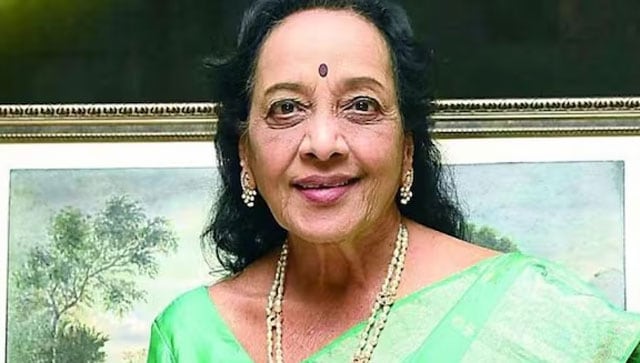 Entertainment
She had won the Filmfare award for Hindi Film 'Milan'. Some of her iconic films include 'Missamma', 'Gundamma Katha' and 'Sri Krishna Tulabharam'.
Entertainment
Aftersun's final act shows Calum and Sophie dancing to Queen and David Bowie's Under Pressure. Feelings are felt. Emotions are stirred. A tear or two rolls down. Perhaps, in the afterlife, Calum is happy that Sophie is trying to process her trauma instead of passing it on to her child.