Carbon movie review: Fahadh Faasil is a showstopper in an unslottable adventure
Some films refuse to settle into a single genre. Venu's Carbon, with Fahadh Faasil in the lead, is one such that will not be tied down by slotting.
cast

Fahadh Faasil, Mamta Mohandas, Manikandan R. Achari, Nedumudi Venu, Vijayaraghavan, Praveena, Kochu Preman, Soubin Shahir, Chethan Jayalal, Dileesh Pothan, Spadikam George, Sharafudheen

director

Venu
Some films refuse to settle into a single genre. Writer-director Venu's Carbon is one such that will not be tied down by slotting. Funny throughout, eerie in places, suspenseful in parts and, especially in the second half, gazing wide-eyed at the wondrousness of nature, it drifts about in a trance just like its male protagonist whose head is forever floating in the clouds.
Siby Sebastian, played by Fahadh Faasil, is constantly hatching legally and morally dubious get-rich-quick schemes, while youngsters his age take up jobs, marry and manage their homes. He knows he is seen as a loser, a layabout and a fraud by the community, but is unshaken by their judging eyes. Some day, somewhere over the rainbow, he is sure he will make his millions.
The first half of Carbon is spent establishing Siby's kookiness combined with delicious non-conformism and the effect of his shady affairs on his friends and parents. After flitting from one failed plan to the next — ranging from peddling a gem that is not his to working as a middleman in an elephant sale — he is tasked with visiting a remote spot where one of his contacts has bought a decaying palace. His assignment is to recce the place and figure out how it can be turned into a tourist resort. Once there, when Siby hears of a lost treasure from the era of Tipu Sultan, he zeroes in on his next grand adventure.
With Carbon, award-winning cinematographer Venu returns to direction after the 2014 thriller Munnariyippu. His new film walks a thin line between being wacky and completely wacko. The story offers no answers and the messaging is open-ended. Through Mamta Mohandas' character Sameera, a self-professed "jungle junkie", it references Paulo Coelho's The Alchemist, yet it appears to contradict the point about the treasure in your backyard in its climactic shot.
This is a film that is exasperatingly, fascinatingly open to interpretation at all levels. Every step of the way, I found myself expectantly waiting for the next hint of its intent, the next shot, the next turn, the next rustle of leaves, the next whisper in the wind, the next creature camouflaged by trees or resting in its cave, and in the end I was left somewhat bemused and still intrigued.
It is often unclear in the film whether we are watching reality or one of Siby's dreams, whether a character exists in fact or in his imagination. How much of Carbon is taking place in Siby's head is worth considering, all the while remembering what Professor Dumbledore tells Harry Potter as the curtain comes down on JK Rowling's Harry Potter and the Deathly Hallows: "Of course it is happening inside your head, Harry, but why on earth should that mean that it is not real?"
The film's full name is Carbon: Ashes and Diamonds from which you might surmise that it is about what we do with the cards we are dealt by fate. Will you allow life to reduce you to ashes or will you, as carbon is wont to do under tremendous pressure, emerge a shining diamond? This then is as much Siby's journey to find himself as it is to find an ancient hoard of gold.
It is more though. "We need a bit of fantasy to liven up our lives" — you have heard Siby utter these words in Carbon's trailer. Perhaps this is a clue to the film's mystery? Or perhaps not?
By not being condescending towards Siby's opposition to social norms, Carbon reveals its own quietly rebellious streak. His refusal to go down the path that society expects all of us to follow – study, find work, marry, have kids, work, retire, die — is a reminder that there is no one-size-fits-all game plan for the human species and individuals must be left to make their own road. It is worth noting too that in his quest for a cache of precious metal, Siby chooses to push himself beyond his comfort zone. He is not naturally brave like Sameera, who does not bat an eyelid before sleeping out in the open in the jungle, but he overcomes fear to get where he wants to be.
The second half of Carbon is largely devoted to a long walk through forests near the Kerala-Tamil Nadu border, which is when it becomes as much a survival saga as it is a treasure hunt.
If there were a National Award for Location Choices, it should go to the film's location scouts. Post-interval, Carbon enters visual heaven, and KU Mohanan's keen eye beautifully captures the thick vegetation typical of the region, looming rock formations, a glimpse of an elephant through dense trees, a herd of bison peeping back from the foliage, forbidding mountains, a cave on a cliff, a bubbling stream... Repeat: Heaven.
This is arguably the veteran cinematographer's best work yet. Through large swathes of Carbon, all we see are Siby and his companions trekking across this splendid landscape. They barely speak. And Mohanan's camera seems to call on us to walk along in communion with nature.
One grouse: The way Kammatipaadam's Manikandan R Achari is shot in a cave here in a bid to make him scary. Achari plays a local called Stalin, who is Siby's guide. The camera angle used on his face is designed to spook viewers. It bothered me that choosing him — not Faasil or Mohandas — for that shot, was an effort to cash in on widely held Indian biases regarding looks.
Carbon's nicely underplayed sound design — with its clever use of the power of suggestion — is crucial to its effectiveness. Vishal Bhardwaj, making a rare foray outside Bollywood here, serves up a mixed bag of songs though. Benny Dayal's robust rendition of 'Thanna Thane' briefly injects energy into an otherwise deliberately languorous film, but Rekha Bhardwaj's terrible diction and poor singing of 'Dhoore Dhoore' are downers.
The cornerstone of Carbon is its cast. Fahadh Faasil steps so forcefully into Siby's shoes that he sweeps us away in the tide of the fellow's seemingly crazy convictions. Mamta Mohandas as Sameera owns every scene she is in, though she enters the picture only an hour into the narrative.
Venu does not settle for anything but the best in small supporting roles either. Achari as Stalin, Dileesh Pothan and Nedumudi Venu as Siby's business allies are all in spiffing form. Kochu Preman and Soubin Shahir are appropriately twisted. Sharafudheen is unobtrusively hilarious as he offers his friend solace and wisdom. Praveena is memorably strange without going over the top. It is worth mentioning that apart from Achari, the others mentioned in this paragraph get just a few minutes each on screen. It is a measure of their arresting personalities and abilities along with Venu's attention to detail that each makes a lasting impression nevertheless.
The pick of the supporting cast is Spadikam George playing Siby's father. There is a scene in which the two meet in a marketplace after a gap. The way the dad looks at his son, using the most fleeting of hand gestures and a glance to convey his deep affection and a parent's longing to have his son back home, come what may, his faults be damned, is unforgettable.
Venu, to borrow the title of Arundhati Roy's book, is a god of small things and the big picture in Carbon. His idiosyncratic cinematic vision and the la la land of Siby's mind make for enjoyable viewing in this unusual film.
Entertainment
Filmmaker Ashima Chibber's movie Mrs Chatterjee Vs Norway starring Rani Mukerji revolves around a mother's fight for her two young children who were literally snatched away from her on the grounds of bad parenting by the Norway Children's Welfare Program.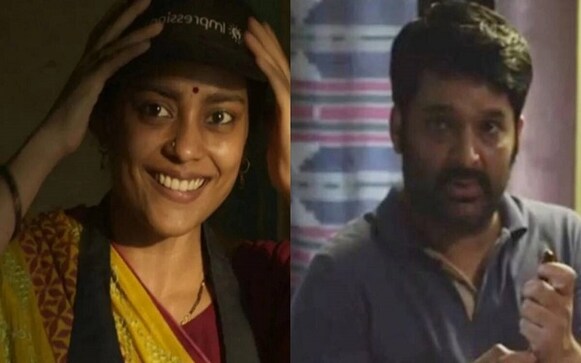 Entertainment
Nandita Das directorial Zwigato strikes a conversation on gig economy and unemployment situation of our country.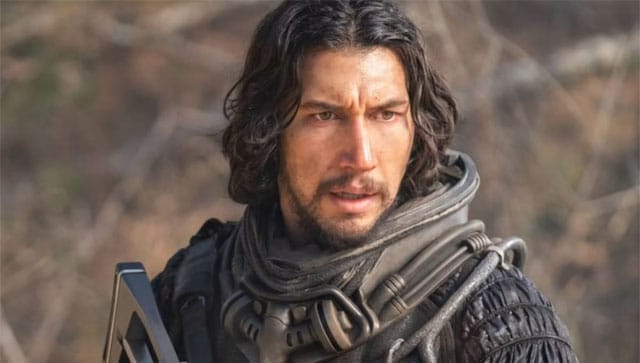 Entertainment
Writers and directors Scott Beck and Bryan Woods present a story about survival, and design it with style with their new film 65.