Calling Karan: Johar tackles jealousy in relationships, chats with Alia Bhatt in week six
Karan Johar makes his debut as an RJ with Calling Karan on Ishq FM, which is India's only romantic radio station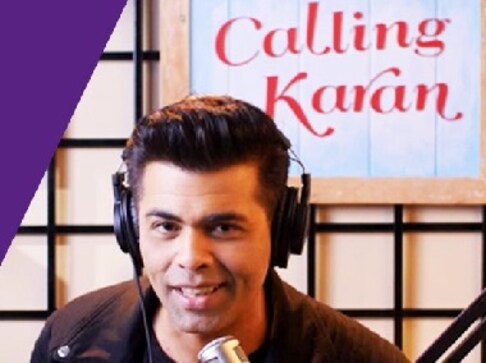 Karan Johar's radio show Calling Karan is in its sixth week and picking up pace among the young lovers of our time. Like every other week, here is another update on what went down on the director-producer's radio show, which airs on India's only romantic channel, Ishq FM.
Johar tackles issues like space, intimacy, jealousy, break ups and dating rules in the latest episodes, while taking calls from some of the most popular Bollywood personalities. He gets on a call with Alia Bhatt, Taapsee Pannu and Imtiaz Ali in the episodes, which are marked by distressed calls from people in relationships/wanting to be in relationships.
.@taapsee asks @karanjohar some difficult questions #CallingKaran
Watch the full video on: https://t.co/0u0xms3pUq pic.twitter.com/3P452ZotW1

— Ishq (@IshqFM) January 18, 2018
Alia Bhatt is single and feels lonely. But Karan disagrees #CallingKaran Watch the full video on: https://t.co/mwLTDN2I5m pic.twitter.com/SzHa92yJ79 — Ishq (@IshqFM) January 16, 2018
Bhatt asks Johar for some advice on how she could spend Christmas and New Year's, without feeling lonely, as she is single during the festive season. Johar tells her to forget about the boys and just go on an all-girls trip. If everyone had that kind of money, there wouldn't be any singles complaining at all!
From encouraging a guy to break with his girlfriend because of her alleged hygiene issues to handling jealous boyfriends/girlfriends...KJo does it all. No wonder he's called the agony aunt of Bollywood, he does it with ease and enjoys it while he's at it, too.
Entertainment
Titled Free, the movie will be directed by Montoo Bassi and will be adapted in 21 languages.
Entertainment
The news came 10 days after Ashoke Pandit sought out a hospital bed on Twitter for Ajay Sharma, stating that the film editor was battling with coronavirus
Entertainment
Team RRR's video message sees Alia Bhatt, Ajay Devgn, Ram Charan, Jr NTR and director SS Rajamouli request people to always wear masks and avail of the vaccines at the soonest