'Cabaret' is an explosion of passion, says Gulshan Devaiah
Gulshan Devaiah, in this completely no holds barred interview, talks about his feminine side, his fashion views, and all his on screen kisses.
He was the lusty, raunchy guy in the film Hunterrr. Now he is back with Richa Chadda in Cabaret, still hunting and still scorching the screen with kisses that would make Emraan Hashmi look like an amateur.
Gulshan Devaiah, in this completely no holds barred interview, talks about his feminine side, his views on Aishwarya Rai's purple lipstick, Richa Chadda's saree at Cannes 2016 and of course, all his on screen kisses. When he meets with Firstpost for an interview, he immediately confesses to being shy to the extent of being agoraphobic. We play along:
So you don't party?
I enjoy conversations. I feel uncomfortable at parties, I just have a drink and hit the dance floor. I got my first role in Girl with Yellow Boots because of my dancing. Anurag Kashyap saw me dancing with Kalki (Koechlin) and felt there is something about me.
Do you and Kalki go back a long way?
Since 2008. I took some time to become real friends. Today we are really thick.
I believe you shop for her.
Before I found my partner, we used to shop together. I have a background in fashion and I love shopping myself.
Is shopping a therapy?
In a way, yes. It's not considered very manly but I don't care. I love shopping.
Do you want to be seen as manly?
I am manly enough. That is just a perception. There are feminine qualities [I have] and I am comfortable about it.
Talking about fashion, did you like what Aishwarya wore at Cannes?
I saw some visuals and on Twitter, people had many things to say about it.
And what do you have to say?
I think the dress was… nice. Aishwarya has always had a very keen sense of fashion. She is really good in choosing the right outfits.
But she is being constantly criticized by people. Are they justified?
In a way they are justified and in a way it is none of their business. As a celebrity, one either accepts or blocks it off. I think Aishwarya understands that and knows how to deal with it.
What did you think about her purple lipstick?
That was a little bit loud and jarry. It was quite a bold experiment. If I was styling her, I would say its too much as she is such a beautiful woman. It wasn't like crazily bad, just tiny bit too much.
What about Richa Chadha's dress at Cannes?
Richa is a beautiful woman and looks great in everything. You can never go wrong with a Sabyasachi outfit. She probably wanted to represent the nation and wore a saree. The shimmery gold looked great on her as she has a dusky complexion.
Both of you had your films screened at Cannes at the same time — Peddler and Gangs of Wasseypur. Was that a first meeting?
I had met her through common friends earlier. The first time I met her at a theatre workshop and Oye Lucky Lucky Oye had just released. I thought, "my god, it's that girl from Oye Lucky'. I had to really build up the courage to go up and say hi to her.
Kalki was there and I asked her, "should I go and talk to her, she is pretty hot, man?" and Kalki said, "go, talk to her". I just said "hi, you were fabulous in the film" and she said politely, "thank you". (mimics polite voice)
From the shy hello, to a steamy kiss in your upcoming film, Cabaret. How's that?(Enthusiastic) Yeah, yeah, I am really eating her (lip). We have come a long way. (smiles). That's what I would have liked to do when we met first. But seriously speaking, this is our job.
You seem to be a pro with kissing scenes, like the ones in Hunterrr.
(More enthusiastic) Yeah, I even did one small one in Shaitan. In the film, I am supposed to be kissing some random woman, but I was actually kissing my girlfriend so it turned out more romantic than it was intended. In Hate Story, it was very easy to break it down as it was all about aesthetics. I was nervous. I told my wife- 'we are making love, what if I embarrass myself'. She said, it's just a job.
In Hunterrr, there were several such scenes with various actors. How did that go?
The director told us we are making a film in a very real space. As an actor, you have to be prepared to live your private moment in public. Somewhere one has to find the courage. There was one instance with Hansa Singh who played Savita Bhabhi, she was such a great sport. The director wanted a wild dub of a sex scene. Hansa was fine. She just stood by the wall, quickly made noises, like "ah.. ooh.." and she was done. But I was suddenly so embarrassed. So I ended up requesting the actress to enact it again to get the sounds right.
In Cabaret, what are the scenes like?
There is a lot of sensuality. There has to be an explosion of passion. It's about two damaged people falling in love. There is a man who wanted to kill himself and a woman who has been running away.
Was Richa comfortable?
Initially she was a bit nervous, which made me also nervous. Later we were fine. You have to help each other out.
Are you okay with playing secondary roles to women protagonists?
It doesn't matter to me who is the protagonist. If you like the film, you like the script, you like the role - do it. I never look at it as — this is Richa's film or Hunterrr is my film.
Are you in a good space today, after 5 years?
There is always some uncertainty. I like doing a variety of roles and don't take up every offer. Sometimes negative thoughts do come and do get you down. Today I am shooting one film, have just finished shooting one and a film release is coming up. Still I don't know; there is no set pattern. You know you have to take a forward step and you don't know where you will land. But you hope to get somewhere.
Where do you hope to arrive after Cabaret?
I don't know. I hope people like the film and my work. I would like to empower myself with more variety of films.
Entertainment
We dare you to not be curious about Konkona Sen Sharma's debut directorial film A Death in the Gunj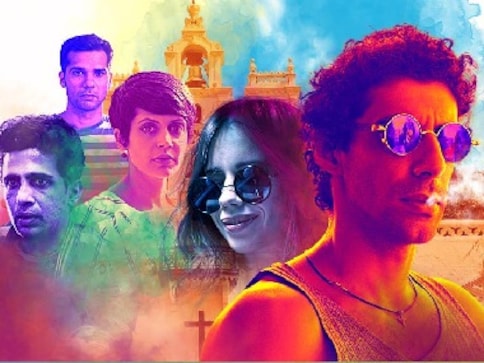 Entertainment
Smoke, an Eros Now original, explores the underbelly of Goa, from the gangs that run the drug cartels to politicians embroiled in the illegal trade.
Entertainment
Smoke's script lags terribly, with most of the dialogues landing flat.