British singer-songwriter Lucy Rose talks India visit, and her latest album
Lucy Rose and her band will perform at the Humming Tree in Bengaluru on 27 May 2017
There's something about hearing a voice sing in a room full of attentive ears that makes one feel reassured about the power of music. It's a feeling that singer-songwriters probably thrive on, and that many seek out. That explains why someone like England's Lucy Rose wants to stay away from clubs and bar venues when she's out promoting her upcoming third album Something's Changed, which releases on 7 July.
Lucy says over the phone from London, "I've played so many different bars, clubs and venues over the years and I think that also contributed to me not playing any slower music [on this album]. I would play downbeat music and worry that people would talk over it. It was definitely a conscious decision."
A regular with London indie rock band Bombay Bicycle Club — adding vocals on their albums and performing live occasionally — it feels like Lucy has just started getting adventurous with her music. She got her fans to crowdsource an entire tour of South America last year, and travelled to India for a tour courtesy of Bengaluru venue and promoters The Humming Tree. We'll be catching all the action from the South American tour on a documentary (also called Something's Changing), which is being screened as part of her ongoing Worldwide Cinema Tour. In India through the week, Lucy and her band will perform at the Humming Tree in Bengaluru on 27 May 2017.
This time around, Lucy is performing most songs off Something's Changing, for the first time in a trio setup. She says, "So this record and all the new songs we're playing, in India, Latin America and around the UK, it's way more organic and natural-sounding and more stripped-back in many ways. It still has all the instrumentation but all the songs — whether it's me and the guitar or me and the piano — it's really at the forefront of the music."
While her previous album Work It Out seems to have a lot more cheerful energy, exploring a happier upbeat spectrum, Something's Changing has slower, downbeat songs. She says, "After travelling around Latin America, I realised that my fans wanted the slower, more acoustic songs, so when it came to writing the record (Something's Changing), it was easier in a way as they are the types of songs I love to write."
Also helping out with the sound of Something's Changing are collaborators such as folk trio The Staves on her lead single 'Floral Dresses', indie folk band Daughter's Elena Tonra, folk rockers Bear's Den's Marcus Hamblett, and alt folk act Matthew and The Atlas' Emma Gatrill. Lucy explains, "Lots of it was to do with after the songs were finished. It was just one live take with me and my guitar, but I could hear a lot of pretty things — like female backing vocals — in my head."
The latest taste of the album comes with 'Is This Called Home', which features an interpretive dancer atop one of the many hills in the picturesque Lake District. She says of the song, "It's one of my favourite songs off the record. It shows a really different side to the record, like 'Floral Dresses' shows me on my own, with the guitar and the Staves. This shows a different side of the record – the band in the room, the groove and the feel and the drums and bass locked in together in one take. I hope people can hear all that in the music."
Lucy is currently on a world tour that started off in Argentina earlier this month and travels to South America, Mexico, UK, Philippines, Singapore and Germany. That's a lot of flies to clock up in the air, but she couldn't be happier about it. "The payoff from it all has been so amazing." And it definitely looks like she's all about visiting territories that most indie artists tend to skip over, mostly due to logistics and resources. She says of her last world tour, "I made a conscious decision that it was something I wanted to do. That these countries wanted me so much and the people from those countries had supported me by listening to my music and coming to my shows. When I went there, I wanted to tell them that they're as important, if not more important and say thank you for their support."
India is always close to her heart, though. She says, "Visiting India last year was one of the best experiences of my life." With a couple of days in each city, in between rehearsal, Lucy says she'll indulge herself in her favourite thing about the country. "It sounds terrible saying this, but I think one of my favourite memories was also the food. It's so good! It's 100 percent my favourite food in the world, so I will eat as much as I can."
Find latest and upcoming tech gadgets online on Tech2 Gadgets. Get technology news, gadgets reviews & ratings. Popular gadgets including laptop, tablet and mobile specifications, features, prices, comparison.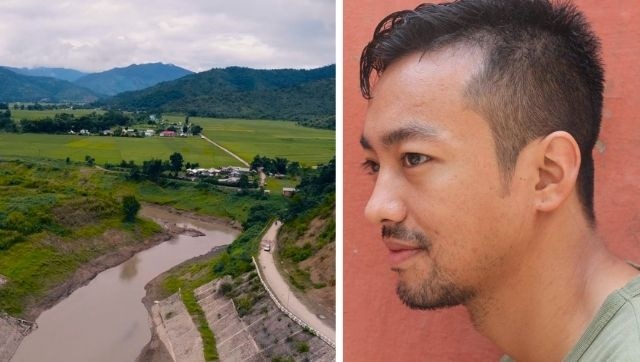 Lifestyle
Akhoka Theatre's Between the Banks aspires to embody the physical attitude and behaviour of contemporary Manipur from the context of a developmental project initiated by the state government, particularly the Dolaithabi dam in Manipur.
Entertainment
In being humble, Soumitra represented the educated, middle-class for a few generations. As long as the spirit of man will remain unconquered, Soumitra Chatterjee will continue to represent us — the insignificant warriors who all walk through the mist and rise with the sunset.
Arts & Culture
Intensely political yet captivating, Brazilian photographer Sebastião Salgado's body of work examines the beauty and brutality of the human condition. More recently, his photographs serve as an ode to the planet — an optimistic view of what we must save and celebrate.