Brazilian model Larissa Bonesi on navigating Tollywood, and starring in Kunal Kohli's Next Enti
Larissa Bonesi talks about working in India as a model and working with Sundeep Kishan in Kunal Kohli's debut Telugu film Next Enti.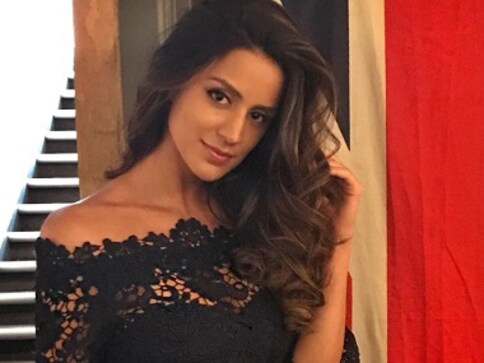 Larissa Bonesi was barely 12 when she started modelling in Brazil. Two weeks before she turned 14, she flew to China in order to pursue a career in modelling. Having spent most of her childhood in Governador Valadares, a city in the state of Minas Gerais in South-Eastern part of Brazil, little did she know that one day she will end up travelling to the other side of the planet and end up acting in Telugu films in India.
Her first modelling assignment was in China and after spending quite a few years travelling for work, it was in 2011 that she first landed in India for work. "For a while, I was travelling back and forth Brazil and India, and I didn't know if I was going to stay here for long. But soon, I began getting a lot of modelling assignments and then, eventually films happened. I've been living in Mumbai for the past five to six years and I can now say that it's become my home away from home," Larissa says, adding, "India has been an amazing place to live and work, so far. I've done a lot of work and I never imagined that I would ever act in Telugu films, but I did (laughs)."
In 2015, it was one of her TV commercials that got her noticed by the makers of Thikka, a Telugu film starring Sai Dharam Tej. Eventually, she bagged the lead role in the film, which marked her foray into feature films. "Till then, I had done so many print and TV ads that I felt that I could do a film too, but when the moment I faced the camera for the first time on the sets of Thikka, everything changed. It was a big responsibility for me and learning my lines in Telugu was itself a big task," the actress recalls.
The film bombed miserably upon its release. She waited for another year before signing her second feature film. "I just believe in the idea that everything happens for a reason. Even though I didn't sign any films in the meantime, I was part of some big brand campaigns. A lot of good things are happening in my career and I'm hoping that more roles will come my way in near future," says Larissa.
Now, she is eagerly awaiting the response for her upcoming Telugu film, Next Enti, starring Sundeep Kishan and Tamannaah. The film has been directed by Kunal Kohli and is also his directorial debut in Telugu. The film, going by the promos so far, explores new age relationships, and delves into themes like love, lust and marriage. "I was heading to Brazil when I got this offer and I had to quickly go to London for a few days to shoot my part. I play Sundeep Kishan's girlfriend in the film, and it was a wonderful team to work with. I never thought that Kunal Kohli would direct a Telugu film, but it was a great experience working with him," she adds. The actress is all praise for her co-star Sundeep Kishan and says, "He has a great sense of humour. We had a good time shooting in the streets of London. The whole team shared some great moments during the shoot. I also got to meet Tamannaah and she's really sweet."
Although she has been modelling for a long time now, Larissa confesses that she will not stick to one thing. She might have come from a different cultural background, but now that she lives in India, she says that she has gotten a good understanding of the local culture and people around her. "I love travelling in auto rickshaws in Mumbai and I'm always fascinated by people I come across. I like observing people and their body language, and it has helped me to express myself in a different way. I've also been learning Hindi for a while now, and it certainly helps to break free from the stereotype of being yet another firang (foreigner) working in India," she reveals. Admittedly, every time she is called for a look test or an audition, their perception towards her changes the moment she gets talking. "They expect to see a firang, and when I walk in, they are convinced that I look Indian too and I can speak decent Hindi. It's a great combination," she chuckles.
Not many foreign models stay in India for a long time. Larissa reveals that she is often asked if she has plans to settle down in India. "I get so many messages from my peers how I managed to work here for so long. Even my friends and family members back home are curious to know how I manage to make friends here. It's a pity that a lot of people only focus on the bad news that gets highlighted, but India is such a diverse country and a wonderful place in every sense. I've no complaints about my life here."
She credits her long stint in modelling to one simple rule that she abides by - happiness. "There are days when I would shoot for three to four catalogues and still not get tired. I'm a very hyperactive person and I can't sit idle. Success comes and goes, but the important thing is to find happiness in what you're doing. I'm a very happy person. I guess it's not that hard to guess (laughs)," Larissa signs off.
Entertainment
Mahesh Babu enjoys a massive fan following due to his stylish looks, effective dialogue delivery and cool personality. He made his debut as a lead actor with Preity Zinta in the 1999 movie Raja Kumarudu.
Entertainment
Conferred with several awards for his performances, the Dookudu actor emerged as one of the highest paid actors in South India.  Some of his most notable works include Business Man, Pokiri, Athadu and Sainikudu, among others. 
Entertainment
The Deverakonda craze is growing by the day. Suddenly the A-list brigade in Bollywood has begun to look jaded.