Bong Joon-ho interview: Parasite director decodes his Oscar-nominated masterpiece, and its thrilling climax
Since Parasite's Palme d'Or win at 2019's Cannes Film Festival, Bong Joon-ho's class satire has become a critical and commercial success worldwide.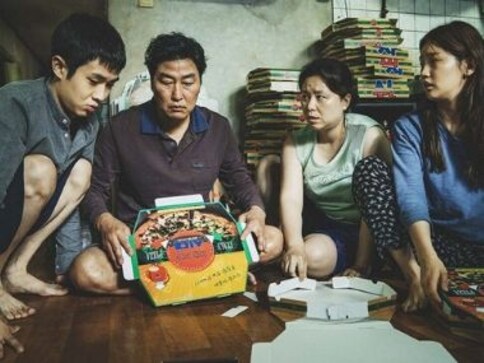 Parasite continues its triumphant march across the awards season landscape, with its cast, its director and their ever-present translator winning more hearts one acceptance speech at a time. Since its Palme d'Or win at 2019's Cannes Film Festival, Bong Joon-ho's class satire has become a critical and commercial success worldwide. Oscar glory or not, the South Korean film has already etched itself on to a global consciousness as a paragon of Asian cinema.
If Bong Joon-ho's spatialisation of class divide is defined by a horizontal structure with the train cars in Snowpiercer, here he takes a vertical upstairs-downstairs approach to a story about class warfare — between the Park family living it up in a mansion perched in the hills above Seoul, and the Kims struggling to make ends meet in a semi-basement apartment. The lives of the unemployed Kim family change when the son lands a job as an English tutor for the teenage daughter of the affluent Park family. The son then manages to convince his unwary employers — through cunning schemes — to hire the rest of his family into other household duties. As the parasitic family begins to enjoy the comforts and luxuries at the expense of their rich hosts, a whole different beast of a film emerges — one that embodies the conflict between two irreconcilable Koreas, not divided by geography but socioeconomic status.
Parasite hit Indian cinemas on 31 January, and the country's film lovers finally got to see why the whole world has been raving about this Korean masterpiece. But if you still have some questions about the film, hopefully this answers some of them.
Here are edited excerpts from an interview with director Bong Joon-ho:
Parasite starts out as a family drama, then becomes a heist comedy, and then a subterranean horror film. How did you successfully mix so many different genres in a single film?
Bong: In Korea, we have this term called 'random dancing', where you literally just dance to the beat, to totally random moves. You don't do this dance knowing the history of dance and knowing all the categories and different styles of dancing in the world. You just move as your body takes you to the beat. I think that's how I make a film. But after the film is finished, I look at it and I wonder what I'm going to tell the marketing team. Because in the end, I don't know as well. So whenever they ask me, I just run away (laughs).
It must have been challenging to write a screenplay where the story transforms like a shapeshifting beast. How did you make sure the set-up in the first hour had built sufficiently enough narrative momentum before staging a satisfying climax?
Bong: Thank you for pointing that out. For a writer-director like me, it is something that's very important. Even from the script-writing stage, I'm already thinking about the direction. The first hour of the film progresses in a pretty predictable way. It's really about them [the Kims] infiltrating the rich house step by step. It has a clear concept and you can easily grasp what the story is about. That's the surface story of the first hour — the infiltration. But below that as a more fundamental layer, it's really about preparing for the last hour of the film. It introduces a structure of the rich house and it sets up the stage where this narrative will continue to unfold and you really get to see the specific details and styles of each and every character. So it's really building up the set-up through that first hour. And because it's so built up in the last hour, the narrative can just full-on explode and rage on.
The class divide in Parasite is illustrated not just on sociological or economic grounds, but also olfactory. The rich are continually repulsed by the stink of poverty. Can you describe the use of smell as a recurring motif in the film?
Bong: Smell as a device is something that's very intimate. It's something that you only sense with people who are very close to you. It's not something you talk about easily with others. In terms of the spaces that the rich and poor occupy in our society, it's very rare that they come across one another. Just the paths that that they move in: they take different cars. They go to different restaurants. Even in planes, you have the first class and the economy cabin. But only through this very specific situation in this film — where they're hired as your personal tutor or your driver — do they actually come together. So, I thought smell is a very good device for this situation.
Smell also plays a key role in the climax...
Bong: Smell can seem insignificant, but it can actually leave a powerful trauma on people, to those who hear the rich talk about people on the subway smelling. It's a very strong trigger — and that's how the explosion in the climax happens.
And how it explodes. Though the ending is bloody, the violence never feels excessive or gratuitous of course. Did you happen to dial it down in the editing room perhaps?
Bong: Everything was filmed pretty much according to the storyboard that I had. The film does feature some horrific, violent moments, but you don't really see shattered limbs or really gory details. I think that when you see hardcore gory details on screen, the audience tends to believe it even less. They would just think: 'Oh, that's great makeup. That blood looks really real.' I think true fear actually diminishes when you see a lot of gore.
In the climax that happens in the front yard of the Parks' house, the violent events happen so fast that the audience can't even organise it in their heads. It happens with such a fast rhythm, and I think that's actually what causes more fear in the audience. The way it's edited and laid out visually, you don't even have enough time to really see the violence that's happening on screen. I think that's what creates more fear.
You somehow always balance these more serious elements with the fun. Even in Memories of Murder, the pathos is balanced with humour. But how do you find the right balance?
Bong: Without humour, I don't think I can do anything. Instinctively, I incorporate humour when I write my scripts. Of course, you can deliver your message very seriously with a very serious tone for the entire running time. But even in my daily life, that's not the method that I use. In Korea, we have this saying where you may just tell a joke — a light joke here and there — and when you listen to it, you laugh. But when you go home and lie down on your bed, you keep thinking about that joke and feel like there's a sharp blade that's just piercing you inside. So, you mull over it.
Casting Song Kang-Ho must help if you want to bring a touch of humour to the proceedings, however grim they may be. Is it partly why you love collaborating with him?
Bong: The reason why I continue to work with him is related to the humour. I think we share a similar instinct in terms of our code of humour. We share the same sort of beats. I feel like whatever humour that I try to deliver, he makes it even funnier and more realistic. His performance just amplifies my humour. With Song Kang-Ho, no matter what situation that the character faces, no matter how grotesque, unfamiliar and strange the situation or the moments may be, once they go through his filter, they become very realistic and he has this incredible power of being able to quickly persuade the audience. So when I write the script with Song Kang-Ho in mind, I feel more comfortable. I can be bolder and more challenging in my descriptions. I can become more relentless.
Entertainment
The new indictment contains the same 11 counts involving the same five unnamed women as the previous criminal complaint against Harvey Weinstein.
Entertainment
Them is likely to educate many viewers on an ugly relic of American history that is not widely acknowledged: racially restrictive housing covenants.
Entertainment
In Maharashtra, cinema halls and multiplexes have been ordered to remain shut till 30 April.