Vidya Balan's career in Bollywood shows that you don't have to play by the rules to succeed
Vidya Balan continues to reaffirm that it is okay to be yourself, by simply being herself; love handles and all.
Bollywood has a few unwritten and absurd, but sacrosanct, rules for its leading ladies. The audience does not want to see a film with a female lead. A heroine has to be young and has to have a gym-toned bikini body. In the decade plus years that Vidya Balan has been on the marque, she is broken these rules many times over. And there is no stopping her.  
In Tumhari Sulu, Vidya plays a woman who, by what have become socially accepted shallow parameters, could be called ordinary. Sulochana aka Sulu of Jal Padma Housing Society, Virar; is a housewife whose life revolves around her husband and son. What sets Sulu apart is that she believes 'main kar sakti hai' (I can do it) and is not afraid to dream. A life-altering visit to a radio station results in her hosting a late night talk show.
One can draw many parallels between Sulu's and Vidya's journeys. The actress made her Bollywood debut at age 26, way past the accepted age for a heroine's debut. Sulu, the 'sari-waali aunty' stands out at the hip radio station much like Vidya does among Bollywood's reigning darlings who have been plucked and ironed into homogeneous perfection. Sulu is both the seductive voice on the radio stoking the nocturnal fantasies of lonely men, and the relatable multi-tasking homemaker shelling peas for next day's meal. In films like Paa, Kahaani, Ishqiya, The Dirty Picture and No One Killed Jessica, Vidya has played both the temptress and the everywoman just as effortlessly. Vidya's career in Bollywood is shows that to succeed you do not have to play by the rules.
Tumhari Sulu, which in its second week continues its march at the box office, shows off Vidya's pitch-perfect comic timing. Her version of SP Balasubrahmanyam's 'Batata Wada' song or her hearty, full-throated laugh at the radio station is proof of how she immerses herself in a character without a lick of vanity. I doubt there is another actress working today who has so little concern for her on-screen appearance. In an industry where women obsess over looking flawless, Vidya flaunts her jelly belly (The Dirty Picture), double chin (Kahaani 2) and a unibrow (Begum Jaan) defiantly.
Bollywood's peddlers of physical perfection have been telling Vidya to change how she looks pretty much from when she first emerged. There was a period around Heyy Baby and Kismet Konnection when she seemed to have given into the pressure. During the 2008 Filmfare Awards, hosts Shah Rukh Khan and Saif Ali Khan presented Vidya with a Na-Real Award for her wardrobe in Heyy Baby. While accepting the awards, Vidya shared her 'trophy' with the film's director Sajid Khan and costume designer, Manish Malhotra. Days after, an upset Manish blasted the actress in a newspaper interview saying, "How can she speak about fashion sense with her fantastic figure? Who is she?"
Body shaming Vidya in the name of fashion has been going on for years now. In 2012, a Times of India article wondered 'Is Vidya Balan Trapped in a Sari'. Apparently, her wearing the saree with unfailing regularity was a problem for the fashion brigade. Two years ago, Vidya talked about a senior actor who told her 'bahut moti ho gayi hai' (you have grown fat). More recently, during the promotions of Tumhari Sulu, a journalist asked the actress whether she planned to lose weight to be able to do more glamorous roles. Vidya shut him down gloriously saying, "I'm very happy with the kind of roles I am doing. It would be great if you could change your mindset".
Whether it's her career or fashion choices, Vidya continues to reaffirm that it is okay to be yourself, by simply being herself; love handles and all.
Entertainment
An FIR was registered at the Amboli police station against a man for extortion and other charges of the IPC, a day after an offence was registered against Bhushan Kumar for allegedly raping a woman under the pretext of providing her with a job in T-series.
Entertainment
Call My Agent makers told French radio in April that the feature will be produced this year and is expected to broadcast by early 2022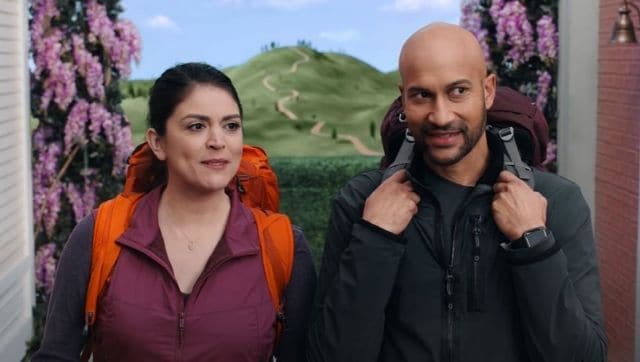 Entertainment
Though bumpy at times, Schmigadoon! is a feel-good comedy and a hat-tip to musicals, worth a slow-Sunday watch.