Urmila Matondkar on her Blackmail song, doing lesser films and how Bollywood has improved over the years
Urmila Matondkar, in an exclusive interview to Firstpost, on why she took a gap of 10 years to return to the big screen and what has kept her busy.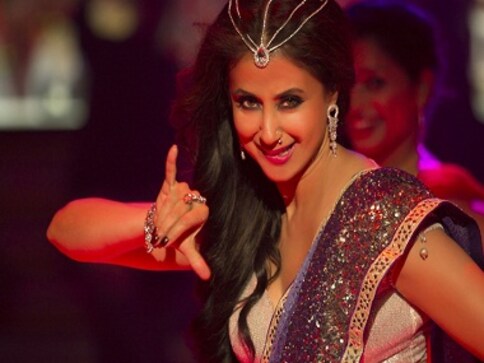 Urmila Matondkar was only three when she acted in BR Chopra's Rajesh Khanna-Shabana Azmi-starrer Karm  (1977), followed by Shyam Benegal's Kalyug (1981). However, it was Shekhar Kapur's highly acclaimed Masoom (1983), an adaptation of Erich Segal's Man, Woman and Child, that earned her praise and recognition when she was just about nine.
Over a decade later, her career took an upswing with Ram Gopal Varma's Rangeela (1995) turning her into an overnight star. Further, she went on to do some path-breaking films like Satya, Kaun, Bhoot, Ek Haseena Thi and Pinjar among others.
Urmila has always kept a low profile; her wedding, with actor-model Mohsin Akhtar Mir in 2016, was a quiet affair. The dance number, 'Bewafa Beauty' in the recent release, Irrfan Khan-starrer Blackmail, marks her return to Bollywood after a decade.
Excerpts from an exclusive chat with the introverted star and dance enthusiast who is known for her hit numbers like 'Chamma Chamma', 'Kambakht Ishq', 'Tanha Tanha', 'Rangeela Re' and many more.
Why did you decide to disappear from Bollywood when there are plenty of opportunities these days?
After a point, an artist has to be quality-conscious and if good work is not coming, then one should rather do other things that life has to offer. I'm having ball of a time doing other stuff, and when something like this song 'Bewafa Beauty' comes up with such mad, crazy lyrics and super rhythmic tune, then I love to put in on screen. I have done many glossy numbers in the past but this one is a dingy bar song that I haven't done before. I said, okay, let's get down to it and it was an amazing experience.
You don't seem to like this word 'comeback'?
I have never understood this concept and I find it funny. It can be an apt word for someone like Madhuri Dixit, who got married, went off to the US and later, she came back. But I am very much here and it's just that I'm not doing that much work because other things in life gets prioritised. It's only when I read that there was a long gap I realised that I haven't faced the camera for years but otherwise it never really occurred to me because I feel it is more in the minds of the media and especially with me because I used to hardly interact with the media and do interviews. Only that excitement of doing the song was on my mind and not that I have been away for so many years. Acting doesn't come from somewhere outside, it is inside us. It's an ultimate high to be in front of the camera.
Did you miss movies and being in the limelight?
I have been acting from ever since I can remember but I am not from the film industry. I am from a very different background. Yes, movies were an important part of my life, my career but that is not the be all and end all. There's life beyond that. I was always aware that there is a big, beautiful world out there and I need to explore that and do much more than just be an actor. I didn't want to miss out on those things but I know there are people who want to be in the limelight forever. It's insane if you keep doing this 24/7 all your life and I knew quite early that I need to experience other beautiful things that life has to offer.
I have been travelling a lot then I did an extensive course in yoga, and I am a certified yoga teacher now. Then meeting people, experiencing different cultures, learning a bit of Spanish kept me busy. Cooking and scuba diving is my latest passion, and learning guitar is next on my list. One life is not enough and I am not talking just about the actors because actors are allowed to be vain and self obsessed but I am talking about people in general who forget to enjoy that very moment that is there in front of them and are busy planning their future.
What do you think about Hindi cinema in the present form and portrayal of heroines these days? Who are your favourites?
Films, roles and the opportunities that actresses are getting today have changed for the better. The subject, characters and the treatment, everything has improved drastically. It looks quite professional and the actors are also coming in with lot of exposure, awareness and ideas and that reflects in movies. Actors are not wasting time and instead of spending their time in preparing for their part. Also, there's a lot of freshness in scripts and writing. Gone are the days when we would show hero as a nice, sweet boy because that is not how people are in real life. It's a great time for Indian cinema. I recently watched Rani Mukerji's Hichki and I thought she was fantastic. I put it up on my Instagram instantly. I am very happy that the film is doing well. I like so many of them. Deepika (Padukone) is like an all-rounder and has seen a remarkable rise in her career. Alia's (Bhatt) doing fantastic and with Kangana (Ranaut), you don't see her, you always see the character she's portraying.
What next? Are you meeting filmmakers? are more substantial roles coming in?
Not really. I don't sit and plan. I will think of it when any offer comes in front of me. Between your planning and reality, there is life happening and I believe in enjoying that. I have pretty much done loads of variety of roles. If something interesting or exciting as much as I have done or more comes up then I would love to do it. As a person, I can't take a midway path and do a mediocre job. I need to get excited to that level with that much of passion and conviction. I have been offered roles but things haven't fallen in place. Maybe soon, something will happen.
Do you fear losing your grip on the audience, your fans?
I don't think about what is supposedly expected out of me. I only come and talk when I want to say something. I am from that old school that you should be spoken for your work. Work should speak for itself, and then you can talk around it and about it. Therefore, that whole desperation, frustration, fear and insecurity has not been there in me. The insecurity of wanting to better than what you have is the only insecurity I have allowed myself in my life and whether I will be able to surpass what I have done. I am so glad that people today still talk about my songs 'Chamma Chamma', 'Rangeela Re'.
You got on to the social media quite recently...
Yes, just about a year ago because my husband and couple of friends managed to convince me that it was the best way to stay in touch with your fans. Otherwise, I'm quite technically challenged. But I am one of the few actors who had a fan club on the social media the earliest. My friend, Manish Malhotra, used to often tell me that. Well, it's a two way process. If done in moderation and also for the right reasons, social media is an amazing way to stay in touch with your fans.
Entertainment
As was the case with Miss Americana and Framing Britney Spears, Halftime joins the canon of documentaries that seeks to re-examine the inherent viciousness of the paparazzi culture that profited off turning female celebrities into tabloid fodder.
Entertainment
Fresh off his legal battle with his ex-wife, Johnny Depp has announced that he and legendary guitarist Jeff Beck will release an album of mostly covers next month.
Entertainment
If you liked Miss Marvel, here are the movies you will love watching across Colors Infinity, Amazon Prime Video, Netflix and Disney+Hotstar.