Tumhari Sulu song Hawa Hawai 2.0 reiterates why Bollywood music is the soul of every office party
With Kavita Krishnamurthy's vocals and Javed Akhtar's lyrics retained, this Tumhari Sulu reprise of Hawa Hawai is another fun song you'd dance to at a party.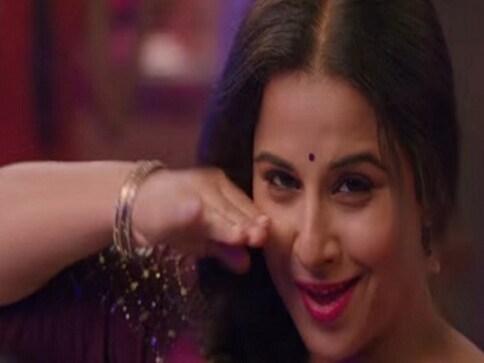 The latest song 'Ghoomar' from Sanjay Leela Bhansali's period drama Padmavati proves why Bollywood should look at the remote corners of India and take inspiration from folk music rather than looking back at old dance numbers for rehashes.
But given the magic spell Bollywood casts over the length and breadth of the country, it is difficult to deprive any film's universe from a reference to Hindi cinema and the nostalgia that naturally comes along with it. After all, the people who make movies — the actors, the directors, the producers and the writers — they all breathe Bollywood. It is only organic if their love for Hindi cinema creeps into the film, which is essentially a labour of love.
'Hawa Hawai 2.0', the latest song from Suresh Triveni's upcoming slice-of-life film Tumhari Sulu, demonstrates how inclusion of old Bollywood dance numbers in new films is inevitable, given the far-reaching impact that Hindi cinema has on the contemporary world.
But instead of roping in young singers and incorporating additional lyrics into the rehashed song, the makers consciously choose to retain the essence of the original song, 'Hawa Hawai' from Shekhar Kapur's 1987 blockbuster Mr India. Kavita Krishnamurthy's animated vocals and Javed Akhtar's eccentric lyrics are kept as they were first heard three decades ago.
What is new is the treatment. The music is amped up and new beats are added in order to make the dance number more fast-paced and in tune with the contemporary eardrums. Tanishk Bagchi, who is almost single-handedly responsible for all popular rehashes of the year, also assumes the responsibility of recreating this iconic number.
However, instead of recreating, he merely repackages it. Triveni also follows suit as he turns Sridevi's 'performed' act to just a group of friends and colleagues shaking a leg on their favourite song during a party. Barring a few shots in the chorus, Vidya Balan, Neha Dhupia and RJ Malishka dance on what sounds like a club version of 'Hawa Hawai' in one of their office parties.
Since the three women work at a radio station, their love for Bollywood music is obvious. It is exactly why this song comes across as an integral part of the narrative, or an introductory tool to their characters, than a market diktat that the producers imposed on the creative forces.
Vidya's act cannot be compared to that of Sridevi as the settings are remotely different. But what can be paralleled is their characters. Both their characters from their respective films seem like fun, uninhibited and to an extent, conveniently clumsy.
But the setting is what makes the two songs unsuitable for comparison. While Sridevi's character was at gunpoint by Mogambo to perform a dance number in order to entertain the bad guys, Balan's character is just having cartloads of fun while dancing on an old Bollywood song she holds dear.
So 'Hawa Hawai 2.0' only reinstates the fact that Bollywood is an inextricable part of the daily lives of a large chunk of India's middle-class. Thus, 'intertextuality' ceases to be a market tool and assumes a more creative form in slice-of-films like Tumhari Sulu.
Opinion
Prime Minister Narendra Modi's recent visit to three European countries — Germany, Denmark and France — and participation in the Indo-Nordic Summit at Copenhagen have prompted much celebration and speculation
Entertainment
Cinema without heroism would impugn its own existence, but in the years of and after the Indira Gandhi led emergency, our formative understanding of heroism underwent the surgery of circumstance.
Opinion
The solution to the international Khalistani problem, now witnessing a rapid resurgence within Indian borders, is to stem the flow of foreign funds and propaganda with the assistance of fellow democracies