Sridevi passes away: From Mr India to Lamhe, the actress' pairing with Anil Kapoor marked a great cinematic partnership
What Amitabh Bachchan-Rekha were to the 1970s and Shah Rukh Khan-Kajol were to the 1990s, Anil Kapoor-Sridevi were to the 1980s.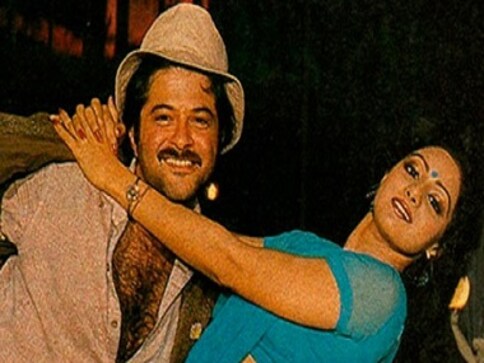 What Amitabh Bachchan-Rekha were to the 1970s and Shah Rukh Khan-Kajol were to the 1990s, Anil Kapoor-Sridevi were to the 1980s. Not many actresses can boast that they had a successful pairing with their brother-in-law.
Sridevi passed away on 24 February in Dubai due to a cardiac arrest. She leaves behind a legacy of terrific work. Despite the one-woman-army that she was, she shone a little more in the presence of arguably her most popular co-star yet — Anil Kapoor.
In 1986, they appeared in two films together — Subhash Ghai's Karma and Feroz Khan's Janbaaz. But Sridevi was paired opposite Jackie Shroff and Feroz in those films. But the very next year, they shared the screen space in what can be considered their most popular film to date — Mr India.
Produced by her husband and Anil's brother Boney Kapoor, Mr India is directed by Shekhar Kapur. Sridevi plays Anil's tenant in the film and is livid about the group of kids that Anil has given shelter to. They gang up on her and carry out hilarious pranks on her. And to make matters worse, even Anil indulges in the guilty pleasures.
But the film soon gains gravity when she decides to join Anil in taking care of the children. She also falls for Mr India, the alter ego of Mr India, an invisible man who takes goons to task. Since she can't see her, the makers encountered the daunting challenge of giving screen visibility to Anil and Sridevi who boasted of a scorching chemistry.
Then came 'Kaante Nahi Kattate' to the rescue. As Mr India and Sridevi confess love to each other and make love on a haystack, Anil is seen romancing Sridevi in parts. This was made possible by looking at their romance through a red glass which we were told nullifies Mr India's superpower. Also, Sridevi closing her eyes and indulging in a long awaited confession of 'I Love You' also allows Anil to step out of the thin air and make love to her while she is not looking at him. This sequence, besides hitting the top of sensuality meter, also showed the immense trust their characters shared onscreen.
This trust was perhaps mirrored by their real lives as the two actors went on to do a dozen of films together, a few produced by Boney Kapoor who had no qualms about casting his wife (or then-to-be-wife) opposite his brother, thanks to the incomparable spark they created on screen.
After Mr India, they appeared in a number of films including Sone Pe Suhaaga and Joshillay but none could match up to its success. Until Yash Chopra decided to cast them together in Lamhe. While Mr India might have been complicated to shoot, Lamhe was conceptually quite a risk.
Anil Kapoor's character falls in love with that of Sridevi. However, the love is unrequited as she loves another man. But both her and her husband die in a car accident, which leaves her newborn daughter orphaned. Her daughter grows up to be exactly like her, both by looks and character traits. Anil, well aware of the fact that he is living in the past, cannot help in love for the younger woman who is the daughter of his deceased first love.
As Anil used his gifted skills to show how he is torn between the past and present, Sridevi had a conflict of her own. She played an unsuspecting young girl who falls for a much older man but is taken aback by his reaction. Her emotive eyes and demonstrative body language show she is certain her love is not unrequited but the reciprocity is being suppresses by constraints that she needs to unearth. In this romance across generations, Anil and Sridevi displayed the tremendous ease they shared with each other despite facing individual battles within.
If their fans had any doubt about the cult level their romance had reached by then, they saw them recreate the classic love saga of Heer-Ranjha. Their chemistry elevated an otherwise cliched film. But the damage it did to their career as an onscreen couple was that producers began casting them in roles and films that did little justice to their caliber.
Raj Kanwar's Laadla (in which Sridevi was selected after the original actress Divya Bharti passed away), Vinod Mehra's Gurudev and Mr Bechara (a desperate spin on Mr India) paled in comparison to the sky-high standards they had set for themselves. The shocking failure of Satish Kushik's 1994 disaster Roop Ki Rani Choron Ka Raja rang the death knell for their eternal jodi before they graciously, and poetically parted ways in Raj Kanwar's 1997 drama Judaai.
But with reports of an impending sequel to Mr India or the prospects of having two seasoned actors cast together in a film about elderly romance rekindled their chemistry that never really escaped the hearts and minds of lakhs of their fans. With the unfortunate passing away of one half of this eternal onscreen pair, the fans will be left with the memories, and countless repeat viewings, of their classic love sagas.
All images from YouTube.
Entertainment
Rajinikanth shared the song on Twitter and wrote, "For 45 years, SPB lived as my voice"
Entertainment
Sivakarthikeyan says lockdown allowed him to take a self-analytical journey: "I've never really had the chance to sit down with a cool head and analyse my career or revisit my choices"
Entertainment
Kanye West has earlier said in interviews that, along with the shortening of his first name he likes, Ye is a word used throughout the Bible.