Salman Khan's films were considered 'critic proof'. Will that change after dim response to Tubelight?
More than the negative reviews, the failure of Tubelight (strictly in the context of the response to Salman Khan's previous films) can be attributed to a combination of fans not liking the way his character was designed and the law of averages catching up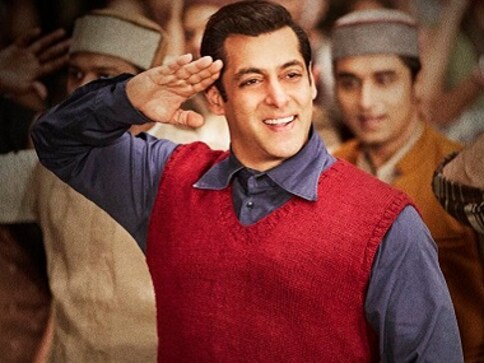 The first thought that comes to mind while watching a Salman Khan film is — no one but Salman could have carried off the role the way he did. The second thing that strikes you is: how in the good lord's name does one come up with an idea that eventually becomes 'a Salman Khan film'? Both suggest that Salman Khan is unique and even peerless. Considering that the star has been at the peak of his power for a few years now, it's almost a foregone conclusion that: 1. Every new film of his will be a bigger hit than the previous one; 2. Fans will love his films no matter what; and 3. Critics, well, they don't matter when the subject is 'Bhai.' Perhaps it is this confidence and faith that Khan has in his fans which has convinced him his films are indeed 'critic-proof'.
In a recent interview Khan dared the critics to give his films "minus 100 stars, why just zero" and added, "my fans will anyway watch my film and that's my reward". Up until his last couple of releases such as Bajrangi Bhaijaan, Prem Ratan Dhan Payo (2015) and Sultan (2016) no one would have doubted Khan but post-Tubelight, does this hold as much weight? The initial response to Tubelight has been lukewarm as per Salman's parameters where the Day 5 collections (Rs 12 crore) dipped to almost half of what Day 1 (Rs 21.15 crore)  raked in. While there is no way to say that the largely bad reviews were responsible for this, irrespective of which side of the fence one is perched on — it does seem that maybe, what the critics thought of a Salman Khan film did matter or Tubelight is, in fact, a bad film even by Bhai's die hard fans' standards.
On Firstpost — Tubelight box office collection: Is slow opening the flicker before Salman's film comes brightly to life?
Some have observed that most of the reviews of Tubelight "needlessly and unfairly" targeted Salman Khan. Perhaps this might have prompted the actor to proclaim being 'critic-proof' but could there be something more to the negative reviews? At the risk of incurring the wrath of Salman Khan fans and aficionados, this isn't the first time Khan has been associated with a bad film or got negative press. In fact, 'Bhai Proof' cinema often meant films that would be panned by the critics but loved by the legions; so, could the personal nature of the bad reviews have to do more with the critics than the film or even the actor?
If one goes back a little, then it can be said that the 'Bhai phenomenon' started with Tere Naam (2003) but probably came into its own with Wanted (2009). The success of Wanted took everyone by surprise and the film cemented the foundation laid by Aamir Khan's Ghajini (2008) where the narrative was a throwback to 1980s' action films and started the trend of the Rs 100 core club. Perhaps it was with Wanted that mainstream film critics finally realised what 'being Bhai' meant and this is evident from the glowing praise that was showered upon Dabangg (2010). It was the manner in which Dabangg was received by audiences as well as critics across the country that fanned the whole 'Salman-is-critic-proof' marvel. As luck would have it, the films that followed seemed to cater to both the die-hard fans as well as the critics. For the fans Ready (2011), Bodyguard (2011), Ek Tha Tiger (2012), Dabangg 2 (2012), Jai Ho (2014) and Kick (2014) were vintage Bhai while the critics took note of the 'Being Bhai' phenomenon. For many Hindi film critics, Salman Khan was their version of Rajinikanth and therefore their reviews somewhere celebrated the cult of Salman more than the films or performances. Then Bajrangi Bhaijaan happened.
There was hardly a Salman Khan film that merged a sense of messaging, a bit of realism and the standard saccharine needed in a typical Hindi film as perfectly as Bajrangi Bhaijaan. It also managed to infuse the actor's signature man-boy persona where the character he played was the hero but at the same time maintained the innocence that is attached to him. In a way, the film yet again pleased the critics for it tried to rise above the traditional Bollywood trappings without sacrificing any of its 'entertainment, entertainment, entertainment' quotient and for the fans, it was 'Bhai-ism' at its best. Prem Ratan Dhan Payo (2015) followed and again showcased the typical 'niceness' associated with Salman Khan characters of yore (Maine Pyar Kiya, Hum Aapke Hai Koun…!  and Hum Saath Saath Hain) and with Sultan the reinvention of Salman Khan was complete. Like Bajrangi Bhaijaan, Sultan, too, combined elements that would please both fans and critics and watching Salman try being a character instead of his own unique self was a bonus.
Also read on Firstpost — Tubelight has Salman Khan playing the 'simpleton' yet again: How he made it a hit trope
There have been stars before Salman Khan. There have been those who found the one right note and continue to perfect it a la Bruce Lee and his "I fear not the man who has practised 10,000 kicks once, but the man who has practised one kick 10,000 times" dictum. There have also been superstars such as Rajinikanth who harbour no illusions about their own stardom. But very few combine all these ingredients the way Salman Khan does. Perhaps this is the reason why his films are so unique, and why it is impossible to think of a script with him — and yet, when one does, no one else seems to fit the mould. This could also be the reason why the other elements in his films (read heroine, villain, or even supporting cast) are incidental — do you even remember Kareena Kapoor in Bajrangi Bhaijaan?
More than the negative reviews, the failure of Tubelight (strictly in the context of the response to Salman Khan's previous films) can be attributed to a combination of fans not liking the way his character was designed and the law of averages catching up. It seems like when it comes to Salman Khan films, only two things are needed: 1. Salman Khan needs to be the hero or the saviour in some form or the other (Wanted, Dabangg, Bajrangi Bhaijaan and Sultan); and 2. There needs to someone worth saving — but has the narrative of Tubelight probably tried to pitch him as both? The last time Khan tried to, for the want of a better expression, go against character was in Kyon Ki... (2005), and one of the criticisms from his fans was that the character was un-Bhai like. Would one be wrong to assume that Tubelight appears to be have been inspired by Bajrangi Bhaijaan, but with Salman Khan as the little Pakistani girl who needs to be saved?
Ultimately Khan's stratospheric popularity will reduce, his films not be as big hits but until then, the "failure" of Tubelight in spite of the bad reviews will have little impact on the upcoming Salman Khan films. That, in the end, does make Salman Khan 'critic-proof' to a great degree. For almost a decade now, most critics have applauded Salman for being himself and it was felt that this acknowledgment would make Khan 'cooler' that the rest. But like Charles Bronson, who was derided by critics on more occasions than he would have cared, Salman Khan, too, makes no bones about the fact that he doesn't make films for critics or care for adulation from that quarter. And somewhere, critics don't like this.