Salman Khan: 'I doubt Tubelight will break Baahubali 2's record, but don't feel the pressure'
Salman Khan talks about his role in Tubelight, his equation with Kabir Khan and Katrina Kaif, and how he picks scripts.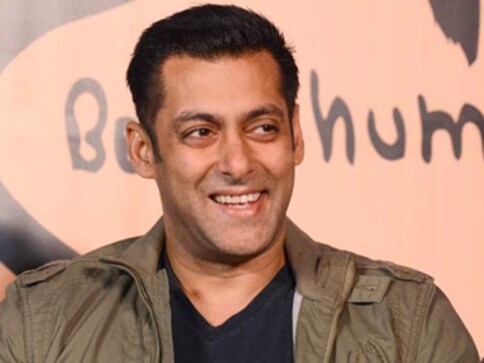 Salman Khan will be back this Eid with Kabir Khan's Tubelight, set against the backdrop of the 1962 Sino-Indian war, followed by his Christmas release, Tiger Zinda Hai (TZH). Firstpost catches up with the candid actor at a suburban hotel. Despite being in pain, probably because of performing stunts for TZH, the actor's wit and innocuous charm remain unaffected.
For someone who is known for his quick wit and smart repartees, isn't it difficult to play a slow-witted man-child?
I am not smart at all; I am a tubelight. When you are growing up, you are naive, innocent, but at the age of 51-52, when you have seen the world, then it's difficult to play something like this.  I was wondering where should I get that innocence from, but this character allowed me to do everything. I had to dig deep into my childhood. Sohail and I started remembering all our school friends, our batch mates.  Luckily, there are many kids in our family, and I learnt many things from them, but I had to be careful to not over do things because it is an emotional film, and not a comedy. It couldn't have looked like a caricature or a joke. It is a film on two brothers, where one goes for war and the other stays behind.
You call yourself a limited performer, but with films like Bajrangi Bhaijaan and Sultan, you have silenced your critics with major acting chops...
I could call myself the best performer, but people don't think that way, so I'd rather call myself limited and let people decide. Actually, I am in a phase where I don't have much to do as an actor, it is the story and screenplay taking me ahead. What did I do in Bajrangi? I just took this little girl on my back because I wanted her to reach Pakistan. Post Sultan, I still have lot of aches, pain, and ligament tears. Once I sit down, it's difficult to get about. In Tiger Zinda Hai, I am just shooting, jumping of buildings and running... My next is a dance film. I never took my career for granted; I chose best of the lot offered to me. Now people come with bound scripts and it is difficult to choose from them.
There were reports that you are reuniting with your Kick co-star Jacqueline Fernandez for ABCD 3. Is it the same dance film?

I am not doing ABCD 3. That's a Disney property. It will be my production and an altogether different film. Yes, it's a dance movie, but not every dance based film is ABCD! The film will require me to work on my dancing skills, and I play the role of a father to a 13-year-old girl. I don't know why I went ahead and signed it. I thought I will have to just dance, but now dancing is all about acrobatics and gymnastics.
This is your third film with Kabir Khan, is there a certain comfort level with him now?
Kabir and I have known each other before Tiger happened. He had come to show me Kabul Express. Then Katrina did New York, which she was a bit reluctant to do. Since I had seen his work, I told Katrina that she must do New York, as it was a different setting altogether. Since then, she had a great rapport with him, and both Katrina and I have worked with him a lot. But now, Tiger Zinda Hai is being directed by Ali Abbas Zafar.  So, there is comfort level with Kabir, but if he is going to get me a bad script, I am not going to do it no matter what. We will work together only when he gets me the best scripts, and he will work with me only if I give him my best. So there is great understanding between us. Kabir thinks differently; he is more realistic as he has a background in documentary films, whereas my understanding of cinema and emotions is different, so we try to pull each other in our respective directions.
We saw a glimpse of Shah Rukh Khan in the Tubelight trailer...
Shah Rukh has done a day's work; he has played a character who comes at a very crucial stage. It's the turning point of this boy's character.
A lot has been said about how Tubelight would probably break Baahubali 2's records.  Now, the challenge is to make Rs 1000-1500 crore, taking Dangal's collections into consideration. Do you feel the pressure?
I doubt that Tubelight will break Baahubali 2's record, because the latter is one of the most freakish films that has been made. Hindi film-goers lapped up the film despite watching a dubbed version of it. It is because of the Hindi cine-goers that they have got these numbers. But as long as nobody loses money, I am fine. I don't feel the pressure.
How do you deal with social media? Recently, at the trailer launch, the video of you removing threads from your jeans went viral. Do these trolls affect you?
I have not seen that video. But I keep doing that all the time. I also keep nibbling my collar. If they think that all this affects me then they are very sadly mistaken, because I don't check my Twitter or Instagram. They come up with false identities to play mischief and get connected, but now they have taken to the next level. They are inconsequential people for me. They think Shah Rukh, Akshay Kumar and I are some iron curtains which they can hide behind and do anything. They do disgusting stuff by using false identities.
You and Katrina are back after five years with Tiger Zinda Hai...
It has always been great working with Katrina. She is one of the most hard working actresses I have ever worked with. Till date, she rehearses a song for at least six hours, for six to eight days. Now, for Tiger Zinda Hai, the action team is satisfied, but she is not.
How have you managed to maintain camaraderie with all your ex-es?
Eventually, they realize that I wasn't all that bad (laughs out loud). I make a great friend, but as a boyfriend I am hopeless.
Do you still get nervous ahead of your film's release?
Yes... for different reasons. So much hard work goes in the making of a film, you signed it because you believed in it. If it turns out to be a disaster, then you start having doubts about the next film  you have signed. It not only destroys your career, but also others involved in the project, and disappointing audience is the worst thing to happen for any actor.
Entertainment
Katrina Kaif and Vicky Kaushal are on a holiday in New York and they are blessing their fans with their adorable pictures.
Entertainment
Aditya Chopra is known for delivering blockbusters like Dilwale Dulhaniya Le Jayenge, Mohabbatein and Rab Ne Bana Di Jodi. The filmmaker has turned 51 today.
Entertainment
In the coming days, Bollywood big-ticket films like Brahmastra, Pathaan, Tiger 3, Shamshera and others will release simultaneously in south dubbed languages.