Sajid Khan says he got carried away with success of Heyy Babyy, on Rajeev Masand's show
Sajid Khan appeared on Rajeev Masand's chat show in a subdued, almost meek form, and admitted to having gotten really carried away with the success of Heyy Babyy and Housefull
Sajid Khan took part in a candid chat with film critic Rajeev Masand on the latter's popular show, and it showed the filmmaker-cum-comedian in a completely different avatar.
(A sweaty) Sajid came in front of the camera in a much more subdued manner than his usual boisterous, eye-grabbing self and as viewers we were quite frankly, in shock.
Sajid admitted to having gotten "really carried away with the success of Heyy Babyy, Housefull and Housefull 2", and felt that at that point in his career, he was shooting off his mouth left, right and center. He also admitted that he's glad for the failure of Himmatwala and Humshakals, as he came "back to his senses" after those two films, going on to say that he feels he grew up and matured from their lack of success, resulting in a more "grounded" Sajid.
The director said he could feel that after a point it was him that was getting reviewed and not his films (owing to his then arrogant and high-and-mighty personality). It was at that point, Sajid said, that he took his sabbatical from filmmaking and the Bollywood industry as he took a step back. "You made a shit film, own up to it," said Sajid while talking about the disaster that was Himmatwala.
Masand also disclosed Sajid's plans to come up with Housefull 4 and when asked about how he's going to handle his upcoming directorial ventures in lieu of what he has learned from his Bollywood hiatus, Sajid said "I'm going to keep my mouth shut and my fingers crossed". In many ways, we could see the growth in character that Sajid spoke of earlier, seeing the filmmaker in an avatar that does not run in either of the siblings (Sajid and Farah Khan).
Masand and Sajid also talked about the changing landscape of cinema, and Sajid admitted that he has realised that "slapstick humour won't work anymore", with the Indian audience's change in sensibilities. However he still feels that there is "space for every kind of film".
Masand also got Sajid to open up about his very public fallout with best friend Sajid Nadiadwala, where Sajid Khan credited the fallout to "creative differences". On the controversies front, Sajid Khan also spoke about fabricated instances where rumours were afloat that Akshay Kumar did not let him into his house, Riteish Deshmukh did pick up his calls and no, he did not "get drunk" and hit his watchman because he didn't like Humshakals.
Talking about today's comedy scene, Sajid complimented comedy group All India Bakchod and said humour is offensive, but people should not be arrested for it. He spoke about how back in the days where he had his own chat show, he would constantly have to tender apologies to someone or the other, as it was all a part and parcel of being a comedian.
All in all, we saw a vastly different side of Sajid Khan on Rajeev Masand's show lacking his usual wit and energy — making the entire viewing experience fall flat on the audience. It all felt a bit pointless. It seemed as if Masand was doing Sajid (Khan or Nadiadwala, who knows?) a favour by forcing in this episode with a "changed" Sajid Khan. The show abruptly ended with Masand signing off saying "I really feel like I'm speaking to a different person" and to us it felt like the Parle-G product placement version (for context) of Masand's chat show.
Watch Sajid Khan on Rajeev Masand's show here:

Entertainment
After Karni Sena, the Kshatriya Mahasabha has objected to the film's name and called it an insult to the great ruler
Entertainment
Satyadev revealed the news during a Clubhouse interactive session that took place on 6 June.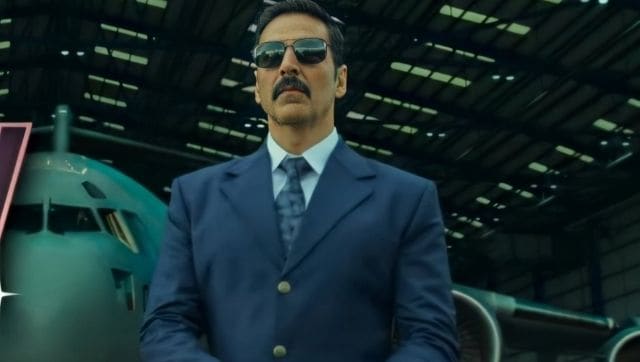 Entertainment
Bell Bottom was first scheduled for April and then for May, but the release was delayed owing to lockdown restrictions throughout the country.