Saif Ali Khan talks about Kaalakaandi, Sacred Games — and that Kangana Ranaut joke at IIFA
In a free-wheeling exclusive conversation, Saif Ali Khan, true to his forthright nature, fields every question thrown his way — including the 'nepotism rocks' remark and dig at Kangana Ranaut made at the IIFA 2017 show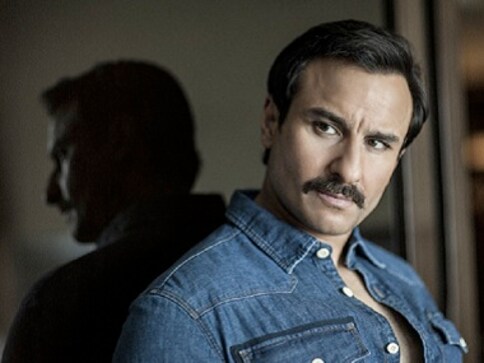 It's been an eventful weekend for Saif Ali Khan. No sooner had Kaalakandi's teaser released last week, than the news came in that he'll be headlining Netflix's first Indian original series Sacred Games. Two different projects and platforms tackling Mumbai's famed underbelly, with Saif playing very distinctive characters. The actor has had some tough luck at the box office in the past couple of years, but his current professional choices look to redeem his image as an actor who balances mainstream and indie roles with Nawabi panache.
Then on Sunday was broadcast the 18th edition of IIFA from New York (actually New Jersey) that was jointly hosted by Karan Johar and Saif. For all the glitzy television spectacle that it was, the hosts were widely panned in the media for unexceptional humour, particularly the tone-deaf treatment of the Kangana-nepotism debate.
Widely regarded as someone who is reasonable and liberal in thoughts and views, Saif being a part of this insular gag, seemed out of touch with his personality. The kind of work he's doing this year is testimony to the professional and personal introspection that he's done.
In a free-wheeling exclusive conversation, Saif, true to his forthright nature, fields every question thrown his way.
Excerpts —
ON HOSTING AWARDS SHOWS:
I have hosted other awards shows before and they have been fun and cheeky. This particular instance, I'll admit, was not my smartest one. We tried to make the most of a poor script but I do realise that some of the jokes were unfunny.
I was quite disturbed after the show. I think the humour could've been of a higher calibre given that Karan and I were hosting it. It's not befitting of what my work has been, and it's certainly not the kind of work I'm currently doing (Kaalakaandi, Chef, Bazaar and now Netflix's Sacred Games).
Every channel has their own award show. What does that mean? It's a TV show. Stars turn up, dance, sing and entertain, instead of just sitting there in a nice dress or an outfit and giving a nice "thank you" speech. Sometimes I wonder why do we have to do all this?
If you don't have financial compulsions and you know what you're doing is being used at this level, you embrace it wholeheartedly; that is be smart, laugh about it saying that you're a part of it and ask for more money instead! Or, you stay away for this charade. As long as you're aware and honest about the choice you make.
ON MAKING IT MATTER:
I have had a checkered personal and professional life but I was really working hard on being better. My work with the awards show over the weekend has really magnified my responsibility towards propagating good content and generally raising the bar for myself. This is not an overnight decision. It's the result of reading, thinking, introspecting, understanding the bigger picture…I've got here slowly.
Yes, I have made mistakes in my career and I probably will continue to do so. But this year has really been about gaining a better perspective of my life and my work. It's the opposite of a midlife crisis; it's a midlife resolution. I don't know if I can maintain this sense of enlightenment I feel, I'm only human. But this is where I am today.
ON KANGANA AND NEPOTISM
I respect Kangana tremendously for what she's achieved, for coming up the hard way. We're a mutual admiration society. She also agrees that despite having illustrious parents, I too have had an uneven beginning in Bombay. I understand what Kangana means by her stance on nepotism, though I have a slightly different take on it. People knew who I was because of my parents but that didn't necessarily give me an easy ride. Look at the spate of terrible movies I've starred in and you know that phase lasted for a long while.
I am generally perceived as being a very privileged person and I probably am; the reality of it is also that growing up in Pataudi and Bhopal isn't what people think it is. We are privileged also in terms of getting an opportunity to meet a producer, which in itself is an advantage. But beyond that, only your talent can sustain you. There are also many star kids who are actors and directors who people aren't so interested in because they perhaps lack the talent.
It's easy to confuse nepotism with genetics. Maybe there is something in the genes too that makes many of Raj Kapoor's descendants actors or Pataudis cricketers. I think it's actually eugenics and genetics that's coming into play.
Because of way things are in India, it seems to be the choice job with the youth. So every single kid including my own wants a six-pack and the works, and wants to join Bollywood. It's a questionable ambition beyond a point that this is all that people want to do. I wish our children would also consider careers in law or medicine or any other field.
Whatever it may be, this privileged versus the unaffiliated leads to a great deal of unfairness. Nepotism is also not to be confused with campism. What Kangana might be talking about is that people generally promote their own people. Which is disturbing but not that much different from say the studio system where say a Universal or a Paramount promotes their lot. It's actually business. Nepotism is Donald Trump putting his son at the helm of things instead of someone more suited for the job.
There are so many unequal opportunities in India today, no wonder then that people view us as being super privileged. Bollywood is a free market at its most brutal and nepotism can heighten that.
Nevertheless, to me at IIFA it was just a joke and nothing more to be read into. But now I feel had we given it more thought, we could've really finished this ongoing public discourse on nepotism more decisively.
ON MEDIA INTEREST IN HIS KIDS
Taimur gets written about like he's Elvis, before he's even born. And so now when he's growing up, it's going to be really tough for us as parents to keep a level head on his shoulders and tell him, "No, you are nothing. You haven't achieved anything until you've done it on your own."
When he's 18, the press themselves will launch him. So where does the nepotism start? The producer is just an opportunist saying "okay, let me market this".
ON BEING A FAMILY MAN:
Sara will make her Bollywood debut soon. It's a choice she's made. Her father is an actor, her grandmother is an actor, her mother is an actor, her stepmother is an actor, everybody is an actor. I certainly understand why she wants to do it and I do think it's a fascinating job.
Yet, I'm concerned because, first of all, it's fraught with insecurity.
I also hope as parents who worry about their children, it's not the "glamour" that is attracting any family member of mine. Because it's actually quite empty.
There's a lot happening in the family space besides Sara's film debut. I feel happily grounded and most at ease when young Taimur is around. We're really looking forward to our family holiday in Gstaad, Switzerland. Sara and Ibrahim were in New York when I was there for IIFA. I'm delighted we got to spend some time together.
Today, I'm definitely more experienced and calmer as a father, though not any less full of wonder. During Sara and Ibrahim's time, I myself was very young, juggling my own ambitions and careers while also having kids. I think I am pretty much the same person now but my life has also gotten simpler. I want to do less work so I can maximise this phase in my life. It's a good chance to relive one's childhood again through Taimur's toys and books, and relearn stuff. Otherwise, we tend to get insular.
There's an overall feeling of completeness and security with my family and my work. There's something Pooja Bedi wrote in the newspaper recently that resonated with me: About how people don't make as much of an effort at home anymore… they make an effort outside. I want to make more of an effort and be there more often.
ON RELEARNING HIS CRAFT:
Kaalakaandi and some of the other stuff I've done like Chef and Bazaar, probably ignited in me this desire to hone my craft better and work at it harder. Working with a fantastic breed of actors and actresses who are so free, unfazed and natural only inspires you to do better. I was thinking about how to approach this role in Kaalakaandi, make it believable and not fall into the trap of playing to the gallery. So, I bought a lot of books to read on acting and techniques etc. A lot of it is academic and homework, but that's what preparation is all about.
It is one of the best movies I've been in. Deepak Dobriyal and Vijay Raaz are like Robert DiNiro and Al Pacino. I have never seen better acting in any film I've been in. I just want to somehow thank them for the experience.
Akshat (Verma, writer/director) has done a stellar job reflecting the soul of Mumbai. It highlights its underbelly and counterculture so brilliantly, and for that it needs to be celebrated. Who would have Vijay Raaz and me in the same film? One of us would be the item. One of us would be the joke… but Mumbai has us both. So does the film. And us being ourselves.
ON SACRED GAMES:
Sacred Games happened at a time when I wanted to produce something for the web platform. I thought a cop/mafia story would be really good and found out that Phantom (Films) had the rights to something on similar lines. With no censorship and no kind of control, you're a creative equal on this platform. And that's what makes it so exciting! Working with Vikram, Aditya and Phantom on this is going to be one amazing experience. I particularly love the fact that it's based on a book. I've read the script and have every intention of reading the acclaimed book as well.
Entertainment
The multi-talented filmmaker of Bollywood, Karan Johar is celebrating his 50th birthday today. He is currently busy with the shooting of Ranveer Singh and Alia Bhatt starrer Rocky Aur Rani Ki Prem Kahani.
Entertainment
Nikhita Gandhi is the voice behind Kangana Ranaut's Dhaakad song, 'She's on Fire', co-sung by Badshah.
Entertainment
In an exclusive conversation with Firstpost, Dhaakad actress Divya Dutta recalls the time when she was told that she is too sweet to play a grey shade during 'Heroine' days.