Rani Mukerji on the multiple hichkis she eventually overcame — from stammering, husky voice to flops, body shaming
Rani Mukerji shares how her husky voice was a Hichki in her early career. She reveals her voice was dubbed in Ghulam as it was not considered 'appropriate'.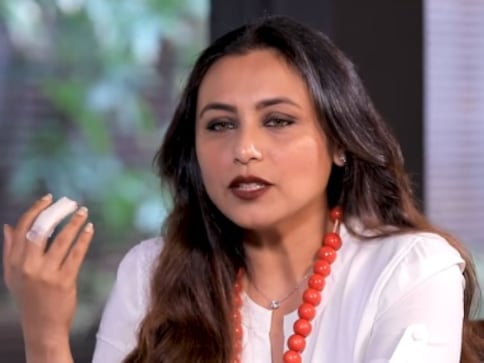 This is Part 2 of Firstpost's interview with Rani Mukerji. Read Part 1 here.
After her Bollywood debut with Raja Ki Aayegi Baraat (1997), Rani Mukerji's career suddenly took a huge leap with two back-to-back mega projects – Vikram Bhatt's Ghulam (1998) opposite Aamir Khan and Karan Johar's Kuch Kuch Hota Hai (1998) opposite Shah Rukh Khan. But from being a nobody to a bona fide star in a matter of few months had its own share of 'hiccups' that came in the way of the petite, dusky actress with a husky voice.
Rani's release this week, Hichki (which means hiccups or temporary setback), is primarily the story of an underdog and her triumph in overcoming obstacles. The actress does not hesitate in disclosing some of the stumbling blocks that she had to face in the initial years of her career, and in her childhood. Not many know that Rani suffered from stammering during her childhood. "Hichki has lot of layers and all of it is close to my heart because when I was younger I had stammering issue. And if somebody had made me feel weak then, and if I had also considered that as a strong weakness, I wouldn't have been an actor. Because you don't have an actor who has a stammering issue," she says, further adding, "I worked on it and conquered it."
Not just stammering, Rani is candid enough to talk about other short-term setbacks when she became an actor. "Those hiccups were my height and my voice," she says. "But luckily, I had Aamir opposite me. Soon after, I worked with Abhishek (Bachchan) and height became an issue but it was short-lived because people started comparing us to his parents – Amitabh and Jaya Bachchan. It kind of worked. Had I come in the era when there were only tall heroes, it would have become a problem, and I looked pretty good with all three Khans — Salman, Shah Rukh and Aamir."
Her husky voice became a kind of  'disadvantage' in the beginning but interestingly, the same voice became her identity in due course of time. Rani narrates, "During Ghulam, Aamir, Vikram (Bhatt, director) and Mukesh Bhatt (producer) felt that my voice was not as thin as heroines of that time. They decided to dub my voice because they felt that my original voice didn't suit the character. But when Kuch Kuch Hota Hai (KKHH) happened, Karan (Johar) showed a lot of grace and asked me, 'Rani, why is your voice being dubbed in Ghulam?'  I said, 'I don't know, probably they felt that my voice was not correct for the character', and Karan decided that I dub KKHH in my own voice. Later, I remember Aamir calling me and saying that he made a mistake by dubbing my voice in Ghulam and that my voice was really good."
(Also read — Karan Johar reveals his Hichki moment to Rani Mukerji: I was teased in school for my girlish voice)
She continues, "These things will happen in your life but you have to believe in yourself and people have to have belief in you. Today, my voice has become my identity." In fact, in a recent interview, when Rani was asked if she goes into cinema halls in disguise to observe the audience response, she replied, 'No, I don't. I don't think that it would work for me because the minute I start talking, people immediately recognise me!'
"Then, I have been written off many times whenever I have had flops. People would say that I was finished, which was yet another hiccup in my career but my audience would refute that and I always bounced back," she says.
The braveness is not confined to just her film choices. Rani states that being fearless defines her. It is her confidence that has allowed her to not succumb to various pressures of being a celebrity, including using social media as a platform. "When people ask me that how I have survived without being on social media, I find that very funny because what is most important for me is to be true to my profession and give good performance. I'm not comfortable posting pictures of my airport look or pictures of me relaxing at home with my daughter. I don't give importance to things that come as a fashion or fad for few months or years and later dies down," she says.
When asked about constant pressures of staying in shape and body-shaming issues, without mincing words, Rani says that the actors these days are spoilt and a pampered lot with a huge entourage taking care of their every need so there was no question of pressure. "Firstly, I don't understand these pressures because these days actors are spoilt and pampered. There's a team of at least 10 people with every star — PR person, media person, manager, fitness person, diet person, security — We were never pampered. We would do our own work. If we were ever criticised for making a politically incorrect statement, we would learn from our mistakes and didn't repeat that. These days, PR people teach actors what to say and what questions to dodge. When the stars are stepping out, they are briefed about their appearance, their make-up, their hairstyle, and they are even given stylish and beautiful borrowed clothes to wear, so how can there be any pressure?  We used to buy our own clothes, whatever I can afford, I buy and wear. My manager says, don't repeat clothes and I wonder why," she exclaims. "Also, why take so much tension about maintaining a certain weight. Eat, drink and be merry," Rani laughs.
She continues, "When you see Aamir in Dangal, he is in his character. You see him in Dhoom 3, he's in another character. So, weight depends upon what you are doing for your role. How does it matter to anybody what I am outside the role? Whether I'm wearing blue or grey jeans, how does it matter? What would actually matter is if I don't perform my role well. How I am looking post pregnancy, whether I lost weight or not, I am fat or thin, how does it matter? In the end, it just boils down to how did I play Naina Mathur. Is she convincing enough? Is the character real or not?"
"We are not models, we are actors. We have to first do justice to who we are on screen. Is audiences' love for me going to decrease with what I am wearing? All these pressures on actors these days are rubbish. When I became an actress, at that time, wearing branded clothes was a pressure on actors and I would wonder why. I had refused then and I refuse even now. When people ask me what brand of shoes, earrings or clothes I'm wearing, sometimes I myself don't know. Why waste time on these things?" says the actress, who longs to work with Sanjay Leela Bhansali, Mani Ratnam and Karan Johar yet again.
And does she regret any of her decision? "Yes, I do but there is no point in talking about it now. In this day and age, one answer can be blown out of proportion," she signs off.
All images from YouTube.
Entertainment
The cause of death was sepsis brought on by a severe infection, according to an obituary approved by the family.
Entertainment
The organization announced Thursday that Perry will receive the honorary AARP Purpose Prize award during a virtual ceremony on Oct. 25.
Entertainment
Kichcha Sudeepa and Jacqueline Fernandez's 'Vikrant Rona' receives a massive opening of 35 crores worldwide.