Rangoli Chandel defends sister Kangana Ranaut: 'She will survive because she's the chosen one'
Kangana Ranaut's sister Rangoli Chandel took to Twitter to defend the former after Farhan Akthar, Sonam Kapoor and Karan Johar came out in defense of Hrithik Roshan
After actor-director Farhan Akhtar took to Facebook and weighed in on the Kangana Ranaut-Hrithik Roshan controversy in the form of an open letter defending his friend and co-star, Ranaut's sister Rangoli Chandel went on a Twitter spree, as she came out all guns blazing in defense of her sister, calling her the "chosen one".
....Haha even if entire industry stands against her she will still survive because she is the chosen one 😊!!

— Rangoli Chandel (@Rangoli_A) 8 October 2017
Chandel's retaliation came after Akthar, Sonam Kapoor and Karan Johar all defended Roshan and came out in support of the actor. This happened after Roshan too wrote an open letter on Facebook, and subsequently went on to break his radio silence on the issue via an interview with Arnab Goswami.
Dear @FarOutAkhtar your views could've been appreciated if you and your father were not so biased to Roshans. — Rangoli Chandel (@Rangoli_A) 8 October 2017
Well written and very fair Farhan. I concur. https://t.co/NXBUAiLq3O

— Sonam Kapoor (@sonamakapoor) 8 October 2017
Beautifully written Farhan....it's important...it's true! https://t.co/zoY4VKahfw — Karan Johar (@karanjohar) 8 October 2017
Dear @karanjohar and @sonamakapoor nice to see how much a gaon wali non English speaking mountain girl has ruffled so many feathers....

— Rangoli Chandel (@Rangoli_A) 8 October 2017
In the days following Roshan's open letter and his first interview, many of Bollywood's stalwarts and prominent personalities defended the star, calling it a case of male "stalking" and "harassment", bringing in "gender reversals" and "discrimination" and the man being a "victim" into the picture.
Ranaut's sister also alleged that Roshan had shared private photographs of her sister to the media and leaked them in public and went on to call him out over his double standards wherein he says he is trying to maintain dignity but then following it up with releasing intimate photographs of a "young girl", according to Chandel.
In the name of dignity Hrithik released a sly ambiguous blog but simultaneously outraged a young girl's modesty by releasing her pictures. — Rangoli Chandel (@Rangoli_A) 7 October 2017
Hrithik said he is doing everything in Kangana's matter for his children....

— Rangoli Chandel (@Rangoli_A) 7 October 2017
....so my humble question to Mr Hrithik Roshan is what is he doing for his children by leaking young girl's nude pictures? — Rangoli Chandel (@Rangoli_A) 7 October 2017
With no one knowing what the actual truth is, this Roshan-Ranaut saga has been ongoing for a couple of years now, gaining traction recently after Ranaut publicly addressed the issue at hand in several interviews and went into detail about the legal battle that her and Roshan are currently embroiled in, along with giving exhaustive details about their alleged love affair.
Find latest and upcoming tech gadgets online on Tech2 Gadgets. Get technology news, gadgets reviews & ratings. Popular gadgets including laptop, tablet and mobile specifications, features, prices, comparison.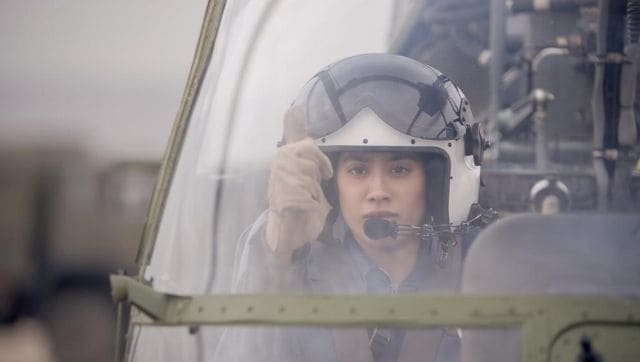 Entertainment
In a conversation with Firstpost on Gunjan Saxena: The Kargil Girl, director Sharan Sharma, Janhvi Kapoor and Pankaj Tripathi open up about trials of telling a true story, the debate surrounding the trailer, and more
Entertainment
Like Gunjan Saxena, Janhvi Kapoor has had battles to fight of her own. But she has combated the allegations of nepotism with quiet, dignified determination.
Lifestyle
Padma awards have always eluded women in cinema, theatre and music. The ones who have broken the glass ceiling over the years share an interesting pattern which is representative of a creaking system of felicitation in the world of Indian art and culture.