Raid music review: Amit Trivedi's original compositions score over Tanishk Bagchi's recycled Nusrat Ali Khan ghazals
Raid strikes a balance between money spinning tool of rehashed timeless ghazals of Nusrat Fateh Ali Khan, and original compositions that drive the narrative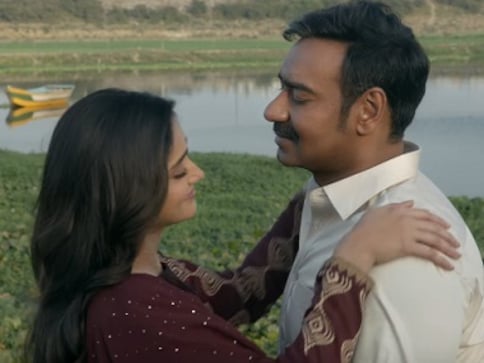 Before the listeners could move on from the rehashed version of legendary Nusrat Fateh Ali Khan's ghazal 'Mere Rashke Qamar', two more recycled ghazals greet them in Raj Kumar Gupta's crime drama Raid. Interestingly, the same team of Ajay Devgn, Ileana D'Cruz, music composer Tanishk Bagchi and Nusrat's nephew Rahat Fateh Ali Khan reunite to infuse life into two of his classic ghazals.
Bagchi should now be declared as the official go-to person for presenting old wine in new bottles. Though it is easy to rest on the timelessness of old melodies, the fact that he manages to strike a chord with the contemporary audience through rehashed versions speaks volumes of his skill to adapt with the changing times.
In Raid, he lends an air of fresh appeal to Nusrat's hummable ghazal 'Sanu Ik Pal' with the aid of improved music technology that streamlines the melody, Rahat's heartfelt vocals and interesting tweak in lyrics by Manoj Muntashir. The lyricist sticks to old world charm that is redolent of the original melody's rawness.
The other melody that Bagchi attempts to rejig is 'Nit Khair Manga' with the same set of helping hands. But here, the song fails to eclipse 'Sanu Ik Pal' in all the departments. Rahat's voice seems like he is unwilling to step out of his comfort zone and push the envelope. Muntashir's lyrics are so heavy on Punjabi that it runs the risk of alienating majority of its audience.
Additionally, Bagchi's music in this song, though sets the composition in orderly form, loses the rustic appeal of a good ol' qawwali in the process. There are barely any signature claps that make a qawwali stand out. To make matters worse, the mood of the song is tensed as opposed to the fluidity of 'Sanu Ik Pal'.
The other two of the four songs of Raid tell a different story. While it would have been a wise move to rope in Bagchi and redo old melodies, one wonders why T-Series resorted to this money spinning label if they are capable of churning out quality music in the form of the remaining two tracks.
'Black', the third song, can be alternatively called the title song. It complements the central narrative of the film, in terms of lyrics, mood and tempo. Indraneel's skillfully crafted lyrics make the song sound like an anthem of the Income Tax department. One can imagine the department officials doing mock drills in their sarkari offices with 'Black Jama Hai' blasting across the room.
Sukhwinder Singh's powerful voice and Amit Trivedi's pumped up composition make this track as energetic as an athlete preparing for his Olympic sprint. But it lacks the punch in the chorus that is imperative for high recall value. However, an addictive chorus and additional inputs of atmospheric sounds such as the lal batti siren save the day and how.
The fourth song and the most layered track of the album is 'Jhuk Na Paunga'. Sung by Papon, it is a perfect introductory song to Devgn's character. As seen in the film's trailer, the actor plays an income tax officer with a steely will to bring tax evaders to task. His resolve is reflected in Indraneel's evocative lyrics. Amit Trivedi's laid back composition provides contrast as opposed to a rousing one that could have turned it into yet another 'Black'-like anthem.
The song, though soft in treatment, is different from 'Sanu Ik Pal' as it seems to be a song with a purpose. Its lyrics are not romantic in nature though the composition is as soothing as any feel-good love song. Trivedi brings this poetic contrast to the fore by striking a perfect balance between Indian and Western classical instruments.
Overall, the music of Raid hits gold in its original compositions. While the rehashed Nusrat Fateh Ali Khan ghazals are not shabbily done (particularly the immensely comforting 'Sanu Ik Pal'), why rely on the money spinning tool of rejigs when a composer as talented as Trivedi can produce fresh music that complements the central narrative as well.
Raid also stars Saurabh Shukla. It is co-produced by Panorama Studios, and Bhushan and Krishan Kumar's T-Series. It is slated to release this Friday on 16 March.
Both images from YouTube.
Entertainment
The organization announced Thursday that Perry will receive the honorary AARP Purpose Prize award during a virtual ceremony on Oct. 25.
Entertainment
Kichcha Sudeepa and Jacqueline Fernandez's 'Vikrant Rona' receives a massive opening of 35 crores worldwide.
Entertainment
Vikrant Rona actor Kichcha Sudeepa said that the VFX in the film was a learning experience for him.