Raag Desh actors Kunal Kapoor, Mohit Marwah, Amit Sadh talk war, freedom, and history
The lead actors of Tigmanshu Dhulia's Raag Desh — Kunal Kapoor, Mohit Marwah, Amit Sadh — talk about their war film, and Subhash Chandra Bose's Indian National Army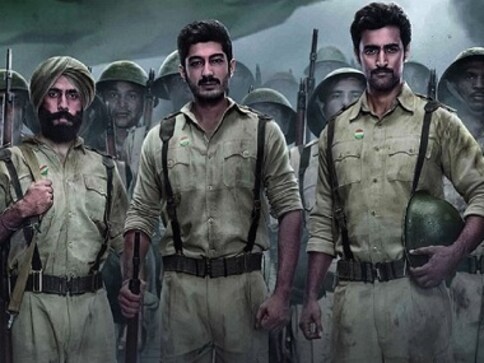 National Award winning director Tigmanshu Dhulia's upcoming period drama Raag Desh is based on the Indian National Army (INA) trials during World War II and the three INA officers who changed the course of India's freedom movement. It stars Kunal Kapoor, Amit Sadh and Mohit Marwah in the lead roles, portraying Major General Shah Nawaz Khan, Colonel Gurbaksh Singh Dhillon and Colonel Prem Sehgal, respectively. The trio was charged with 'waging war against the King-Emperor' and handed over to the Japanese Imperial Army.
"I was fascinated by the script but also felt a sense of shame that I know so little about what is an important event in our history. We have read about a few people (who we believe) are the ones responsible for our freedom, so it's important for people of my generation to know the truth and get to learn about the Red Fort trial, formation of the INA, contribution of Subhash Chandra Bose and the circumstances under which the INA soldiers fought," said Kunal, further adding, "When I started researching, I was shocked because I read that people in the British administration, intelligence and politicians, said that if anything that broke the back of the British it was the formation of INA. I don't understand the politics behind it, but I do feel that there was an effort to sideline them and play down their contribution intentionally."
All three actors had to ensure they got the nuances of their honest and idealistic characters right. "That niceness had to come across and we had to get 'corruption' out from our lives. I cut off myself for a certain period of time from the world around me. I stopped socialising and stayed within my comfort zone to avoid distraction. I would watch films on wars, like Saving Private Ryan, Hacksaw Ridge and meet only those who discussed World War II and the freedom movement. We constantly had an ex-Army man on the sets to guide us. We were shooting in Dehradun, so cutting off from Mumbai also helped," said Mohit Marwah, of preparing for his Raag Desh role.
"Qualities like honesty, integrity, idealism are diluted in today's world and then to portray General Shah Nawaz, who joined INA despite knowing that several of his relatives served in the British Indian army — and he may have to kill his own relatives, or fight his own brother — was challenging. That passion for a cause was so fascinating. I love romanticising things. I find this mindset, the rebellion and idealism very romantic," said Kunal, who worked on both, his Punjabi and Urdu accent for the film. "By the end of it, my inner monologue was Shah Nawaz's voice. I am not sure how he spoke as no speeches or recordings or interviews are available but that is the liberty I have taken," added Kunal.
While there have been articles about Shah Rukh Khan's mother being adopted by General Shah Nawaz, and that the actor was close to his 'maternal grandfather', the Raag Desh team didn't connect with the superstar for the simple reason that the trial is based in the 1940s, "and we are not getting into what happened to him after that," said Kunal, "Yes, I have read articles that Shah Rukh grew up in his house but I don't know the actual truth. Also, there is no place to bring it out in the film."
However, Mohit was in for a surprise when, as a part of his prep, he met director Shaad Ali, who happens to be Captain Prem Sehgal's grandson. Mohit had an extended chat with Shaad Ali over the character and took his strategies and suggestions for the look, physique and language. "I also met Colonel Sehgal's other family members who shared many anecdotes about him. We'd to take creative liberties as not much information is available. I also went through old albums and recalled my moments with both my grandfathers as they come from Lahore and Peshawar," said Mohit.
Amit Sadh has previously said that he would like to play Kargil war heroes like Captain Anuj Nayyar or Captain Vikram Batra, and so, was thrilled to be offered Raag Desh. "When I signed the film, Tigmanshu gave me Colonel Gurbaksh Singh Dhillon's autobiography and I also referred to Kabir Khan's documentary Forgotten Heroes based on the INA. I was overwhelmed by the story and had a sense of pride to portray the Colonel on the big screen. I worked on the dialect spoken around 1945, brought the fauji body language and tried projecting the passion that they had," said Amit.
The young actors are thoroughly impressed with their director, who helmed the National Award winning Paan Singh Tomar, starring Irrfan Khan. Besides enlightening he has also given the right dose of entertainment, they said. "This topic didn't need any controversy or masala because there is so much drama in it already. We have many fun moments in the film as we have also shown soldiers off duty. For instance, mine is not an overtly intense character, there are a lot of shades to him. He is a charming guy and there's a love interest as well. And Tigmanshu has that quirkiness in him. While holding the reins he would suddenly say or do something that would make us smile, even in between the battle scenes," said Mohit.
"He is a dream for any actor to work with," said Kunal about Tigmanshu. "We often joked that the actor that does best is the one who copies him (Tigmanshu) the most, because he acts out scenes as he is an actor himself. But what I really admire is his ability to remain calm in the most difficult situations. We used to get help from the army but then the surgical strikes happened... the army withdrew support. Then, we reached Dehradun and demonetisation happened and we didn't have any cash left. We felt that the shoot won't happen but Tigmanshu always remained calm, relaxed and took control of the situation," said Kunal.