Qaidi Band movie review: Anya Singh is the true blue rockstar of Habib Faisal's musical
Qaidi Band has an interesting premise, soul-stirring yet forgettable music and a promising newcomer (Anya Singh, not Aadar Jain).
Last month, I reviewed Tigmanshu Dhulia's period drama Raag Desh and inferred that it had the advantage of releasing front over Kabir Khan's upcoming Amazon Prime Video India original The Forgotten Army. Both of them have the same premise but Raag Desh scored brownie points by sticking its neck out.
I can argue the same for Habib Faisal's musical Qaidi Band which shares its premise with Ranjit Tiwari's Lucknow Central that releases next month. But since Yash Raj Films (YRF) managed to release the former first, it is sure to be credited with its innovative theme.
Qaidi Band revolves around a group of undertrials, passionate about music, who form a band and perform behind the bars. Their popularity grabs the attention of the masses which compels a local politician to ensure that they remain in jail. Their right to justice is compromised as their biggest asset music stands in their way as a hurdle. But they use their bond and music to set themselves free eventually.
Habib Faisal, who has directed earlier YRF ventures like Do Dooni Char and Ishaqzaade, meddles with a new genre and achieves success to a great extent. He is also the writer of the film which is why he should be given a pat on his back. The writing comes across as fresh and even makes bad actors (like the lead star) look convincing. He has also paid great attention to detail, as evident by minor props like a plastic bucket being used to serve dal to the under-trials and a school bus being used to ferry the undertrials for an unoffical parole.
The screenplay and story are in place too as the film boasts of just the right pace and progression. Where these fall short is the climax. While the film escapes the infamous curse of second half, it falls prey to a weak and unnecessarily stretched climax. While the film could have easily, and smartly, ended at the point when the undertrials are released from jail but still feel caged owing to the bondage of their fellow inmates, Faisal decides to spoon-feed some more hope to the viewers.
The film starts faltering when the lead couple, played by Anya Singh and Aadar Jain, perform their final duet at a rock concert. While the lyrics capture the mood of the situation, the music and vocals seem forced. It is at that point that the music, which is a major highlight of the film, takes a backseat and cheesy dialogues from the lead actors take precedence. Though it is the filmmaker's call to demonstrate right to freedom through oratory and not music, the overdose of preaching and below average music did not work for me.
Another plot point that I found rather convenient was a money-minded influential lawyer (played by a suave Ram Kapoor) volunteer to help the undertrials just because he liked their vigorous musical performance. Just when it was getting tough to suspend disbelief at the thought of hearing electric guitar (though the guitarists did not appear to play it on stage), Faisal delivered the final blow with the lawyer's unpalatable act of kindness. In fact, it came across as if the filmmaker is shortchanging the struggles undertrials go through.
What works wonderfully for the film is its music. It is probably one of those rare films in which actors randomly breaking out into a song does not seem like an exaggeration. The spontaneity of the talented ensemble cast, Faisal's commendable direction and Amit Trivedi's situational music makes for a great addition to the film. All songs are composed and written beautifully, particularly the most popular track of the album 'I Am India'.
Another aspect that elevates this film is its lead actress. YRF has got a perfect find in Anya Singh who impresses with her raw energy, channeled rage and heartfelt innocence. Her energy is infectious and her honesty explains why she managed to make a mark in an unconventional debut. It is only befitting that Anushka Sharma launched this livewire of a talent as both of them chose to start their careers in non-glamorous roles though Anya's requires her to be even less of an eye candy.
But the lack of glamour in the actress is balanced by her co-star Aadar. His face remains impeccably manicured throughout the film though he has spent two years inside the prison. Though he looks 'cool' in his artistic tees, his tailored eyebrows distract you from the gravity of the setting in every close-up shot.
While he undoubtedly boasts of a strong screen presence, genetically gifted good looks and an endearing quality often associated with Ranbir Kapoor (even their voices are similar), he appears to be trying too hard in majority of the scenes. His chilled out demeanour gradually gets on your nerves as his lack of conviction only adds to the sense of entitlement attached to him.
I restrained myself from commenting on the nepotism debate when Aadar was introduced by YRF in a gala event. I wanted to give the young man the benefit of doubt but I hope to say that he has proved me wrong. He lacks the superlative charm that his cousin Ranbir or uncle Rishi Kapoor oozed in their very first films, Sanjay Leela Bhansali's Saawariya or Raj Kapoor's Bobby respectively. While their launching machines were also fueled by nepotism, they had the mettle to prove their goods in the first go.
On the other hand, if Aadar is compared to the other actors of the film, it is safe to say that him getting the meatier part is a travesty. To his credit, he excels in scenes where he is not required to do much. In other words, his ability to react to other actors is spot on, a rare quality that today's actors can seldom flaunt.
Also, the rest of the cast extend able support to the narrative. Sachin Pilgaonkar, as the middle-aged yet aggressive jail superintendent, is excellent. His face and body language oscillate smoothly from suppressed apprehensions of being a victim of political pressure to being a ruthless 'angrezon ke zamane ka jailer'.
Overall, Qaidi Band has an interesting premise, soul-stirring yet forgettable music and a promising newcomer (yeap, that's Anya). But it is buoyed down by a dishonest lead actor whose voice gets distorted by the silver spoon he carries in his mouth.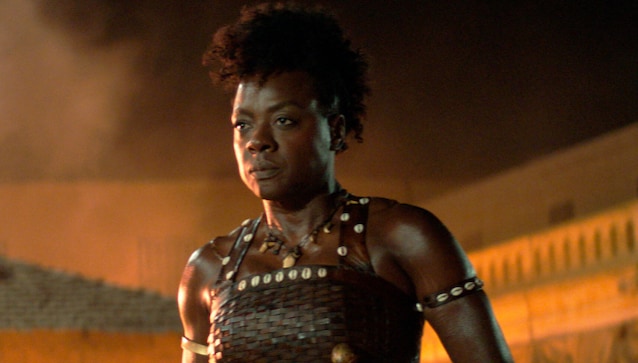 Entertainment
Apart from Viola Davis as The Woman King, Lashana Lynch, Thuso Mbedu and John Boyega stand out with their strong portrayals.
Entertainment
Karan Mehta makes a promising debut in Anurag Kashyap's Almost Pyaar With DJ Mohabbat.
Entertainment
Vinay Forrt and Divya Prabha's wonderfully naturalistic performances anchor Don Palathara's observant portrait of a repressed, conservative society.