Oye Hichki: Rani Mukerji goes back to school, releases title song of upcoming film in presence of her teachers
'Oye Hichki' is an ode to all those who choose to overcome hesitation to embrace their true selves.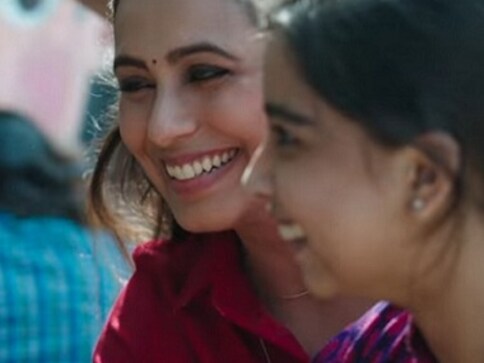 Rani Mukerji released the title song of her forthcoming film, Sidhharth P Malhotra's Hichki, in her school situated in Juhu. She launched the track in presence of all her school teachers, since she also plays a teacher in the film.
The title song goes beyond the literal meaning of hichki, which means a hiccup. The fast-paced visuals, coupled with Jaideep Sahni's thought-provoking lyrics, bring home the point that "not every hichki can be heard". Hichki here is any form of hesitation in embracing one's true self.
In the song, a girl is asked by her mother to apply a fairness cream so that she looks 'fair and lovely' in front of her suitor. But the girl, not willing to compromise with her appearance, does not resort to any hichki or hesitation. She washes the cream away and presents her true self to her prospective husband.
This track runs parallel to Mukerji dancing with a bunch of slum kids who are presumably her students. She is impressed by their impeccable dancing skills and starts shaking a leg along. The slum children look ecstatic in her company which speaks volumes of a teacher-student relationship.
Jaslin Royal's irresistible-to-hum music and Harshdeep Kaur's heartfelt vocals only add to the spirit of the song, the children and the indefatigable leading lady.
Hichki is produced by Aditya Chopra's Yash Raj Films and is slated to release on 23 March.
Entertainment
The actor shared the pictures of the posters too, which have been used by the Congress party for their movement against corruption in Karnataka by the ruling party.
Entertainment
Raju Srivastava's character Gajodhar bhaiya became a household name. The stand-up comic was also famous for his style of dialogue delivery that left everyone in splits. 
Arts & Culture
Social entrepreneur Shefali Khanna launches a new experiential space for creators, musicians, and artisans; the workspace-cum-studio is a uniquely curated space that aims at creating a conducive environment for nurturing art and craft.