Malavika Mohanan on Beyond The Clouds: 'Majid Majidi took me to creative spaces I hadn't gone to before'
Malavika Mohanan says she discovered her inclination towards realistic cinema by consuming, and eventually acting in, Malayalam cinema.
After making her debut alongside Dulquer Salmaan in the Malayalam movie Pattam Pole (2013), followed by couple of more films down South, Mumbai-bred Malavika Mohanan was eyeing Bollywood. When she came across the opportunity of a lifetime – the chance to play the lead role in acclaimed Iranian filmmaker Majid Majidi's first Indian production, Beyond the Clouds, she was ecstatic.
"This is an amazing start. I have been offered a couple of films before this but I was very particular what my first film in Bollywood should be. I wanted to be part of a big movie and by big I mean just by the essence of people involved in the project. So the moment Majid Majidi is involved, the film becomes as big as it can get. Then there's Rahman Sir, Vishal Bhardwaj (Hindi dialogue writer) also associated with the film. It's a dream team and for me it is a dream debut. I completely believe in the film. I never thought I would work with Majidi Sir, that he will come to India and things will fall into place," says Mohanan.
In Beyond the Clouds (releases this Friday on 20 April), Mohanan plays Tara, a young woman from the slums of Mumbai whose world comes crashing down when she is accused of attempted murder and is separated from her younger brother, played by Ishaan Khatter. "It's a very intense and emotional film. It's such a powerful character. Even though I was enjoying the whole process of five to six takes for intense shots, physically and mentally it would exhaust me. It would completely drain me out performing those intense crying scenes. We were pushing ourselves to feel certain emotions. You're crying, you're angry. But at the end of the day, when you get the shot right, it is so rewarding. I have had the best sleep of my life after giving a good shot, it is so satisfying," says Mohanan.
"Majidi Sir speaks broken English and very little Hindi so we would have couple of translators on sets. He is a genius at what he does. Now, I am a fairly new actor, still figuring out the craft. He has taken me to creative spaces where I haven't gone before. I would finish the shot and I was like, 'Wow'. I went into a trance and performed. It was quite overwhelming and a magical journey," she adds.
Last year, rumour mills were abuzz saying that Deepika Padukone and Kangana Ranaut might bag the film but when Mohanan was finalised the role, an insider had told a tabloid that, "Mr Majidi was looking for a face that could fit the character and own it. And Malavika made the cut."  It all began with a call from casting director Honey Trehan who told her to work on a look test for a Majidi film after other actresses had already given a few look test.
"He (Trehan) told me not to get my hopes too high because other actresses had already given a few look tests," And that's when Malavika sought the help of her father, cinematographer KU Mohanan (who has worked on Jab Harry Met Sejal, Raees, Don, Talaash: The Answer Lies Within and Fukrey). "He was shooting for Raees at the time. I dragged him to Madh Island and we clicked some pictures," she said. "Later, Majidi saw the pictures and wanted to meet me. I did one more look test and got a call three days later saying I was selected. My biggest high was bagging a Majid Majidi film because I was aware of the kind of filmmaker he is. I like his very real approach to cinema," she says.
It's also Malayalam cinema that shaped her choice and liking for realistic cinema. "I grew up in one bedroom flat in Mumbai and whenever my parents were watching a Malayalam film, that was the only option for me and I ended up watching a lot of Malayalam cinema. It's not that I could go to another room or there was another television set. I would watch actresses like Shobana, Manju Warrier play powerful roles, strong characters and that is where I had this inclination towards wanting to do real roles and play range of characters. So far, I have done three to four films and those were the typical dance and romance films. But instead of mainstream, starting with Majid Majidi in Hindi films is amazing," says Mohanan.
She further says, "Both my parents read a lot, also my mom is a writer. So having that kind of exposure adds to your overall personality when it comes to culture, people, characters and that definitely helps in your performance. Subconsciously, somewhere it plays a major role. When I am not on sets, I always try and read a lot, and always watch good films because I would find DVDs of films by Louis Bunuel and Michael Haneke lying around in the house. These are not the filmmakers that everybody sits and watches as they are not mainstream. This kind of exposure shapes us inside even though we aren't realising in what way. And we are definitely influenced by our parents whether we like to admit or not. It is because of my dad that I have interest in movies."
Actors working in a Majidi film can expect to have their boundaries pushed and that is exactly what happened with Mohanan who got completely involved with her character. Talking about her prep for the role, Mohanan says, "Majidi sir has a very clear vision for his characters. It started with me losing weight before I began filming to physically look like an inmate. With the help of a nutritionist and my gym trainer, I achieved this goal in just 15 days. I also went to the extent of not washing my hair for 10 days so that they looked genuinely dirty and messy."
"Did you recognise me when you saw the trailer?" asks Mohanan amidst giggles. "My parents came on the sets one day and they wondered how I had transformed. I like that part, I like becoming a character. It is a beautiful process," says Mohanan, who would love to go on to do different kinds of films, and work with different kinds of directors and genres. "I love Imtiaz Ali, Vishal Bharadwaj and Mani Ratnam's cinema," she says. So what could be her next film in Bollywood?  "Any film that excites me and I could connect with the character. The point of being an actor is to do different kinds of cinema and I'm greedy for good roles," says Mohanan.
And does it bother her that her co-star, Ishaan, is already in the limelight even as she may have more ventures to her credit? Given his family background, Ishaan has an inherited identity as he is Shahid Kapoor's brother. Also, there is attention around his next film, Karan Johar's Dhadak opposite Sridevi's daughter, Jhanvi Kapoor. "No, it doesn't bother me at all. Every person has his or her own journey. This is my journey. I wish him luck. We bonded really very well during the shoot. I have had an experience of a lifetime, so why should I complain?" concludes Mohanan.
All images from YouTube.
(Also read — Ishaan Khatter on Beyond The Clouds: Wanted to challenge idea that newcomers should start careers with mainstream film)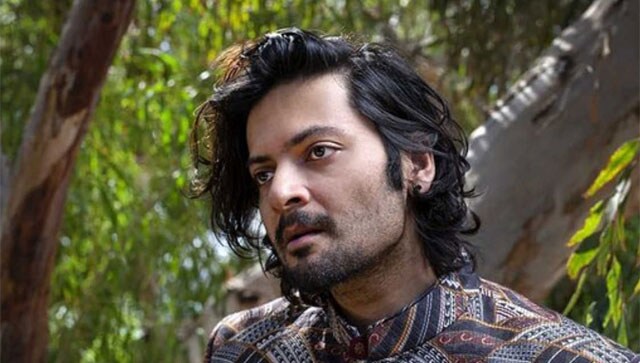 Entertainment
The film was shot during the small respite of time of covid lockdowns in late 2020 and is currently in post production
Entertainment
'Aslan' singer Christy Dignam is currently receiving palliative care at home, his family issued a statement and also requested for privacy at this hour. Their statement read- "As always Christy's health has been and is our priority. It has been a tough road for us all but mostly Christy."
Entertainment
The author noted that living in the closet is often glorified in the film industry.