Lipstick Under My Burkha, The Lunchbox, Queen: The inconvenience of the independent woman
FIlms like Lipstick Under my Burkha, The Lunchbox and Queen could point to a deeper malaise in the publicly held notion of the 'independent woman'.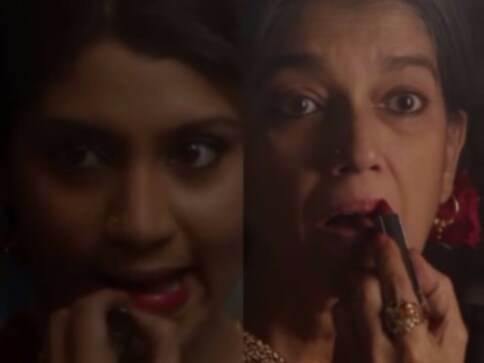 Unfulfilled longings among women and the issue of feminine sexuality have made welcome appearances in Hindi cinema of the past three or four years. It is welcome because the woman has long been treated as a male plaything in popular cinema. Middle cinema tried to introduce a contrasting viewpoint by telling stories from a feminine perspective as in Basu Chatterjee's Rajnigandha (1974) or opt for more overt politicization as in Kamla (1984), which was based on a screenplay by Vijay Tendulkar. But the issue of feminine sexuality remained taboo: women could resist being treated as objects but they were still not allowed yearnings of their own.
A new feminine perspective duly incorporating sexuality has now officially emerged with Alankrita Shrivastava's Lipstick under My Burkha; earlier films like The Lunchbox (2013) and Queen (2014) had already sent out feelers in this direction. Where the earlier films had suggested 'feminine longings' Lipstick under My Burkha openly admits the woman's right to explore her own sexuality and it does so without trying to titillate men, a feat in itself. More importantly the film does not put this across as a 'feminist message' but tries to entertain. The film has received accolades — and has also been criticised, but I'll come to that later.
Lipstick under my Burkha tells four different intertwining stories about women living in the same ancient structure in Bhopal. The first episode in the film deals with Rehana (Plabita Borthakur) in a burqa walking into a mall and exiting casually with a lipstick without paying. Underneath her burqa Rehana wears trendier clothes and the conflict in her life revolves around her love for urban trends and having to live with conservative parents, stitching burqas at night and helping her father out in his tailoring business. Rehana loves Led Zeppelin (especially 'Stairway to Heaven') and her dream is to sing at a music session. The second woman is Leela (Aahana Kumra) who is due to marry but is also carrying on with her photographer boyfriend. Leela is trying to become successful as a beautician and her boyfriend is also a kind of business partner but her 'weakness' is primarily her unabashed carnality. The third is Shireen (Konkona Sen Sharma), an aspiring saleswoman with three children, married to a man back just from Saudi Arabia from whom she must conceal the fact of being employed and also satisfy his incessant lust although he will not use protection; she has already had three abortions. The oldest is a widow of fifty-five, Usha Parmar (Ratna Pathak-Shah), who owns a sweetshop but reads pornographic novels on the sly about a young woman Rosie and her adventures with the male sex. Usha is drawn to swimming because of the well-muscled swimming instructor at the pool and uses the opening to also engage in telephone sex with him, calling herself 'Rosie' after the heroine in the novels. The swimming instructor is constantly looking out for this Rosie to appear, even when he is coaching 'Ushaji' at the pool. Bringing the four women's lives together thematically is a voice over (by Ratna Pathak-Shah as Usha) dealing with Rosie's adventures.
In the first half of Lipstick under my Burkha, the film hardly makes a wrong move. It does not belabour us with its 'repression of women' side but is highly entertaining, also using locations in Bhopal imaginatively. It is realistic in emphasis although its refusal to problematise religious difference may be considered naïve. Still, one could argue that Hindu-Muslim differences have been exacerbated by the conflict being over-problematised for electoral gain; the film declining to follow suit may be actually welcome. But where the film has been found fault with (rightly) is its resolving the narratives by having the women being separately victimised in their dealings with men. The film has been attacked (notably in The Wire) for showing the women as incapable of empowering themselves. Usha Parmar is evicted from her quarters when her fondness for erotic literature is ultimately discovered and one is led to wonder at tenancy law she is evicted under. The four women eventually finding some kind of freedom through cigarettes is also unbearably trite. The film may be said to falter at this level, ideologically, but more significant are aspects it shares with The Lunchbox and Queen, which could point to a deeper malaise in the publicly held notion of the 'independent woman'.
The Lunchbox, if one recalls, is about a woman in an unfulfilling marriage who accidentally enters into an epistolary relationship with a widowed man; the two exchange letters and grow increasingly intimate — although only in this sense since they never meet. Unlike Lipstick under my Burkha where there is some character delineation outside the four women, we are not told much about the woman's husband in The Lunchbox. She is a mother but we do not see her devote much attention to her child either. What is suggested nonetheless is that the husband is involved in a relationship with another woman.
My question here pertains to why the husband's infidelity should be brought into the picture since her relationship with the other man is not apparently sexual. The two contemplate getting together — but only after the woman learns of her husband's infidelity.  It is as if she were being pushed into a liaison through the motif of the husband's infidelity. Since the woman is never shown to either hold marriage sacred or feel guilt in her outside relationship one could argue that the married woman in a relationship with a man (not necessarily sexual) presents difficulties which have little to do with morality. It seems to be indefinable because it is neither a romance nor the prescribed action of a wife/ householder.
Romance leading to marriage, as I have argued elsewhere, brings the narrative to closure in popular cinema by marking a transition in the state of the protagonist(s) who move through marriage from brahmacharya to becoming grihasthas.  Where the states of the individual are generally accepted as childhood, adulthood and old age, tradition in India essentialises human existence in terms of ashramas or prescribed familial roles — childhood, the unmarried state, the householder and retirement. There is nothing corresponding to 'adult' — but 'adulthood' as a notion, it may be noted, allows the individual more freedom to choose his/her actions than the notion of 'householder' which restricts action to role-playing. The contortions engaged in by The Lunchbox in trying to resolve the narrative can thus be explained as due to the difficulties faced by the director in defining the woman's state. New films allow for promiscuity and premarital sex but these do not produce a transition — which can only happen with the 'right partner'. In The Lunchbox, the woman finds the 'right partner' but after she is already wife and mother and a further transition in her state is impossible.
Vikas Bahl's Queen (2014) is another movie tormented by difficulties arising out of the indefinability of its central situation. In this film Rani is preparing for marriage to the man she cares for but the man dumps her on the eve of the wedding. What she does is to embark on a 'honeymoon' in Europe on her own, which is tantamount to an 'adult' decision. As part of her adventures the director brings her into contact with a host of people including a sex worker, and even has her walking into a store selling sexual accessories. Never, however, is Rani allowed to ever look for the 'right person'; she is, essentially, in the same state of brahmacharya, i.e. she remains someone who has not yet transited to householder. When her former fiancé returns to make amends, an 'adult' would have found it easy to reject him outright but not so one in brahmacharya, since he represents her only chance to move to the next stage. Refusing him becomes an arduous task since the story demands a transition in her condition — for its closure. What the film does is to confirm her in brahmacharya, keeping her open to another romance.
The 'indefinability of the woman's condition' in the two films owes distinctly to a male cause since only the right man facilitates the transition denied to the two women. Both The Lunchbox and Queen place themselves in the grey area when the 'right man' turns out to be the wrong kind and the same is true of much of Lipstick under My Burkha. Critics have complained that no man emerges from Alankrita Shrivastava's film as honourable and a scrutiny reveals that every man in it fails at something or the other. But this, it can be argued, owes to none of the women fitting into the 'ashramas' to which they should rightly belong. Usha Parmar should be in retirement (attend satsang meetings) but she flirts with someone who cannot be 'right'. Leela is going to become a wife but nothing about her future husband or boyfriend convinces her that either is 'right'. Rehana is saved when on the verge a relationship with the 'wrong' person, one who has already left someone else pregnant. Shireen is in the same position as the heroine of The Lunchbox, being wife and mother but not through the 'right' man. All of them are trying to take 'adult' decisions when they are placed in a system which acknowledges the unmarried, the householder and retired states but not the adult state.
The argument offered hitherto will leave two questions still unanswered and the first is why film narratives cannot simply embrace a categorisation which allows the 'adult' state as key in portraying relationships. I propose that the sense of the ashramas as representing the only legitimate states in human existence is so deeply ingrained that a mass medium like film which must address the concerns of the multitude ignores the notion only at its own great peril. Moreover, filmmakers are themselves hostage to such essentialisation and it is not as if they are using it knowingly as a strategy directed at a paying audience. But what it also implies is that traditional society, which has a much larger reach in modern India than one might imagine, sees women in terms of 'unmarried', 'married' and 'mother'; this could explain the continuing discomfort with categories like sexually-active single woman, divorcee and unwed mother which cannot be accommodated within the ashrama categories.
The second question is that since these categories apply to both men and women, why men are not similarly hindered. The male protagonist in films like Deewar is not hampered by being categorised as a 'brahmachari'. An answer that suggests itself is that men and women hardly occupy the same position in the system, genealogies being carried forward by the male heir and the sacred thread signalling brahmacharya only worn by the men in the upper-castes. In the epics as well, the women are virtually defined in terms of their relationships/roles with men and it is the men who act on behalf of the clan. In The Argumentative Indian Amartya Sen provides evidence of women in ancient texts entering into philosophical debates with male scholars but also adds that their questions are answered. Perhaps if men had also asked questions for women to answer instead of only providing answers there might have been more gender parity within the ashrama system — to which we still appear to owe so much.
MK Raghavendra is a Swarna Kamal winning film scholar and author of The Oxford India Short Introduction to Bollywood (2016).
Entertainment
Actor Mithun Chakraborty's picture on a hospital bed is getting viral on social media. His son Mimoh Chakraborty clarifies the doubts.
Bollywood
From Shreya in SOTY 2 to Tia in Gehraiyaan, Ananya Panday completes three years in Bollywood.
World
Prime Minister Narendra Modi's visit to Copenhagen takes place in connection with the Danish Prime Minister Mette Frederiksen's official visit to India in October 2021